With the first team funding cycle coming soon to an end, we are proposing, today, a second funding request to fund the development of the Particl project and the team's various operations. This blog post will detail the proposal and briefly lay down the team's objectives for the first few months of 2022.
The funding proposal is now published on the CCS platform and is in its discussion phase. The proposal's voting period will begin shortly and last for 5,040 blocks (approximately one week); you'll be notified of the block number that will trigger the voting period a few days in advance. To read the proposal and comment on it, follow this link.
Reminder: You, and anyone else, can submit proposals on the CCS platform and request funds from the treasury to support projects and initiatives that improve the Particl ecosystem. This team proposal is just one example of what anyone can propose to Particl stakeholders.
Table of Contents
---
Progress Since the First Funding Request
About 6 months ago, the Particl team started drawing funds from the treasury after its first funding request was approved by Particl stakeholders. Since that time, we've worked on improving and expanding the ecosystem with various improvements and additions.
Here's a brief list of what we've done since being granted funds from the treasury.
Particl V3 mainnet release (learn more)
Particl V3.1 mainnet release (learn more)
Announce BasicSwap, a cross-chain and private DEX, and prep it for its open beta (learn more)
New Particl.io website (check it out)
New roadmap (check it out)
Published our short to mid-term marketing plans (check it out)
10 Particl Core releases, including 0.21.x.x pre-releases (learn more)
Scheduled a new hardfork to fully activate Taproot (learn more)
Particl Electrum wallet with Lightning Network support (work-in-progress)
New legal entity formed to support the project
Roadmap Progress
Aside from the project-wide milestones mentioned above, we've also made great development progress. Here are the roadmap items we've completed or made progress to during the past six months.
Major Milestones
We announced that we would be releasing a new app into the Particl ecosystem; BasicSwap. BasicSwap is a cross-chain and private decentralized exchange (DEX) protocol that allows you to swap one cryptocurrency for another without any middleman or third-party being involved. It is currently in closed beta; its open beta is expected to begin very shortly in early 2022.
Although we haven't officially communicated on this yet, we've made preliminary progress in building certain aspects of what will allow Particl apps, like Particl Marketplace or BasicSwap, to be accessible from the web. We will be progressively ramping up development on that front in 2022 and we are likely to deliver web access to Particl apps in increments rather than all at once. We'll have more information to share a bit later on.
Blockchain and Coin
We've released an update to the cold staking zap functionality that allows for more a granular management of the zapping process. The process has been optimized and made more private. You can also now choose between two zapping options; optimized for staking or optimized for privacy.
Although not yet released, we've worked on a new light wallet for Particl: Particl Electrum. It's a fork of the popular Bitcoin Electrum wallet and lets you send and receive coins on a secure wallet that doesn't need to sync the entire blockchain. Particl Electrum will play an important part in some of the things we have planned ahead. Notably, the light wallet provides "light services" that can be used to provide Particl apps with access to the blockchain without syncing it entirely. It also provides an easy way to use the Lightning Network through a built-in interface, although converting that code to Particl is very much in progress and not an immediate priority for the moment.
In December 2021, we scheduled a hardfork to activate the long-anticipated Taproot protocol improvement. Taproot introduces many new features and capabilities to Particl's blockchain, notably in the area of privacy and output management. This will improve the privacy and fees of Particl applications like Particl Marketplace and BasicSwap due to the better processing of their complex transactions. You can learn more about Taproot by following this link.
Marketplace
We added to Particl Desktop 3.1 many improvements to the inventory management aspect of the marketplace. Sellers now have access to more options when importing their inventory from CSV files and can easily adjust their product prices in bulk to account for any PART price changes. A notable variety of other improvements related to the management and publishing of listings has also been added.
A major item we've completed with Particl Desktop 3.1 is the addition of a customizable security deposit ratio for marketplace escrows. Before this update, both sellers and buyers had to lock 100% of the value of a transaction in an escrow contract. These security deposits are refunded, in full, once a transaction is completed. But with Particl 3.1, it's now possible for the seller to set custom deposit ratios between 0% and 100%. This was one of the most requested features from marketplace users and it opens the platform to a wider range of audiences and use-cases.
Aside from the two major additions mentioned above, a large number of additions, improvements, and bug fixes have been added to Particl Marketplace. Because there is way too much to mention here, we invite you to check out the full list of changes available here.
Desktop
Various additions, improvements, and bug fixes have been made to Particl Desktop. These are changes that are not exclusive to the marketplace app itself. Just like with the general marketplace improvements, the list of changes is too big to put here; we invite you to check out the full list of changes here.
The Funding Request in Details
Funding request: 35,250 PART (monthly)
Duration: 6 months
This funding request suggests supporting the Particl team and funding its operations by claiming 35,250 PART, monthly, from the Treasury Fund for 6 months. Once this period expires, the proposal will no longer be valid. The team will then publish a new, updated funding request and get it approved by Particl stakeholders to claim funds again.
Additionally, to protect itself from price volatility and ensure uninterrupted operations, the team is opting to claim funds based on a price of 1 PART = $1.
Funding Distribution Breakdown
The funds requested by the Particl team are intended to serve multiple purposes other than just funding development. Here is how the funds are expected to be allocated.
Development (60%), to fund the development of the Particl ecosystem and expand the current development team. Resources will also be allocated to work on various items other than Particl Core, Desktop, and Marketplace. This includes, but isn't limited to, the SMSG network (SMSG 2.0), BasicSwap (atomic swap DEX), preliminary work and research for web and mobile platforms, and so on. Funds allocated here may also be used to expand the development team.
Marketing and community (20%), to increase Particl's brand awareness and exposure within the cryptocurrency, blockchain, e-commerce, and other related industries. Also includes onboarding new community members, expanding on welcoming efforts on current platforms, as well as expanding social media communities. Any funds allocated to marketing that remain unused during this funding cycle (and the previous one) are kept for later use. In other words, not using all the funds allocated for marketing simply leads to more funds being available for later on.
Management, legal, and administration (10%), to fund any administrative or corporate costs (i.e., human resources, accounting, project management, legal costs, corporate fees, etc.).
Business development (10%), to pursue strategic opportunities, develop partnerships/relationships, and identify/capitalize on new markets for Particl's line of products. This also includes advisory and exchange listing (and promotion) budgets.
Note: All funds voted to be allocated to the Particl team are held and managed by SoonTM Development Ltd, a software development company registered by the team.

Any unused PART will be safely deposited into the team's reserves to provide funding for later or unforeseen expenses, or increase individual cost-related activities. Please note that the above distribution model is approximate and the team may rearrange it as needed.
Vision and Development Priorities
After spending a lot of time doing foundational work in the past few months, a lot of what we've been working on is expected to start blooming in 2022. Mind you, we've still got a lot of foundational work on our plate, but, this year, there'll be much more to show for it.
In fact, we intend to start 2022 strongly! With Particl Desktop 3.1 live, now's the time to focus on some more exciting roadmap items that will provide a bigger difference in the end-user experience; making the adoption of the platform much easier than it was before.
Development Priorities
With this in mind, here are our main development priorities for the coming 6 months. Note that any item mentioned here is subject to change at any time as we constantly adapt our development strategy to various factors. Some items may be added to the list as we go, and some may be withdrawn from it. This is an ever-evolving situation.
For more details on each of these items, please check out our roadmap by following this link.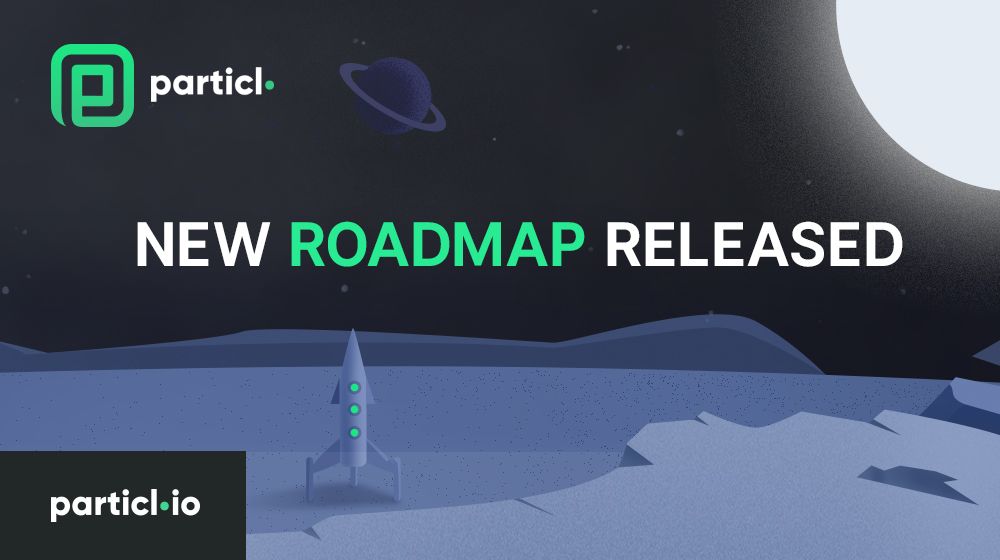 General
BasicSwap will receive a lot of focus for the first half of 2022. With its open beta phase looming over, you can expect it to be functional and publicly available early during this new development cycle. We're also happy to announce we've still got a lot of surprises which we've been working on in that regard, but haven't announced yet. These will take the DEX to a whole other level, notably in terms of usability, and should take care of boosting Particl's general adoption and exposure within the space.
The "web framework" refers to the ability to port Particl applications to the web, making them accessible from your favorite browser without the need to sync a blockchain or the SMSG network, and without having to download any application. This item will be delivered in increments and we expect that we'll deliver some of the first components of this system during this development cycle. It is a major part of making Particl more accessible to the world and easing its adoption.
As you probably already know, the Particl coin is a next-generation privacy coin. It uses RingCT and CT, much like Monero, but uniquely uses the Bitcoin codebase. As is usual, we pledge to keep its code up-to-date with all the Bitcoin updates, which is critical both in terms of security and usability.
This new Particl light wallet, based on the very popular Bitcoin Electrum wallet, provides a lot of "light" functionalities that can be leveraged for the many projects we have in mind, notably putting together a new, better mobile wallet for example. Although that mobile wallet might not see the day during the first half of 2022, we expect that, at least, Particl Electrum will.
To ensure that Particl can sustain a much larger number of users, and to improve the reliability and performance of applications such as Particl Marketplace and the BasicSwap DEX, an update to Particl's SMSG network is planned for 2022. While we don't fully expect it to be ready by the end of this 6-month development period, we are confident that we'll be making valuable progress towards it.
Marketplace
This Particl Marketplace feature will let buyers and sellers communicate directly from within Particl Desktop. This is a widely-requested feature that will massively improve the user experience of the marketplace and improve its potential for adoption. This is a preliminary version of a more complete "chat application" that will eventually serve as a distributed and private alternative to messaging applications such as a Signal, Telegram, Element, etc.
As we incrementally build components of the web framework, they make available some low-hanging fruits. This is the case, for example, of both a web and mobile gateway for buyers. They would make it possible for buyers to browse the marketplace from their favorite devices and purchase items without having to install Particl Desktop and sync the blockchain and SMSG network. The early versions of these gateways are expected to be relatively basic but will serve as a good showcase of what the web framework will ultimately allow.
Desktop
The SMSG controller is more of a back-end deliverable that improves how Particl applications interact with the SMSG network. While this item may not lead to apparent changes to the end-user, it makes Particl applications more efficient and lets them support more complex features. This is a requirement for more advanced SMSG functionalities such as application extensions and desktop plugins (formerly known as "SMSG bots").
App extensions and Particl Desktop plugins are add-ons that enhance the user experience. Often, they are third-party services that provide valuable functionality such as allowing you to swap cryptocurrencies from the desktop app, get price data through oracles, and so on. While Particl itself is entirely decentralized, these opt-in modules provide useful features that might require third-parties to get involved. By being opt-in rather than opt-out, we ensure that only those looking to use those extra services have to deal with the added level of centralization they require.
Another widely-requested feature from some of our most security-conscious community members, building hardware integration into Particl Desktop will let you connect your favorite hardware wallet (i.e., Trezor, Ledger Nano) and manage the funds it contains without having to use a separate Particl wallet (Particl-Qt). This will let you use Particl Desktop, and its applications, without having to make security compromises.
Marketing
As for marketing, our plans remain in line with what we've recently announced a few weeks ago in our marketing blog post. Indeed, we intend to keep on gradually ramping up various marketing and outreach efforts as our line of products expands and as the barriers to adoption are taken down by the release of new key features.
However, we are planning for a bigger marketing push related to the full release of BasicSwap. As we've mentioned in the past, we are highly confident in the impact this upcoming DEX will have on the project, not only because of its obvious usefulness for the project but also because of the added exposure it will bring to the ecosystem.
Don't forget, trading is still the number one use-case for cryptocurrencies and it's becoming harder to trade by the day as most exchanges are becoming increasingly restrictive; the release of BasicSwap comes at a very opportune time and will fix a lot of the issues traders face nowadays.
How to Vote
Important: For the proposal to show up on Partyman, make sure you are running the latest version of Partyman. To do so, run git pull from inside your partyman folder, and then type the ./partyman update command from that same partyman folder.
---
To read the official proposal, visit its page on the CCS platform by following this link. The proposal is currently in its discussion phase for about one week, so please leave a reply directly on its CCS page if you have any feedback or comment.
As always, the schedule for this proposal's voting period will be clearly announced a few days before it starts on all the usual Particl channels.
---
Particl is Participation
Get recognized as someone that cares. With your help, we become more noticed out there. It takes seconds, and you are making a statement by giving us a follow and hitting the bell icon.
YouTube Twitter Mastodon Reddit

Join the instant messaging chats. There's no need to be active, but it's good to be in the loop.
Discord Telegram Element / Matrix
Gain deep knowledge about Particl by reading.
Last but not least, a list that shows an infinite number of links clearly categorized and on one page.
---