With the week coming to an end, it's time for our weekly progress report. And boy has this week been a busy one with the release of several updates both to Particl Core and Particl Desktop.
So let's not waste any time and jump right into the crux of this update!‌
---
Particl Desktop Progress Report
This week has been championed by the release of two very important updates to Particl Desktop. Indeed, an odd issue surfaced in which marketplace listings were not being received and decrypted by other peers of the network. While this did not affect the sellers' ability to publish listings, it caused products not to show up for other users creating the illusion of an empty marketplace.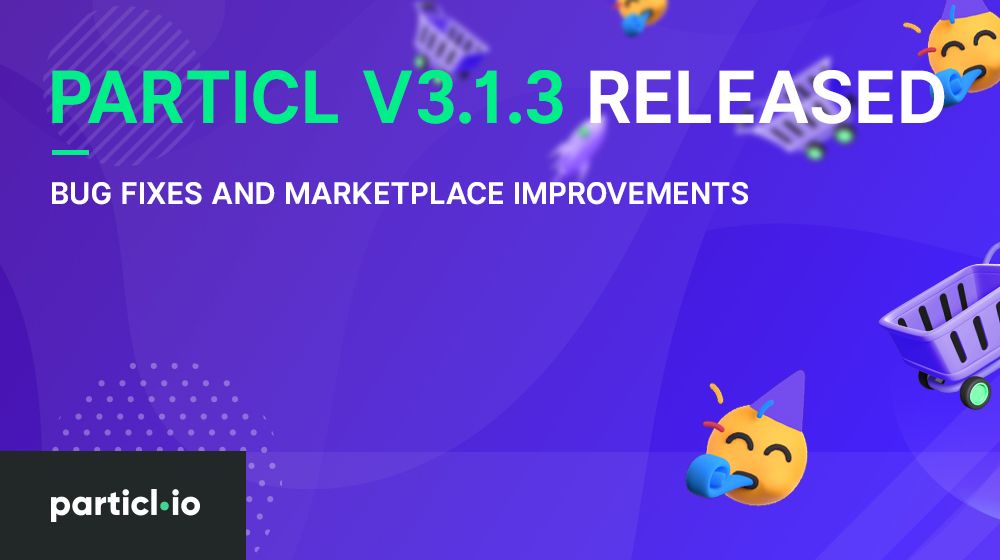 After relentless troubleshooting and debugging with some of our current vendors, the root cause of the issue was identified and Particl's desktop developer Arnold Bansemer pushed out a fix that resolves this issue.
Although the Particl Desktop 3.1.2 fixed a significant portion of this issue, the patch was later completed with the release of the 3.1.3 versions which fully fixes the problem for good. Because this bug causes significant issues to the marketplace's user experience (you can't see listings), this update is necessary for anyone that wants to use Particl Marketplace.
And so, although we hoped to be done this week with the in-market messaging system, the major issue mentioned just above created delays in its completion. We can, however, report that it is almost complete by now. Once fully ready and internally tested, we'll be ready to issue testnet builds for the Particl community to test out the new major feature thoroughly.
Particl Core Progress Update
As for Particl Core, this was a very busy and productive week as well. We've also seen two releases for the two most popular Particl codebases; Particl Core 0.19 and 0.21. ‌
These two releases fixed an array of bugs, notably one that prevented some anon outputs from being properly displayed within the Coin Control menu. It also introduced a few improvements like Particl's 0.19 codebase now having the same default ring size as all other maintained codebases as well as Particl Desktop. This improves the level of privacy of people making anon transactions using the 0.19 codebase by unifying the default value across all environments.
Note that, since these two releases were in pre-release mode, Particl's cold staking application doesn't automatically update to them yet. This is normal. In fact, ever since the release of 0.21.2.8 earlier this week, the build has been updated to deal with a specific issue regarding peer selection and banning. Since then, the 0.19.2.20 has been made into a full release, therefore, Partyman should be able to update.
Additionally, we released today, a new build in pre-release for Particl Core 22.0 (note the change in nomenclature that comes with Bitcoin's latest codebase version).
Particl Core 22.0.2 introduces a wide variety of improvements and bug fixes from Bitcoin's upstream code, which can be seen by following this link. If you're running a 22.0 node, we highly recommend updating and reporting back to the Particl team if you encounter any issues!
Don't Miss our Weekly Articles...
We've recently started pushing weekly articles that explain, in more detail, the vision we have for the world and the mission we've undertaken here at Particl. We've published one on the centralization of the web and its consequences on online censorship this week and another one on the illusion of the efficacy of consent-based privacy regulations last week.
These articles aim to highlight some of the tough challenges and issues we face in today's world and society, some of which can only be fixed with properly distributed and privacy-preserving technologies, and spell out how we plan on resolving them for the benefit of all through Particl.
If you ever want to tell others what Particl is all about, deep down, and why we should all care about its mission, these are great yet quick articles to share around! All our stories can be found in the Stories section of our blog.
...nor the Weekly Super Dangerous Club Show
The Super Dangerous Club is another great way to get familiar with the various topics that surround, directly or indirectly, the Particl project.
That's why we invite you, every Thursday at roughly ~2 PM GMT, to tune in to the show where Particl advocates Dr. Kap and e-commerce expert Joe Fisher discuss various outside-the-box topics about the current trajectory of our society, politics, and tech.
Every week, the show is broadcasted on all your favorite platforms. But to really get into the action, we invite you to come and speak your mind directly with our two wonderful hosts on Clubhouse's live episodes.
To see where the SDC is available, follow the linktree below. Now, be there...or be square! 😉
Spoiler alert: Most of this week's show was focused solely on the Particl project; something you most certainly do not want to skip!
---
Particl is Participation
Get recognized as someone that cares. With your help, we become more noticed out there. It takes seconds, and you are making a statement by giving us a follow and hitting the bell icon.
YouTube Twitter Mastodon Reddit

Join the instant messaging chats. There's no need to be active, but it's good to be in the loop.
Discord Telegram Element / Matrix
Gain deep knowledge about Particl by reading.
Last but not least, a list that shows an infinite number of links clearly categorized and on one page.
---