The week has come to an end and you know what that means; it's time for our weekly progress report!
This week, in addition to the development update, we've also included a link to the team's funding allocation report. If you're interested in this data, make sure to scroll down to the bottom of this article for a link to it.
Now let's jump into the crux of this update!
---
Particl Desktop Progress Report
This week, we've made considerable progress on the in-market messaging system. We have, in fact, completed its initial integration.
Thus, we've spent a good portion of the week testing it in a live environment and have identified three issues that we are now working on resolving, with one being likely fixed already (testing of the fix is ongoing at the time of this writing). We hope to resolve the other two issues by the end of this coming weekend, or early into the coming week.
Once these issues are resolved, the new messaging system for the marketplace app will be ready, which means Particl Desktop 3.2 will also be ready for its testnet round. We are aiming, barring any unforeseen issues, to begin the process of getting the testnet builds ready for release by mid or late next week. We will keep you updated about the process.
Particl Core and BasicSwap Progress Report
Particl Core 23.0 ✅
This week on Core, we've started the week on a strong foot by pre-releasing Particl Core 23.0.1.0 (RC2). If you're curious enough to test it out, you can download it from Tecnovert's personal repository, but know that this release is not yet officially supported by the team (experimental) and is reserved for advanced or adventurous users only.
Frozen Heart ❄️ 💔
There has also been a bit of drama related to a vulnerability found in some coins' implementation of RingCT and its Bulletproofs protocol improvement. Dubbed Frozen Heart, the vulnerability, ethically disclosed by the Trail of Bits, allowed for the forging of zero-knowledge proofs, rendering the protocol's soundness void.
While the Trail of Bits team did not mention Particl in the list of affected projects, we've built a few tests of our own to verify beyond a doubt whether this would affect Particl or not. We are happy to finally report that, after proper testing and investigation, we can confidently say that Particl is safe and unaffected by this vulnerability. You can read more about the vulnerability disclosure here.
Cold Staking Pool Bug 🪲
Another thing we've been working on this week has been regarding an odd bug related to cold staking pools. In fact, cold staking pools that were using multi-signature addresses (i.e., coldstakingpool.com) had been affected by a bug that prevented the automated distribution of staking rewards after the release of Particl Core 0.19.2.19.
This bug has been resolved yesterday, cold staking pools operators have been notified of the fix, and rewards have already been successfully distributed to stakers that are staking on pools that have since then made the update. The applied fix has for bonus effect to make cold staking pools significantly faster. You can check out the fix here.
BasicSwap 📈
While we continue to work on the user interface of BasicSwap, we've been reached out by two different privacy projects to add their coins to the upcoming DEX.
And so, we've begun, this week, to look into the feasibility of adding these two coins with the current setup (they have two different codebases) and look into what would be needed to be coded to add that compatibility.
Because we've been relatively busy with various factors surrounding Core this week, we've only scratched the surface so far and are very early into this investigation, but we are most definitely thrilled to see interest from fellow privacy projects! We'll share more details as soon as possible.
Core Maintenance and More Onion Seeds 🧅
As is usual, we've worked on maintaining Particl Core up-to-date with recent Bitcoin changes. We've also added a bunch of new onion seeds into Core which should make routing your Particl connection through Tor more stable. You can have a look at the new seeds here.
Please note that, soon enough, we will be officially moving away from the Particl Core 0.19 version to unify the network around the new TorV3 protocol.
Indeed, Particl (and Bitcoin) have been making use of the new, better TorV3 addresses ever since the release of 0.21. And while Particl Core 0.19 has been very stable for Particl, it's high time to move the remaining of the network that isn't yet running 0.21 to this version.
This will improve the reliability of Tor routing on Particl by unifying the version of Tor's protocol being used.
SoonTM Development Ltd Spending Report
SoonTM Development Ltd is the legal entity supporting the Particl team. It is what holds custody and manages the funds claimed from the network's Treasury by the Particl team.
Following community requests, a spending report has been released on the company's website. You can consult it by following this link.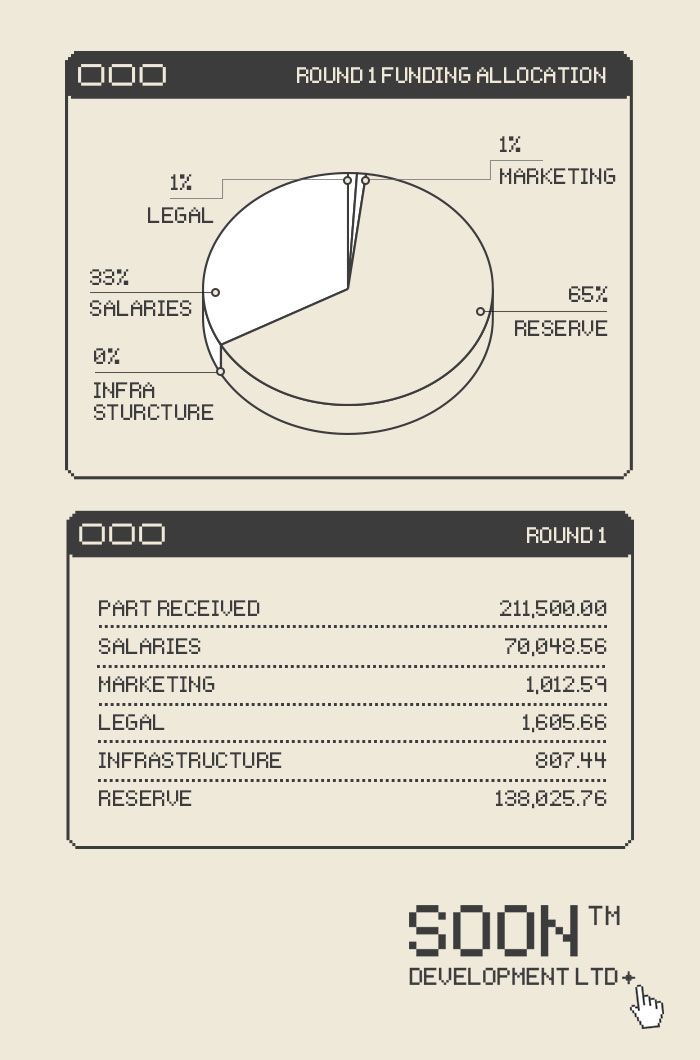 As was mentioned in the proposal, because little was spent on marketing at the time of the first cycle, the funds that were allocated to this have been deposited into the team's reserve for later use.
The spending report for the second funding cycle (and subsequent cycles alike) will be available on the website, in the same way as this report, shortly after the end of it.
---
As always, we thank you immensely for your passion and dedication to Particl and what it's working towards achieving. None of it would be possible without you all!
We wish you a great weekend we'll see you all back on Monday! 👋
---
Particl is Participation
Get recognized as someone that cares. With your help, we become more noticed out there. It takes seconds, and you are making a statement by giving us a follow and hitting the bell icon.
YouTube Twitter Mastodon Reddit

Join the instant messaging chats. There's no need to be active, but it's good to be in the loop.
Discord Telegram Element / Matrix
Gain deep knowledge about Particl by reading.
Last but not least, a list that shows an infinite number of links clearly categorized and on one page.
---