The week is coming to an end, and with it comes our usual progress report! This week, we've got some exciting development on the side of Particl Desktop, with its new version finally nearing the beginning of the testnet round of testing!
Let's jump right in and get into these details!
---
Particl Desktop Progress Update
This week we've seen significant progress with the upcoming messaging system that will be added to the marketplace. Dare we say that it is...right around the corner? 😅
In fact, it is now nearing completion, with the majority of the work in Particl Desktop being now completed. As it stands now, there are only a couple of issues that still need to be addressed and one or two additional features that still need to be implemented relating to the messaging. Still, those are minor compared to the work that's already been done on that end.
For example, the ability to save a label, like a name or an identifier, to a particular chat address still needs to be added to the desktop client; a feature that should take no time to add.
In addition, there are still a couple of non-messaging issues that we've come across that need to be looked at. By fixing these, along with the now-quite-impressive number of improvements and bug fixes since our last desktop client update, you can guess that Particl Desktop 3.2 is going to have a much better user experience and feel much smoother, especially for vendors who've submitted a non-negligible list of feedback, comments, and suggestions! Thank you all for your constant reports; they help immensely in improving Particl!
With all of the above in mind, the focus for next week will be to complete all of the messaging-related changes (final desktop client implementation issues and final additional features) and do the final internal testing of the entirety of the messaging implementation. We'll also strive to finish off the other non-messaging issues.
And so, we hope to be able to initiate the building process for Particl Desktop 3.2 towards the end of next week or early into the following week. Regardless of when that process starts, expect a thorough update on the matter in next week's progress report!
Particl Core Progress Update
This week on Core, we've rebased the PartPayServer based on a request from a potential new partner to use the latest version of Particl Core. That means the payment server is now compatible with Taproot!
For those who don't know, PartPayServer is a payment module that can be integrated into any website to accept both Bitcoin and Particl payments. The payment module can be integrated onto almost any website or platform or be added to any WooCommerce shop using the BtcPayServer plugin (cross-compatible with PartPayServer).
If you would like to accept Bitcoin or Particl payments on your website or online shop (not hosted on Particl Marketplace), we recommend getting PartPayServer here.
You'll find all the required documentation on setting it up here. Additionally, if you want to install and run the WooCommerce plugin, refer to this document here. Although the documentation is made for BtcPayServer, PartPayServer is completely cross-compatible with the plugin and will work without issue. Just make sure to enable the Separate Payment Gateways setting to accept PART and get to the api key from btcpayserver by going to: Account -> Manage account -> api keys. It's listed in the next section after automatically setting up the api key. Finally, for this to work, you'll need to set up your own store and wallets in PartPayServer.
Aside from this rebase, the rest of the focus has gone towards keeping the Particl codebase up-to-date with Particl Core, as is usual.
Broadcasting Lower Market Listing Fees
As most of you know, the size of the Particl Marketplace listing fees is dependent on what the network wishes to see. Anyone who stakes PART can broadcast their fee preferences and influence the rate with which the marketplace bases its listing fees.
Since the fee broadcasting feature was fixed and re-enabled on our last hardfork, the community has lowered listing fees significantly. Indeed, we've seen a 66.6% decrease in listing fees, going from a target fee rate of 20,767 to 6,935 at the time of this writing. So how does that translate into real-world data? Let's check it out.
For this example, let's assume a seller sells 100 items over 30 days. He averages three high-quality images and a reasonable description length in each listing. Thus, this example assumes an SMSG message size of around 0.5 MB. In total, after a month's worth of listing with PART's value set at $0.80), the seller would have paid $83.22 in total. Note that because there is no sales fee or any other eCommerce-related fee on the platform, that is all the seller will pay, regardless if sales are made or not. However, the fiat valuation of the listing fee does change depending on the PART price.
With this data on hand, now you're in a better position to judge whether or not you want to broadcast lower or higher fee target rates. If you'd like to change your preferences, we invite you to read the blog post on the topic here and change your preferences accordingly!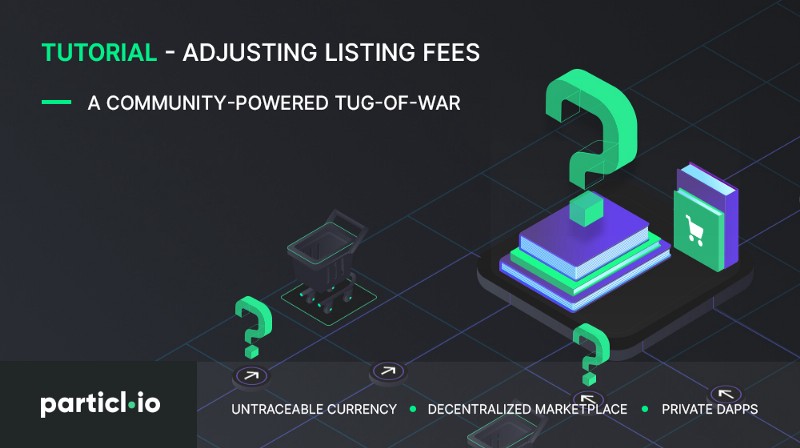 ---
As always, we thank you immensely for your passion and dedication to Particl and what it's working towards achieving. None of it would be possible without you all!
We wish you a great weekend we'll see you all back on Monday! 👋
---
Particl is Participation
Get recognized as someone that cares. With your help, we become more noticed out there. It takes seconds, and you are making a statement by giving us a follow and hitting the bell icon.
YouTube Twitter Mastodon Reddit

Join the instant messaging chats. There's no need to be active, but it's good to be in the loop.
Discord Telegram Element / Matrix
Gain deep knowledge about Particl by reading.
Last but not least, a list that shows an infinite number of links clearly categorized and on one page.
---