New Marketplace Development Update & Roadmap
It has now been more than 2 weeks since the Particl Open Marketplace has launched on mainnet. This release has been a historic moment for the project and a huge stepping stone for the upcoming eCommerce revolution that Particl is brewing up.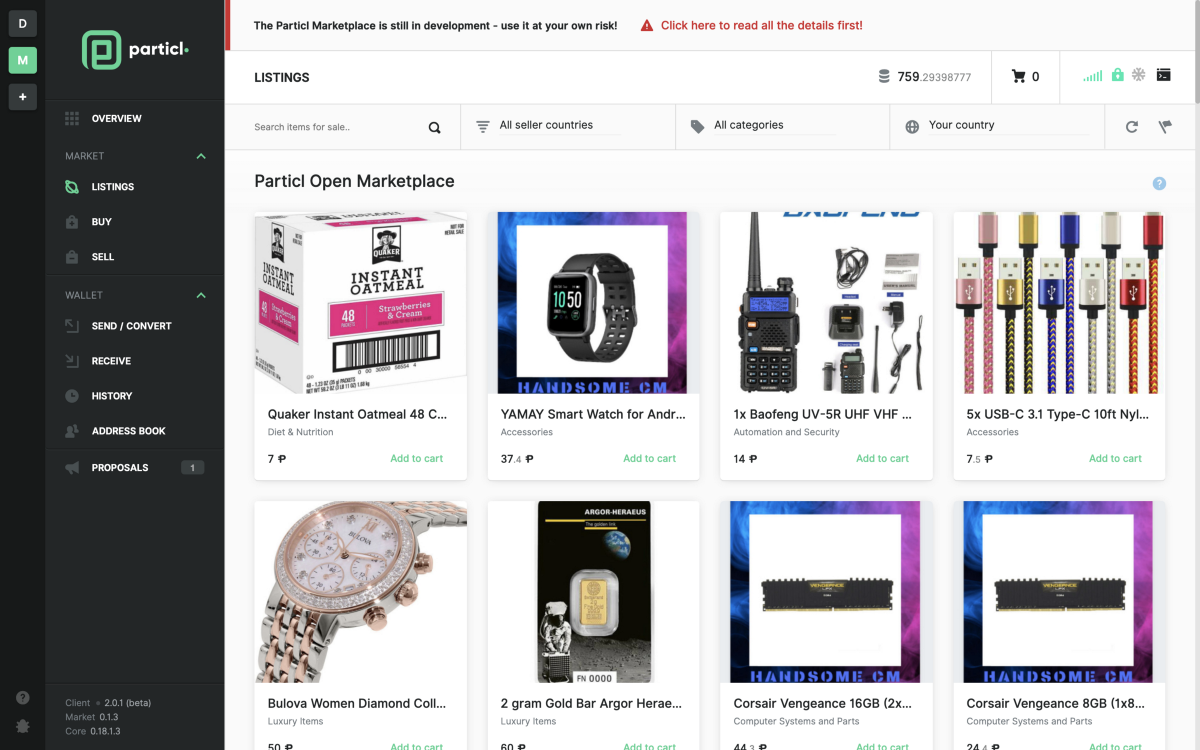 Since that time, the team has certainly not been taking it slow. No, it's instead been carefully monitoring the community for feedback and comments regarding the overall user experience of this first live version of the marketplace and has started working on several features that are soon going to make their way onto the marketplace. It's important to remind ourselves that this version of the Open Marketplace is an early Beta version and is in no way the "end" of anything for Particl. Quite to the contrary, it is the beginning of a great journey in disrupting one of the biggest economic sector of the world— the eCommerce sector.
It's been mentioned in the past that, as the Open Marketplace goes live on mainnet, it would signify a gradual change of phase for the project. Whereas Particl used to be almost exclusively focused on development, getting a live product means user adoption will now play a more important role. After all, this project has always been about building a product that people could use to address real-world issues. It has always been about creating a solution that empowers individuals and enables businesses to reach their full potential. And now that the solution is here, it's time to get people to use it and benefit from its groundbreaking technology.
Now it's Adoption Time!
Ever since the mainnet release of the Open Marketplace, the Particl team has received a huge amount of feedback and comments about the overall user experience. And it is this user experience, the feeling you get when using the marketplace, that is critical in getting new people and businesses to use Particl. It is one of the key factors in determining the "user conversion rate", or the number of people that become recurring users after trying out the marketplace for the first time.
Indeed, getting new people to try out the marketplace is one thing, but retaining them as users is a whole other story. Most of the time, people are more than willing to sacrifice their data and even pay higher prices if the user experience is better elsewhere. And besides, you also get one chance at first impressions.
For this reason, the new Open Marketplace development roadmap will now be heavily focused on building what needs to be done to make the user experience as good and as accessible as possible. In other words, each new marketplace feature released within the next few weeks and months will directly contribute in making the user experience better, thus increasing the user conversion rate and allowing more sellers and buyers to be onboarded.
What are the Current Barriers to Entry
Since the ultimate goal of the Open Marketplace is to empower individuals and businesses on a global scale, it's important to identify what are the current barriers to entry for anyone to start using the marketplace. After that, it's crucial to identify what can be done about it and then act on it.
By definition, a barrier to entry is an obstacle or hindrance that makes it hard to adopt a new product. This obstacle can be a technological challenge, difficult government regulations, a steep financial cost, a lack of education about a topic, and etc. In the Open Marketplace's case, the barriers to entry are mostly technological, financial, and educational.
That much is made quite obvious when you start to go over the list of the most reported issues, comments, and feedback regarding the user experience of the marketplace since it's been released on mainnet. When all summarized, most of it can be boiled down to a few main barriers to entry that makes it a bit challenging for buyers and sellers to adopt the platform. Some of the most reported user experience issues include:
The setup process of the marketplace (it has to be manually enabled) could be improved (technological barrier)
Listing fees being too high for large-scale sellers (financial barrier)
The double deposit MAD escrow requires a security deposit from both sides (financial barrier)
There is no branding or identification option for vendors (technological barrier)
The marketplace currently only accepts the PART coin and not Bitcoin, other cryptocurrencies, or more traditional means of payment (technological barrier)
The entire blockchain and SMSG network needs to be synced, which takes a few minutes to do (technological barrier)
What needs to be done to complete a certain action isn't always perfectly clear (educational barrier)
How funds move throughout a full transaction process (educational barrier)
These barriers to entry are the main obstacles that make it harder for Particl to be adopted to a wider level. As such, solutions to these issues will be prioritized moving forward, and each item contained within the Open Marketplace development roadmap for the next few months is designed to increase the adoption of the Open Marketplace by improving the user experience.
Make Particl as Accessible as Any Other Marketplace
To eliminate the barriers that make the Open Marketplace hard to adopt for most people, the Particl team has planned and started working on several improvements and features. Each of them is designed to feed off each other and directly contribute to improving Particl's user experience for both buyers and sellers.
What follows is an estimated release timeline of the next few features that are going to make their way onto Particl's Open Marketplace. There's currently no date or time estimate associated with any of these features, but they're what's being worked on at this moment and what is planned to be released in the short to mid-term.
Note: This development timeline is only an estimation of the order at which features will be released live on mainnet. All listed items are subject to change.
---
What's Coming Up for Particl?
---
User Interface Tweaks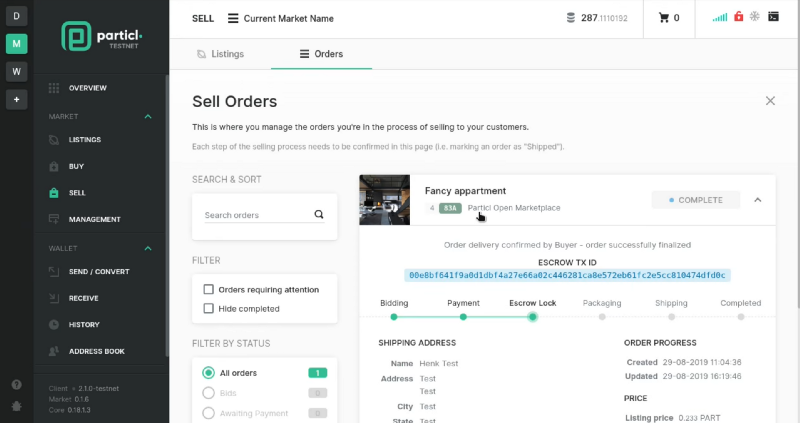 The lowest hanging fruit for impoving Particl's user experience is by making several tweaks to the user interface of Particl Desktop, the client on which the Open Marketplace is hosted. These tweaks are currently being worked on based on user feedback and will make using Particl much easier, especially for those who haven't used it in the past. These improvements and additions will also display more information to buyers and sellers, making it easier to track what's happening within the client (i.e. why funds are moving around, or at what time has a certain transaction been locked into escrow, and etc).
Lowering Marketplace Fees
One of the most reported issue with the Open Marketplace is the cost of listing an item. As the marketplace is fully autonomous and isn't being operated by any third-party, it charges no commission, subscription, payment processing, or escrow fee at all. It does, however, charge a small listing fee to fight off spam on the network.
In fact, when listing an item, the network usually charges sellers with a few cents worth of PART every day. And while it isn't that big of a deal for any seller making a few sales here and there on their listings, especially given the fact that no commission is being charged on top of sales, it can quickly add up for some of the smaller scale vendors who struggle to make sales and sellers with huge inventories (hundreds/thousands of listings).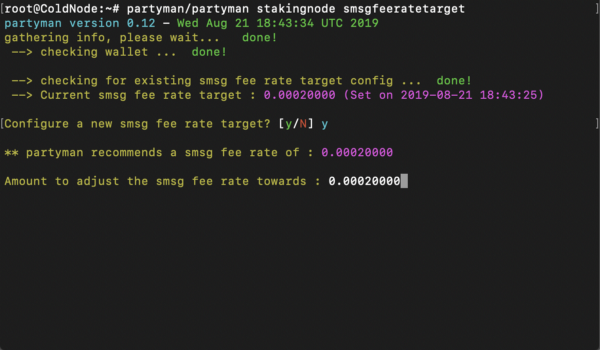 Fortunately, you can actually contribute to making this listing fee smaller. The Particl team has published on their blog a full tutorial on how to instruct your staking node to broadcast a request for lower fees to the SMSG network. SMSG is the network on which marketplace-related content is published and hosted.
Additionally, the Particl team is in the process of improving and optimizing the SMSG network. It is estimated that the marketplace fees (i.e. listing fees) will significantly be lowered due to the more effective SMSG codebase.
These changes will come gradually within the Beta phase of development of the marketplace as updates get pushed.
Product Import Tool
One of the key components of a two-sided marketplace is getting a good amount of sellers and listed products. This is why the new Particl Open Marketplace roadmap for the next few months includes a lot of tools that will make it easier for sellers to adopt the platform.
One such tool is the Product Import tool. This tool allows vendors to quickly import large inventories from other sources, considerably reducing the time it takes to populate the marketplace when holding custody of large inventories. Without this feature, sellers need to manually add listings one by one, which is a very time-consuming process.
With this feature in place, sellers are going to be able to import and list large inventories with only a few clicks. Outside sources for inventory importation will include WooCommerce stores and CSV files (spreadsheets). More options are very likely to be added in the future.
Q&A Section — Ask a Question to a Seller
But a two-sided marketplace being a two-sided marketplace, it also needs a good amount of buyers so that it can reach its full potential. This is where the upcoming Q&A section comes into play.
This "comment section" will allow anyone to ask questions to vendors before purchasing (or flagging) a product. This isn't unlike the very popular Q&A section that Amazon has had for some time now, and it goes a great way into giving you information that might be missing from the item's description.
This feature, while not a direct line of contact with the seller, will help buyers make more informed purchasing decisions and give a little bit more confidence when buying an item from a complete stranger. The more you know, the better decisions one can make.
Particl Desktop Settings Page
The Particl Desktop Settings page is a no-brainer. Currently, if you want to change a configuration on your Particl Desktop client, you either have to modify some config file or enter some command inside the console. This works, but since the goal is to make Particl's user experience as good as possible, it's definitely not as user-friendly as it should be.
The Settings page is pretty much what you would expect from a…settings page. It allows you to change various preferences without having to go through the hassle of finding a tutorial on how to find and modify a config file, or find a list of commands to enter in the console.
Market Management Tool
The Market Management tool is one of the most awaited features of the Open Marketplace, and rightly so. It is what's going to make all the individual pieces of the marketplace click together and form into a giant distributed network of markets.
Market Management will allow you to either create a market of your own or connect your client to a pre-existing one. These community markets can be created by anyone and are completely independent of the main interface of the Open Marketplace. In fact, they are powered by completely different sets of market keys, meaning no data can be shared between the different markets. It's like multi-wallets, but more advanced and for markets.
On Particl, there are two types of markets: community markets, and storefronts.
Community Markets: They are markets on which anyone that has access to it can buy or sell goods and services. They function exactly the same as the main interface of the Open Marketplace, and nobody has any special permission over other users. Not even the market creator. These markets, however, are not enabled nor visible by default. To access these markets, you need to connect your Particl Desktop client to its Market ID.
Note: The main interface of the Open Marketplace is a community market that's enabled and displayed by default by the Particl Desktop client.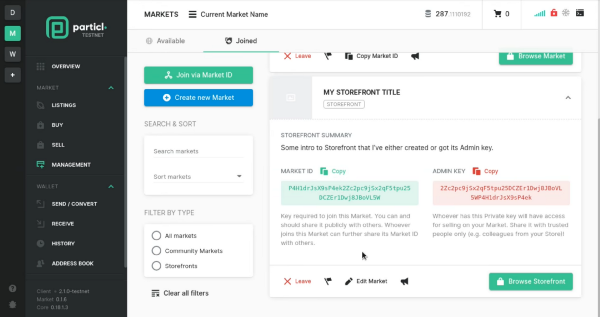 Storefronts: They are customizable community markets on which special permissions can be attributed to various users. In their most common sense, they are storefronts on which a seller can "set up a shop" in such a way that only him (or the people he gives administrator rights to) can publish listings. Anyone with access to a storefront can only buy (or flag) the listings put on there by the owner of the storefront. Storefronts can also be used by communities looking for higher standards in quality on which only vetted sellers could publish listings.
Note: By default, Particl Desktop has no way to automatically find Market IDs on the network. These keys need to be distributed manually by whoever wants people to interact with a certain market or storefront…unless these markets/storefronts get promoted.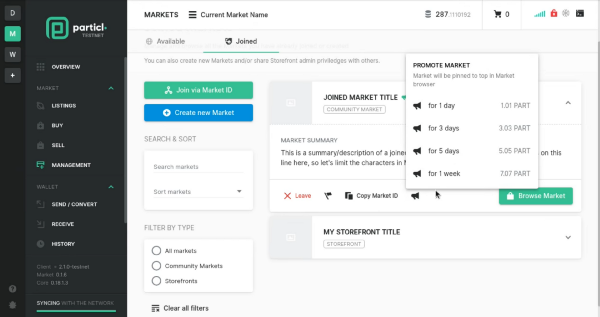 While Particl Desktop cannot automatically scan and detect community markets, it is still possible to promote your market to the network, for a fee. When "promoting" your market (or storefront), your Particl Desktop client broadcasts the Market ID of your market to the network using SMSG. It is then picked up by the other clients connected to the Particl network, and is added to a "market browser". At this point, a market will act just like a listing. It will show up on the market browser for the amount of time it's been promoted. Once the promotion period ends, the market disappears from the market browser.
Note: Once a market or storefront disappears from the market browser, it is still accessible to anyone with its Market ID. The only difference is that it won't be publicly accessible from the market browser itself.
Anyone with the proper Market IDs of a market or storefront can promote it. All the fees paid to bump/promote community markets are, just like the listing fees, redistributed to stakers.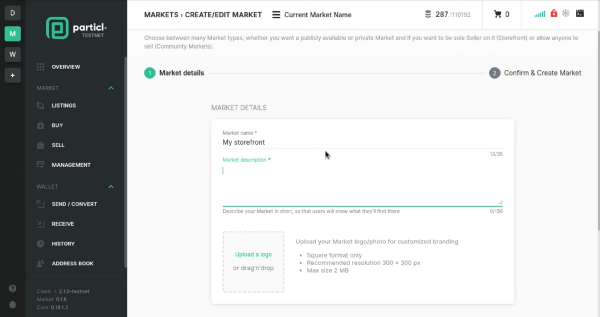 Storefronts are ideal for sellers with an already established reputation. It allows them to guarantee to their customer base that a given market, thus all products published inside of it, belongs to him. This can easily be done by, for example, displaying the Market ID of the storefront on the seller's official website.
Additionally, storefronts allow for a minimal amount of customization/branding (logo, store description, store title) and aggregate all the listings of a vendor to a single point of access This makes it easier and quicker for customers to find what they're looking for, when they need it.
Adjustable Escrow Ratio
As it stands right now, Particl's double deposit MAD escrow system only works using a 100% ratio, meaning both parties need to deposit a security deposit equal to 100% of the value of the item or service being purchased. There's nothing wrong with that, of course. After all, a 100% ratio does provide the best game-theory for this type of escrow. There might, however, be some circumstances where such an escrow system wouldn't be ideal.
Take the example of a well-known seller that's already trusted by its customer base and runs a storefront on Particl. This seller might want to move some of its inventory on Particl to save on fees and improve the level of privacy for his business as well as his customers. But since that seller is already well-known and has an established customer base, it might not be ideal for both the seller and its customer to front funds in order to cover a double deposit MAD escrow smart-contract. There is already trust that's been established between the two parties and, since the seller is running a Particl storefront, he can prove ownership of the products being offered simply by spreading his Market ID on his website or social media pages. In that situation, the required security deposits become an unnecessary obstacle for both the seller and the buyer as they do not necessarily require, or want, escrow protection for transactions.
What an adjustable escrow would mean is that vendors could set up their own escrow ratio preferences from 0% to 100%. In the above example of a well-known seller running a Particl storefront, he could just reduce his escrow ratio to 0%, meaning no security deposit would be required from neither the buyer or the vendor. This, of course, means that buyers would have no recourse against a dishonest seller, but for those already-established sellers with an existing customer base, having the opportunity to not have to advance coins to fund the escrow system would make adopting Particl's Open Marketplace much more of a no-brainer.
Inventory and Quantity Management Tool
This feature is self-explanatory. There is no way, currently, to manage a wide inventory and add quantities to your listing. Fortunately, the marketplace back-end currently allows for most of it, but it hasn't been integrated into the Open Marketplace just yet. Note that a relatively fair amount of development is still needed around this feature and it is likely to be released after the Market Management tool.
This tool, like its name implies, allows vendors to easily manage inventory quantities, manage multiple listings, and etc. Just like the Product Import tool, Inventory Management is going to make it way easier for sellers with large inventories to take the leap and get started selling on Particl without it being a big hassle.
---
Then What?
All of the above-mentioned items are placed into a short to mid-term roadmap, meaning they are likely to be released within the next few weeks and months, depending on the feature. But wait, there's more to it!
The Particl team is thinking ahead and has already planned and started doing research on the features that are going to be worked on once the above marketplace development roadmap is completed.
Alternative Payment Options — Bitcoin Payments
One of the barriers to entry for Particl's Open Marketplace currently is that it only works with PART, Particl's native privacy coin. This, of course, is due to the nature of the technology and how the marketplace has to use PART for its privacy and smart-contract capabilities. If it were using Bitcoin, not only would transactions take a considerably longer time due to longer confirmations, but the marketplace wouldn't be able to offer a private-by-default experience to its users. And if it were using Monero, it would be okay on the privacy side of things, but then the coin couldn't be used within smart-contracts. The PART coin is a next-generation privacy coin that has both a solid privacy scheme and a flexible codebase which allows it to be used within smart-contracts. As far as privacy coins come, it's pretty much getting your cake and eating it too! The good stuff…without the limitations.
But in the end, people want an easy-to-use marketplace with good user experience, and only accepting PART severely limits the number of new users that can be onboarded (that's because everybody uses Bitcoin, mostly). To address this issue, the Particl team is going to be working on integrating alternative methods of payments, like paying with Bitcoin, for example.
There are a couple of ways this can be done, either through an atomic swap widget or by integrating a third-party partner. And while the Particl team would like to use an atomic swap solution (research and development on the matter is ongoing at this very moment), a third-party integration might have to be coded in until an atomic swap application is fully ready (and thoroughly tested) to go. There are currently investigations going into this question specifically, and so more details will be able to be communicated in the future.
It's important to note though that, regardless of the method chosen to accept different payment methods, the PART coin will always be the coin that settles the transaction in the end. That's because even though Particl's Open Marketplace would be accepting Bitcoin, the marketplace Dapp still needs PART to operate as it is the coin that gives it its privacy and smart-contract capabilities. This means any non-PART payments will be automatically converted into a PART transaction, in the background, on behalf of the user. The end result is that the buyer pays with Bitcoin, and the Open Marketplace does all the rest, transferring the Bitcoin into Particl to fuel the escrow contract.
Mobile Application
Another very important upcoming feature is a Particl Open Marketplace mobile application. Indeed, most people now shop on their cellphones, which means downloading a software that requires you to sync two networks (blockchain + SMSG) is definitely a downgrade in terms of user experience. Sure, it provides way better privacy and decentralization, but for most people, this is too weak of an argument against a lazy and fast user-experience.
And so, to address this issue, the Particl team has scheduled the development of a mobile application. Research is already being put into this item at this very moment, although it is not a top priority for the team right now. That's because there are still some core features missing to the marketplace (the items in the above roadmap) that need to be added before the team can think of wrapping everything within a mobile application. Once the above roadmap is complete or near-complete, that's when the Open Marketplace's mobile application is going to become more of a focus.
This mobile application will make Particl as accessible as it will have ever been. In fact, most of the world uses cellphones and more and more people now spend more time on their phone than on their computer. To make sure the application has good performance and setup speed, it is more than likely to be a "light wallet", meaning it won't require you to download the entire blockchain and SMSG network to function. In other words, this application is intended to be as easy to use as any traditional marketplace mobile application (i.e. Amazon's application).
Developer SDK Tools
With bringing more people within the Particl ecosystem in mind, the team has planned for the release of an SDK tool. This tool will be accompanied by various technical documentation that is now currently missing. This will allow outside developers and teams to easily start contributing to the Particl network by developing services, decentralized applications, marketplace features, and etc.
Because the Open Marketplace is still very much into a heavy development phase, this SDK tool is likely to be one of the last items of this article to see the day. With this in mind, the SDK tool will be going live once the Particl code gets "stable enough" so that it makes sense to commit to a version and write documentation on it.
---
Let's Wrap it Up
All of the above-mentioned features that are going to be added to Particl have one thing in common — they are part of a bigger puzzle that's gonna make the Open Marketplace much more accessible and easy to use for everyone. They all contribute to eliminate the current barriers to entry that makes adopting Particl more complicated for most people.
Once in place, these should take Particl to the next level, making it a much more credible contender for mainstream adoption. In the meantime, Particl pioneers such as you can still buy and sell anything for crypto, without leaving a trace, using the current version of the Open Marketplace. And since the marketplace is now live on mainnet, new features and improvements can be expected to come out at an accelerated pace!
Particl is now well on its way on the path towards mainstream adoption. The development team is now a well-oiled machine and is excited to enter this new phase for the Particl project. The base layer is there, now it's all about putting the last pieces to the puzzle together. This is where it gets exciting and when it starts moving faster!
---