It's almost time for Particl to shine! 🌟
The Beta version of Particl's Open Marketplace has been out for a few months now, and it's been evolving pretty nicely ever since. As we are jumping into this new decade with both feet, it's time to get serious about the adoption of the marketplace. As such, the Particl team has crafted a new and pretty extensive development roadmap that specifically focuses on bringing what needs to be brought for Particl's marketplace to be considered "adoption-ready".
But before getting into it, let's make sure we understand where the Particl marketplace currently stands — what are its strengths and unique offerings, how far has it come since being released, and what prevents it from getting adopted by more users. Once that is understood, it then becomes easier to wrap our heads around what needs to be done moving forward to make sure the marketplace gets the success it quite frankly deserves.
---
What Makes Particl's Marketplace Unique?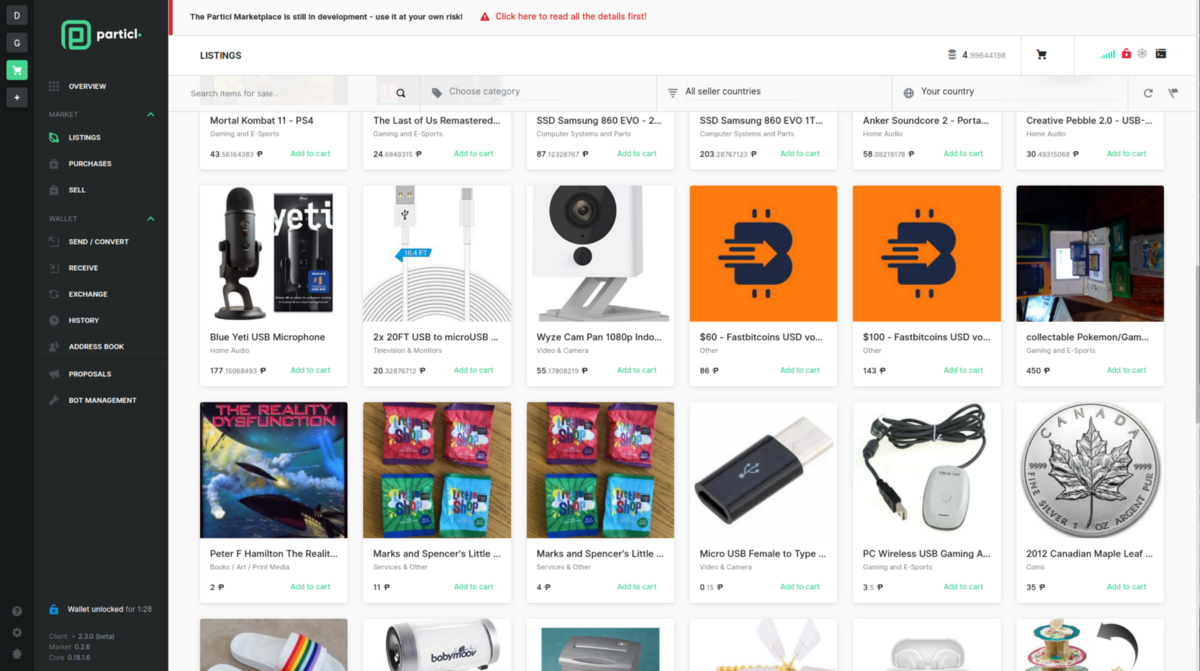 Particl's Open Marketplace is most definitely a unique offering in the eCommerce industry, even still to this day. It allows online sellers and buyers to connect directly with each other, without requiring any sort of middleman assistance (i.e. a company operating an online marketplace), and conduct business without the usual costs associated with selling and buying online such as transaction fees, sales commissions, marketplace subscriptions, currency conversions, and etc.
Additionally, the marketplace is also built using various security and privacy-enhancing technologies so that no data (i.e. sales data) or personal information can be collected by any outside party, a particularly important perk in an age where data mining, monetization, breaches, and leaks have become far too common. Equally as important, better privacy within the eCommerce industry undoubtedly leads to better business and competitive practices as well as a more fair environment for sellers.
On top of that combination of near-zero cost and superior data security, the marketplace requires no sign-up, no login, no personal or business information, is censorship-proof, free to use, and works from any country in the world, as long as you can connect to the internet.
Quite simply, there is not a single marketplace on the web offering such an ambitious and novel combination of features. The reason for it is also quite simple to understand — getting this full set of features packaged into a marketplace requires the use of various novel distributed and privacy-preserving protocols that have only recently been made available to developers across the world.
A Novel, Never-Been-Done-Before Concept
As a very obvious example of this, let's take just one component that makes up Particl's marketplace — its automated double deposit escrow system. Particl's escrow system works on smart-contract functionalities and requires a combination of RingCT and CT cryptocurrency transactions so that any transaction information between a buyer and seller remains only known to these two transacting parties. In other words, it makes escrow transactions completely untraceable and unlinkable to any party not associated with a particular marketplace transaction.
And while RingCT has been available, on Monero, for a few years now, it never was built in a way that it could be used in smart-contracts. Additionally, most of the other currently available privacy protocols simply weren't programmable (can't be used in smart-contracts) or simply weren't realistically scalable enough to make sense to use as part of a marketplace product. For this reason, the Particl team had to build its own custom implementation of RingCT (and bulletproofs) so that it could be used by decentralized applications on the Particl network, and that's only been available for a few months.
This is just one isolated example of technology that became available just recently. Particl's entire platform is composed of such novel components, and so it's no wonder that there is still no marketplace in existence currently offering the same combination of perks as Particl does.
Pioneering Takes Time, Efforts, and a Solid Vision
But being at the edge of technology also has its drawbacks. After all, Particl's marketplace is still early Beta software and isn't really the simplest marketplace to use out there. It really works, but it simply can't realistically be expected to be adopted by any sort of "mainstream" type of user.
It does provide many benefits that are very real, but the technical knowledge and the learning curve required to even use it is still relatively steep. That's one of the biggest obstacles currently standing in Particl's way when it comes to the adoption of the marketplace.
But rest assured, that is perfectly normal for any new technology that's as groundbreaking as Particl's marketplace and uses technologies that have only been made available for a short time. It takes time to disrupt an industry that's as competitive as the eCommerce sector, and it also takes time for brand new types of technologies to mature up to the point where most people feel comfortable using it. Remember the advent of the internet in the early '90s?
The Particl team is indeed well aware of the marketplace's current lack of "mainstream" appeal. Most of the features, functions, and general user experience that would actually be expected from your typical marketplace user (think your parents, significant other, or friends that aren't as "crypto crazy" as we all are) are still being built, and they've been nicely incorporated into the new Particl 2020 development roadmap.
Some of the additions required to make the marketplace more "mainstream-appealing" have already been deployed since first releasing the marketplace on mainnet and can be used by anyone at this very moment. They are either features, improvements, or important functions that help make a buyer or seller's life easier. Let's review what these improvements and additions are and see how has Particl's marketplace evolved over the last few months.
---
How Has the Marketplace Evolved Since Launch?
Not only has the marketplace consistently been pushing its all-time high number of listings higher and higher, but the number of mainnet transactions on the Particl network has also seen a dramatic rise, now averaging more than 200 transactions per day. These transactions include listed items, escrow transactions, the flagging of items, created and votes on community proposals, balance transfers, and regular currency transactions.
Additionally, and perhaps even more importantly, the Particl network has been getting much more private! Indeed, the network's "anon set", the number of RingCT outputs available to anonymize transactions, has been growing exponentially since the launch of the Open Marketplace, averaging a steady 30% or more increase per month. The anon set currently stands at 5232, a whopping 149% increase since August 2019. To observe that value goes up and down by yourself, just open up your Particl Desktop wallet and type anonoutput in the console window. As the Open Marketplace and the Particl network gets more adoption, you can expect that number to keep rising, meaning RingCT transactions will keep on getting more private.
More Tools and Features Made Available
Particl's Open Marketplace is still Beta software, meaning it is still very much a work-in-progress and under heavy development. As such, it is normal that some of the intended features for its first "final" version are still missing to this day. The good thing, though, is that these features and improvements are coming up quite quickly!
Ever since the mainnet release of the Open Marketplace on the 12th of August, 2019, we've seen these improvements go live…
Import products (bulk listing)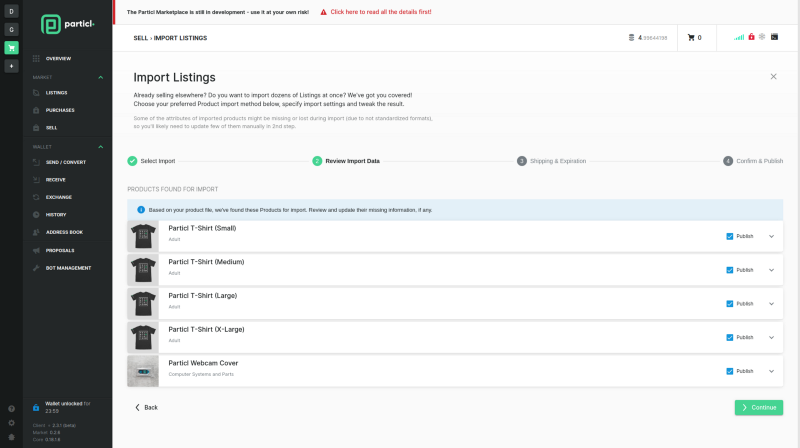 This feature allows sellers to import products from outside sources such as .csv files and WooCommerce stores. It is particularly useful to manage large inventories and list items in bulk. This feature is ultimately designed to reach its full potential when used in combination with the upcoming Market Management and Inventory Management tools.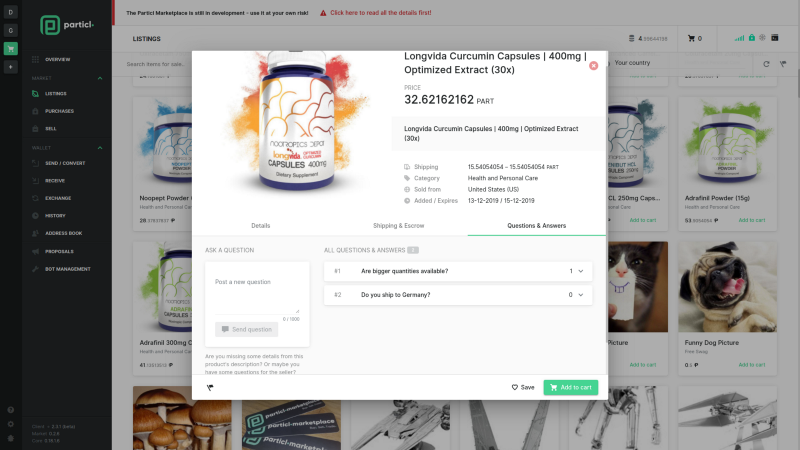 This feature allows anyone to leave a comment, review, feedback, or question on any listing posted on the Open Marketplace. Leaving a post notifies the seller of the item which can then respond. Posts made by the seller of an item are clearly identified as such. This feature is intended to better help you make better shopping decisions and know more about the items you're looking to buy. Public comments will tie in nicely with future reputation models intended to be implemented at a later stage during the Beta stage of development.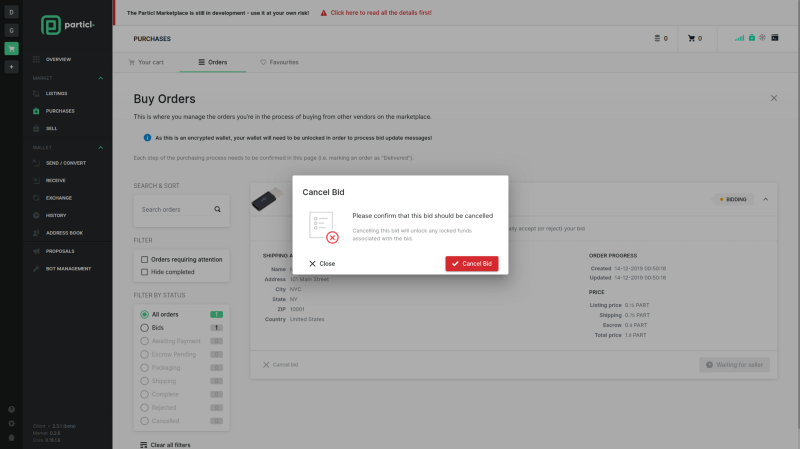 It used to be impossible to cancel an order before the seller accepted it, meaning funds could get stuck in limbo when sellers were inactive and not processing orders. While it was possible to manually unlock these coins, it did require a fair bit of technical knowledge about the Particl platform itself. Far from ideal! This is why an update was made to the marketplace to add this important functionality.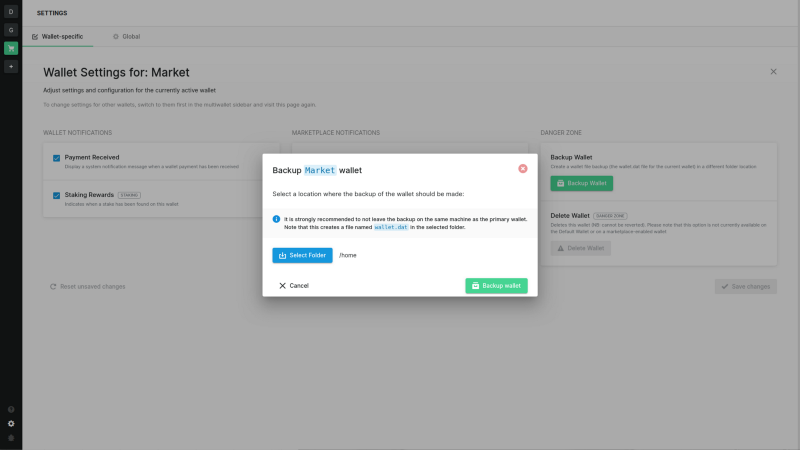 The first iteration of the Settings page has been added a few weeks after the launch of the Open Marketplace Beta. While it currently only contains basic settings such as notification management and wallet backup options, the Settings page will play a bigger role once Market Management and other future major features are integrated.
In-wallet Bitcoin exchange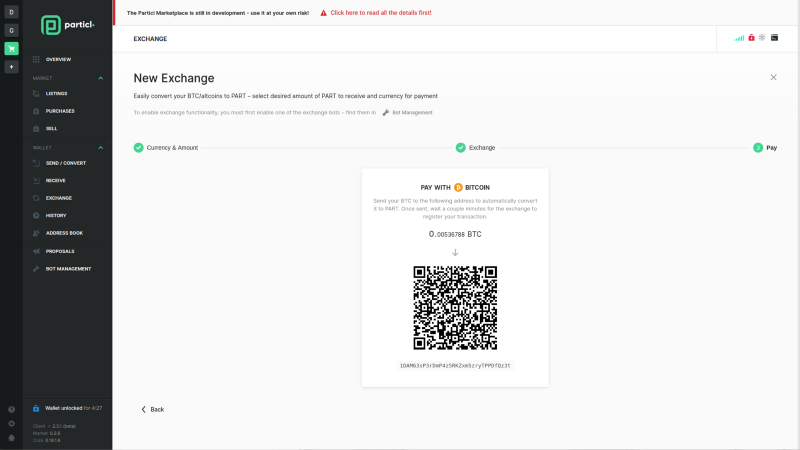 This major and exciting update to Particl Desktop added the ability to swap Bitcoin for Particl right inside the wallet. This means anyone can now "top up" their Open Marketplace account using Bitcoin. No need to register on an exchange or give away your personal information (i.e. KYC, IP address, etc), and it works everywhere, even in the US!
This exchange module is currently powered by the SMSG network and connects directly to the SimpleSwap exchange, but is built in such a way that it can integrate almost any exchange or service provider as long as the required APIs are provided by the third-party. This update was very important as it opens the door for Particl to be adopted outside of its own community by accepting a varied list of currencies.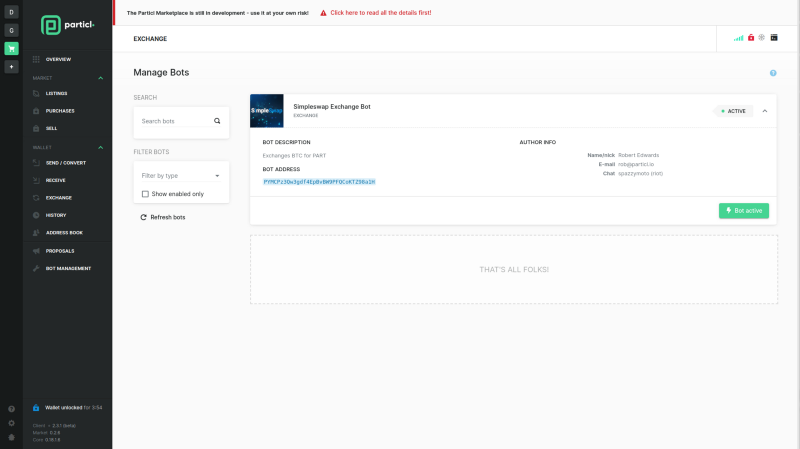 The Bot Management feature was introduced at the same time as the Bitcoin Exchange module was. It is, in fact, what powers it. The Bot Management feature allows you to use and list SMSG bots that provide added third-party services to Particl Desktop. These added services can be bridges to crypto exchanges or fiat payment gateways, as well as many other sorts of services.
However, because this is the first iteration of the feature, it is currently not possible to manually add your bot to the list of available bots. That's because security measures still need to be put in place to make sure people do not push malicious bots on the network. The Bot Management tool is planned to be an integral part of the upcoming developer SDK.
SMSG is the P2P network that powers the Open Marketplace. It securely and privately hosts data (i.e. listing images and descriptions) and makes several processes possible such as displaying listings, flagging items, exchanging Bitcoin for Particl, and etc. It is the backbone of the entire Particl ecosystem.
Since the marketplace's mainnet launch, the SMSG network has seen its performance vastly improved, notably with how effectively it displays listings and communicates between peers. Improving SMSG will be an ongoing process as we move forward through the Beta phase of development.
Significantly reduced listing fees
One of the big updates that were made to the SMSG network is the ability for stakers to signal lower listing fees to the network. What that means is that anyone staking on the Particl network can have a say on how much the network charges users for publishing listings on the Open Marketplace.
As a result, ever since the launch of the Beta, listing fees have been reduced by a big fat 53%! This is already great, making it much cheaper for sellers to list items, but fees are also expected to go down even more, by at least 80%, in the next SMSG update. That's what near-zero cost eCommerce means!
Various improvements, tweaks, and fixes based on user suggestions
On top of everything mentioned above, a LOT of tweaks, fixes, and improvements have been made to both the code and the user experience of Particl Desktop and the Open Marketplace. A lot of these changes have been made based on user feedback, and it is the one reason why the "Report bug" button has been added at the bottom left of the Particl Desktop client. All user feedback is very important and really makes it easier for Particl developers to see what areas need to be improved or tweaked. The more feedback is received, the faster issues can be addressed. For this reason, it is highly recommended to be pro-active in reporting issues and making suggestions on Github.
---
With all of the above in mind, it is clear that Particl's marketplace is getting better and easier to use by the day. Of course, there is still some stuff missing or that could be improved, but that's more than normal given the Beta nature of the product.
So what's left to do? What is the marketplace missing? What could be improved to be able to attract a wider range of users and make sure they remain users over a longer period of time?
That's what we'll be exploring later this week in a future article published here at Particl.news. These are all questions that the team has asked itself recently, along with a few community contributors, and which resulted in a brand new (and dare I say…exciting!) development roadmap. Watch out for next week, because that's when the new development roadmap will be publicly revealed!
---