As we conclude the week, it is time to review the progress that has been made in the past few days. Let us take a moment to evaluate the advancements achieved in the past few days.
---
Particl Desktop 💻️
We're still completing the items outlined in our previous updates, namely including enhancing Tor server capabilities and making a variety of minor improvements.
Please note, however, that we are currently observing a delay that is impacting the the development process of Particl Desktop which we hope to resolve shortly.
Particl Core 🔗
Core Codebase Maintenance 🛠️
As always, we consistently stay up-to-date with Bitcoin's latest version by regularly incorporating upstream updates into Particl Core. You can monitor these changes by visiting this link.
BasicSwap 📈
Installation Wizard 🧙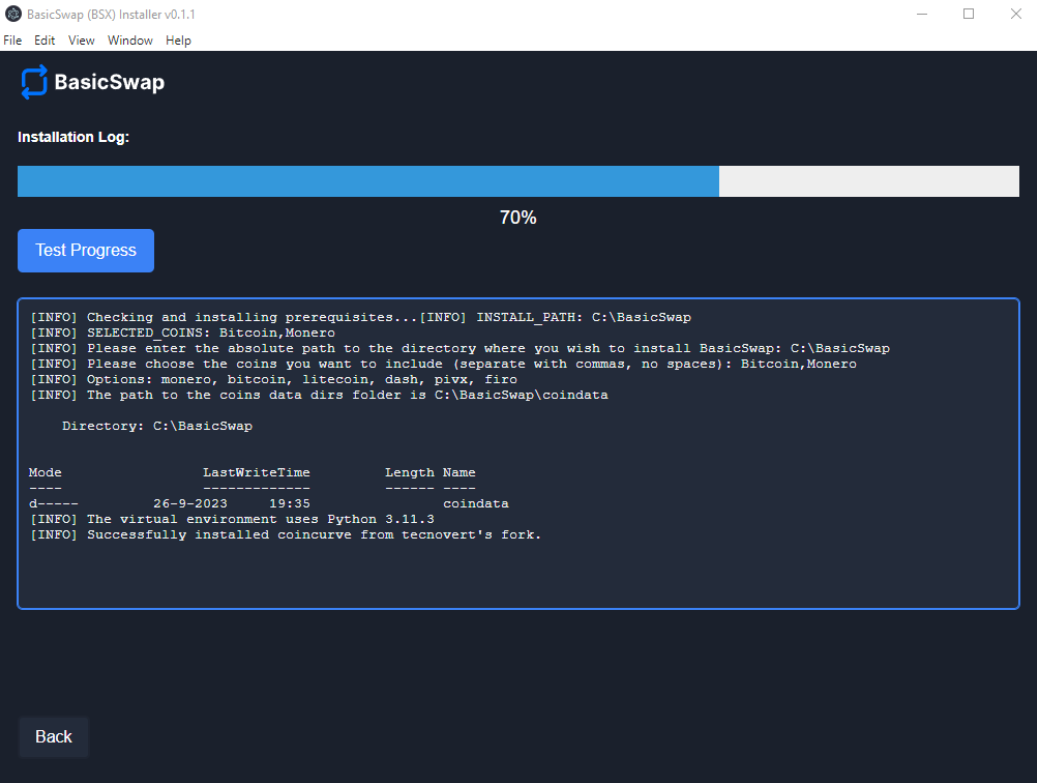 We've mostly finished up the installation wizard by now, with successful tests across the board on all three major OSes.
To get the installer to work smoothly without issues, a notable back-end refactoring of the installation process was required, which was our primary focus over the week. Now that this task is complete, we're down to finishing up a few minor items before we roll it out:
Fix some styling and js issues
Update the README on Github for the "build from source instructions"
Compile the Windows executable (yes, the widely awaited .exe 🎉)
As we stand today, we are hopeful that we will be able to release the installation wizard for Windows next week, with a release for other platforms following up shortly after.
Adding New Coins 🪙
We haven't had much time to wrap up the integration of new coins on BasicSwap as we opted to allocate most of our time this week refactoring the installation process of the DEX , as mentioned in the section above. We've also been finishing up a variety of internal tools we've started working on last week that will allow us to better monitor the blockchain and streamline the management of various network related processes.
User Interface 🖥️
Similarly to our progress on the integration of new coins, we haven't had much time to wrap up BasicSwap's 2.1 UI update this week as we've focused on finalizing the installation wizard.
With its release expected next week, we will then resume our work on the upcoming BasicSwap UI/UX interface update, which is already in the final stage of production. For a complete list of the changes planned for this update, please refer to this list from last week's update.
---
As always, we thank you immensely for your passion and dedication to Particl and what it's working towards achieving. None of it would be possible without you all!
We wish you a great weekend we'll see you all back on Monday! 👋
---
The Open-Source Revolution
We're on a mission to create a private, independent, and pro-liberty digital economy that is fair and open to all. Learn more about what we do at any of the following links.
Be a part of the movement and join us in the fight for our freedoms by meeting the community and spreading the word far and wide!
Discord Telegram Element / Matrix
Learn more about Particl with these in-depth resources.
Website BasicSwap DEX Academy Wiki
Follow the link below to get a list of all other useful Particl-related links you may find helpful.
---