As we conclude the week, it is time to review the progress that has been made in the past few days. Let us take a moment to evaluate the advancements achieved in the past few days.
---
Particl Desktop 🖥
We've spent some time integrating the latest Particl Core release into Particl Desktop and thoroughly testing it before deployment. Once completed, Particl Desktop instances will update with the newest core version automatically upon startup.
Additionally, we've set up a Tor server to enable users to update their desktop's core version through it, essentially eliminating the need for clear web access for those who desire heightened privacy. This feature will soon be available within Particl Desktop.
Following that, we plan to explore the integration of I2P options for users, providing increased versatility in terms of privacy.
Particl Core 🔗
Core Codebase Maintenance 🛠️
As always, we consistently stay up-to-date with Bitcoin's latest version by regularly incorporating upstream updates into Particl Core. You can monitor these changes by visiting this link.
New Core Updates ✅
We have introduced several core updates this week, including the debut of the new codebase version 25.x with its initial release candidate going live.
Particl Core 25.0.1 represents Particl's inaugural 25.x release, incorporating all the advantages of Bitcoin's latest version and demonstrating the project's unwavering dedication to innovation and security.
Furthermore, we have launched a new Particl Core 0.19.2.23 update and a pre-release for Particl 23.1.4, both being minor updates.
Please refer to the respective linked blog posts for detailed information about the enhancements introduced by each update.
BasicSwap 📈
We are currently testing a new installation script that streamlines the entire process of installing and configuring BasicSwap DEX on various operating systems, including Windows, MacOS, and numerous Linux distributions.
This script, which comes as close as possible to a "one-click installation solution", is designed to automatically detect your environment and perform all necessary tasks, significantly improving usability as we continue to develop more user-friendly solutions, such as the web framework intended to host the DEX (and Particl Marketplace) on the web.
User Interface 🖥️
We are also implementing minor modifications and enhancements to the user interface of BasicSwap, as well as investigating various UX features, which will culminate in the forthcoming 2.0.2 release.
New Particl Website Under Construction 🚧
We are also in the process of developing a new Particl website, which will be more streamlined, focused, and accurately represent the project's mission and vision, as well as its dApp and ecosystem.
Stay tuned for updates to Particl.io in the near future.
It's Monerotopia Time! 🧡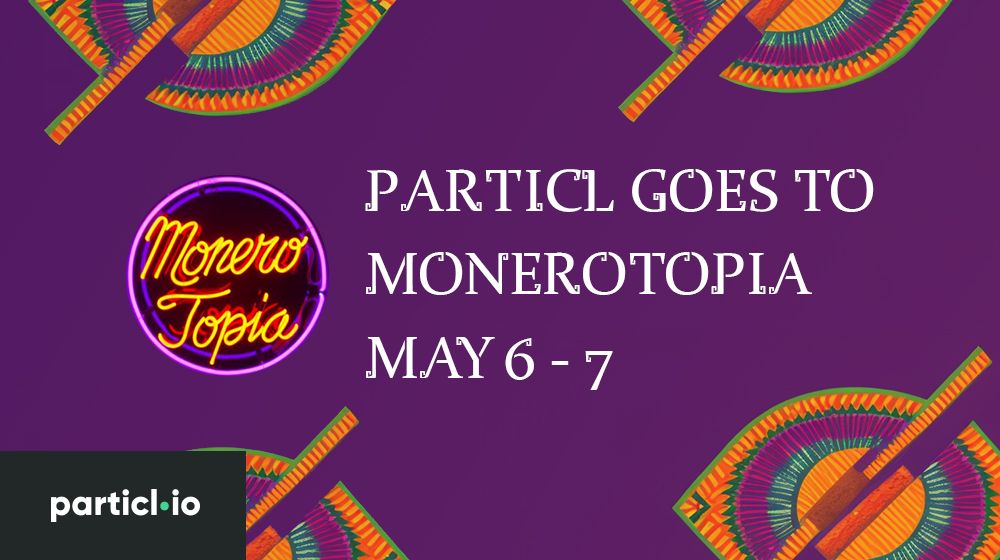 Next weekend, the Particl team is set to present at Monerotopia 2023, a pro-privacy conference taking place in Mexico and organized by Doug and Sunita from the MoneroTalk crew, with a table at the event's Privacy Loft.
With an impressive lineup of leaders from the privacy and freedom movement, the event promises to be one of the most important and relevant of the year.
If you're still unsure about attending, don't hesitate any longer! Remember, you can receive a 10% discount on your ticket by using the Particl or BasicSwap promo codes during your purchase. Be sure to visit us at our Privacy Loft table for a chat!
Additionally, we will be delivering a speech at the VIP dinner attended by various projects and thought leaders in the space. This presentation will be recorded and uploaded to our YouTube channel a few days following the conference.
We look forward to seeing you in Mexico City!
---
As always, we thank you immensely for your passion and dedication to Particl and what it's working towards achieving. None of it would be possible without you all!
We wish you a great weekend we'll see you all back on Monday! 👋
---
The Open-Source Revolution
We're on a mission to create a private, independent, and pro-liberty digital economy that is fair and open to all. Learn more about what we do at any of the following links.
Be a part of the movement and join us in the fight for our freedoms by meeting the community and spreading the word far and wide!
Discord Telegram Element / Matrix
Learn more about Particl with these in-depth resources.
Website BasicSwap DEX Academy Wiki
Follow the link below to get a list of all other useful Particl-related links you may find helpful.
---