As we conclude the week, it is time to review the progress that has been made in the past few days. Let us take a moment to evaluate the advancements achieved in the past few days.
---
Particl Desktop 💻️
We're still completing the items outlined in our previous updates, namely including enhancing Tor server capabilities and making a variety of minor improvements.
Please note, however, that we are currently observing a delay that is impacting the the development process of Particl Desktop which we hope to resolve shortly.
Particl Core 🔗
Core Codebase Maintenance 🛠️
As always, we consistently stay up-to-date with Bitcoin's latest version by regularly incorporating upstream updates into Particl Core. You can monitor these changes by visiting this link.
BasicSwap 📈
Installation Wizard 🧙
The installation wizard (.exe) for BasicSwap DEX is now fully complete. We have distributed it to a few people to test on different Windows versions, and will be ready to push it live this coming Monday!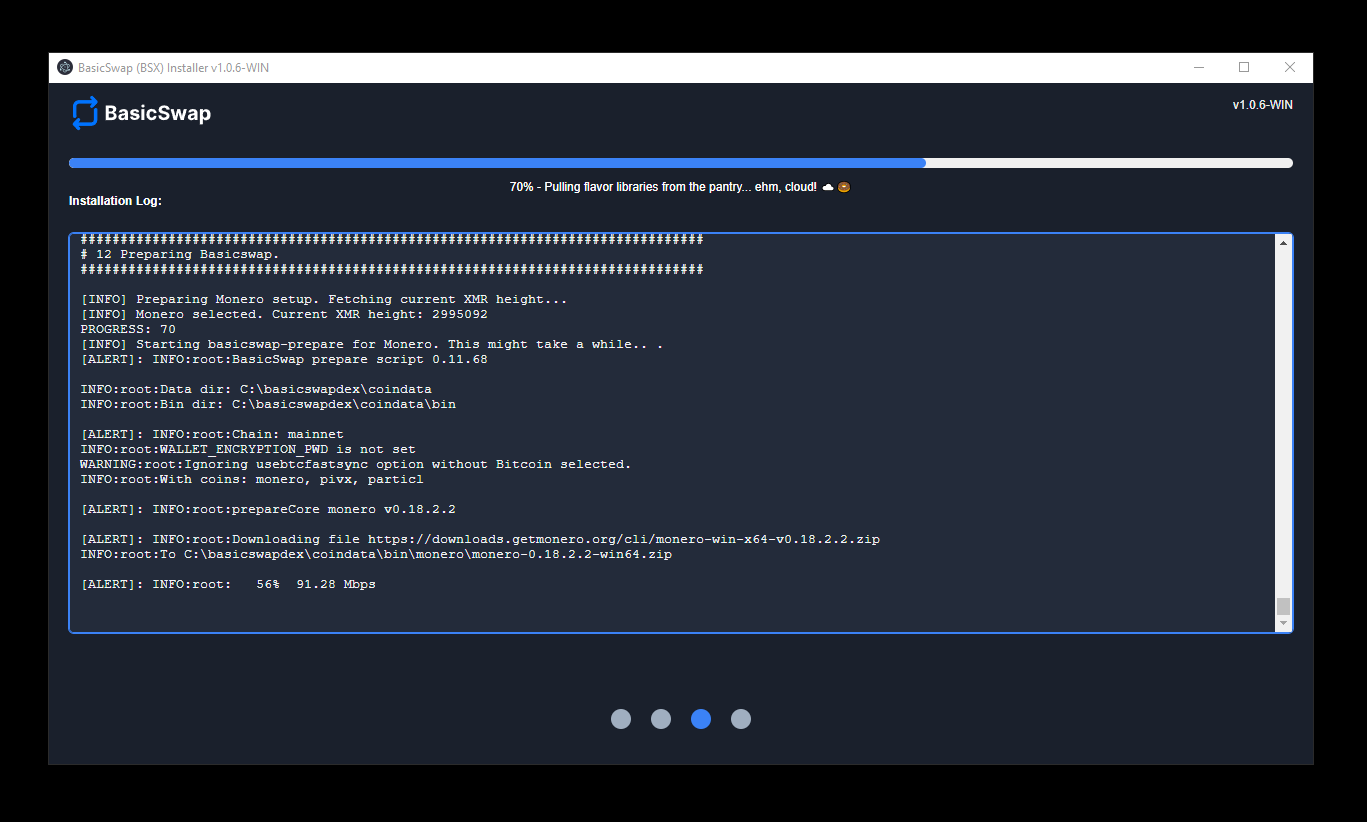 The installer simplifies the entire BasicSwap installation and configuration process using a graphical interface, eliminating the need for terminal interactions. To ensure a successful installation, please make sure to run the installer as an administrator, as it fetches certain dependencies during the process.
Note that, currently, the DEX must still be launched via the terminal. However, clear instructions are provided on the GUI upon the completion of the installation. We will be working to include a workaround to this over the weekend, but if we can't make it on time for this coming Monday release, we'll add it in a subsequent update.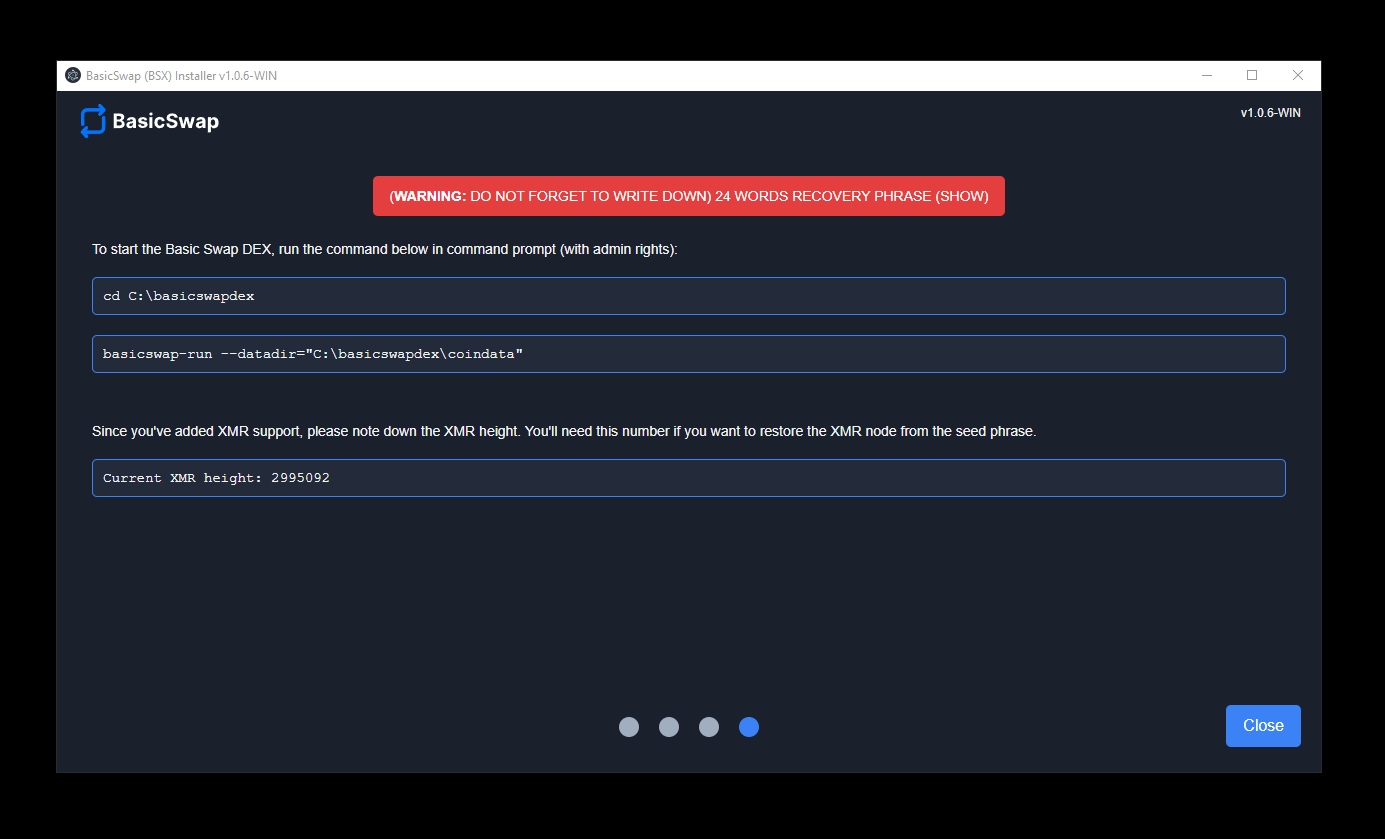 User Interface 🖥️
With the BasicSwap installer essentially ready for release, we're now shifting our focus back to BasicSwap's 2.1 UI and UX update, which we've mentioned a few progress reports ago.
As a refresher, here is a list of items to be included in this update, with a couple of others currently in progress right now:
UI/UX Changes
The Place New Offer page has been redesigned for a cleaner look, featuring options to toggle between simple and advanced modes.
The steps for placing a new offer have been simplified.
Notifications in the main menu, as well as pop-ups, have been redesigned.
The settings page layout has also been redesigned.
A new setting allows users to choose their default currency for prices/graphs, such as USD, EUR, or Pound.
The layout of the Network Order Book page has been revamped.
The "Swaps in Progress" page has been redesigned.
Both the main menu and sub-menu have been redesigned, now with a better UX logic.
Styling improvements have been made to the (SMSG) identity page.
The withdrawal section of the single wallet page has also received styling and UX improvements.
Better styling for shutdown/error/ pages.
Styling for alerts and errors has been revamped.
JavaScript browser alerts have been replaced with sleek modals and pop-ups.
"Spinner" animations have been added for both confirmation and waiting periods.
Icons have been appended to all primary buttons.
Prices are now displayed on the individual offer/bid pages.
Various other tweaks, corrections, and code clean-up have been implemented.
Chart and Price Display
A new option now lets you only display the coins activated on the Network Order Book Page.
Preparations are underway for the introduction of two new privacy coins, including their prices, icons, and graphs.
The script calculating the volume of each coin has been restructured, and now includes also USDT as a volume measure from exchanges.
Added coin volume bars overlay in the main chart.
Additionally, we've made a couple of changes and improvements to BasicSwap's official website — BasicSwapDEX.com — which should go live around the same time as the 2.1 UI update.
BasicSwapDEX.com Website Updates
Added dark mode as default.
Various GFX/layout tweaks and fixes
General UX improvements.
Added current coins supported (GFX) + table.
Fetch BasicSwap-related blog news and show last 4 items on main page.
Adding New Coins 🪙
We are currently in touch with the Navcoin coin team to review the integration of the privacy coin into BasicSwap DEX as it has given us a few challenges. As it stands now, the integration should work, but isn't officially supported yet until we find a more stable way to run and sync the nodes.
Given the circumstances, we are now considering postponing official support for it until after the implementation of light services to the DEX, like Electrum or Blockbook integrations for instance.
This approach will facilitate the smoother integration of not just this coin, but future ones as well. Additionally, it will grant many user experience benefits such as taking out the need for syncing the complete blockchains of each enabled coin and maintaining multiple nodes at the same time (including having to manually update core versions whenever important core updates are pushed).
If you still want to test the Navcoin integration in its current state, first ensure that you're running the latest version of BasicSwap DEX and that it is not currently running. Enable the use of disabled coins by typing the export OVERRIDE_DISABLED_COINS=true command from your BasicSwap folder, and then proceed to run the usual commands to add new coins to the DEX, which in the case of NAV, would be as follows:
docker-compose stop
export COINDATA_PATH=/var/data/coinswaps
docker run --rm -t --name swap_prepare -v $COINDATA_PATH:/coindata i_swapclient basicswap-prepare --datadir=/coindata --addcoin=navcoin
Note: A snapshot of their blockchain can be downloaded here to speed up the syncing process.
Note 2: You can consult the related code by checking out the Navcoin integration commit here.
---
As always, we thank you immensely for your passion and dedication to Particl and what it's working towards achieving. None of it would be possible without you all!
We wish you a great weekend we'll see you all back on Monday! 👋
---
The Open-Source Revolution
We're on a mission to create a private, independent, and pro-liberty digital economy that is fair and open to all. Learn more about what we do at any of the following links.
Be a part of the movement and join us in the fight for our freedoms by meeting the community and spreading the word far and wide!
Discord Telegram Element / Matrix
Learn more about Particl with these in-depth resources.
Website BasicSwap DEX Academy Wiki
Follow the link below to get a list of all other useful Particl-related links you may find helpful.
---