Create and Join an Unlimited Number of Markets 🌟
The Particl team is moving fast and methodically! To eliminate the obstacles standing in the way of Particl's marketplace adoption, the team has been on a very focused path to deliver a whole range of key features that would make the Open Marketplace user-friendly enough to be considered "adoption-ready" by, in the first place, the crypto community, and then by wider audiences not necessarily in crypto.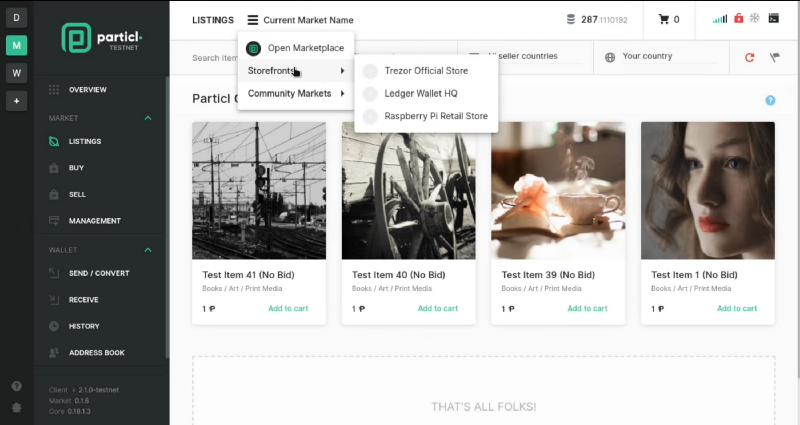 The Particl team is excited to announce that the Market Management functionality will be the next big marketplace feature and is likely to be part of Particl Desktop 2.4.0.
Note: The information and graphic designs shown in this blog post are still in progress and subject to change.
---
Table of Content (Market Management Section)
---
The Road Towards a Better Marketplace Adoption
Particl has been onto a journey to eliminate the obstacles in the way of Particl's adoption. With this very focused objective in mind, developers have been hard at work to bring forward the key features required before the Open Marketplace becomes "adoption-ready". And things have been moving pretty fast!
Bitcoin to be Accepted on Particl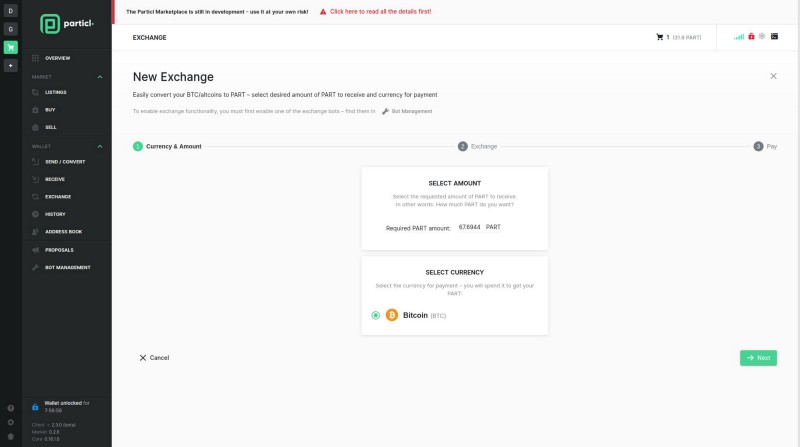 On November 1st, Particl announced the upcoming integration of an in-wallet exchange module to make it super easy for shoppers to buy anything on the marketplace using Bitcoin. In fact, this new feature is so close to being released that the Particl team members flying out to the Slush Helsinki conference have brought with them private builds of the Open Marketplace, on mainnet, WITH the Bitcoin exchange module included. Additionally, since earlier today, the build that they have brought with them is also available on testnet for everyone to play with.
This new exchange module, made possible thanks to a brand new SMSG-powered bot integrated right into Particl Desktop, also marks the first step towards including many more currencies on Particl's Open Marketplace. This is a critical feature that will allow almost any cryptocurrency user to be able to shop online, on Particl, without fees and without putting any of their personal information or data at risk. Just swap your coins for Particl right from Particl Desktop!
---
Market Management is Next!
The Particl team is taking no time in between major feature releases and is now working on the final integration tweaks required for the Market Management feature to be ready. This major Particl feature will drastically change how the Open Marketplace is interacted with and open up a ton of possibilities for sellers and buyers both.
What's "Market Management"?
Market Management is a new tool that significantly changes how Particl's marketplace behaves and is interacted with. It is, simply put, an added functionality that allows anyone to create public or private user markets and storefronts. Whereas Particl's Open Marketplace used to be the only Particl marketplace available, it will now be one out of an infinite amount of user markets or storefronts that anyone can create. It will, however, remain as the default marketplace, meaning anyone installing Particl Desktop will have access to and see this giant public marketplace.
For the purpose of this article, "markets and storefronts" will simply be referred to as "markets".
While the above section quickly describes the new Market Management capabilities of Particl's marketplace, you probably want to know more about what's coming up, right?. In fact, Market Management required quite a bit of refactoring (updating the code and changing parts of its structure), and so with its introductions comes a vast amount of new features and UI/UX changes.
Let's walk through the main components of what makes up Market Management.
Seller Profiles and Identities
Seller profiles and identities are one of the most important changes brought forth by Market Management and is a completely new concept being introduced.

The seller profile: A seller profile represents one user on the marketplace and many profiles can be set up on the same Particl Desktop client. It can be connected to multiple markets or storefronts at once and be used to create an infinite number of markets. Each time the profile connects to a market or creates one, it associates an identity to it that is then used to transact. A seller profile can contain an infinite amount of identities, if desired.
Identities: Identities are essentially Particl wallets. An identity's public key is used to view markets, purchase products on them, and moderate its content while the private key is used to list products on them and process orders. A profile can have multiple identities and easily choose which identity is used to create a market.
Identities can be used to associate different markets with the same seller. That can either be a good thing for sellers looking to build up a solid reputation or expose their branding to different markets, but for those looking for the maximum level of privacy, it is recommended to use a different identity every time you create a new market. It is not possible to tie different identities together nor is it possible to associate identities with their seller profile.
To sum it up, a seller profile represents one "real-world" online seller. This seller can connect to and create an infinite amount of markets and storefronts. Each market can be independently connected to an infinite amount of identities which cannot be traced back to the main seller profile.
Note: Seller profiles will mostly be a back-end function for the first version of Market Management, meaning they won't really be visible from inside the wallet.
Market Browser
Another huge component of the Market Management tool is the Market Browser — a completely new section of Particl Desktop where you can browse, join, manage, flag, and promote markets. This is the central point of command of the Market Management tool and is separated into three distinct categories.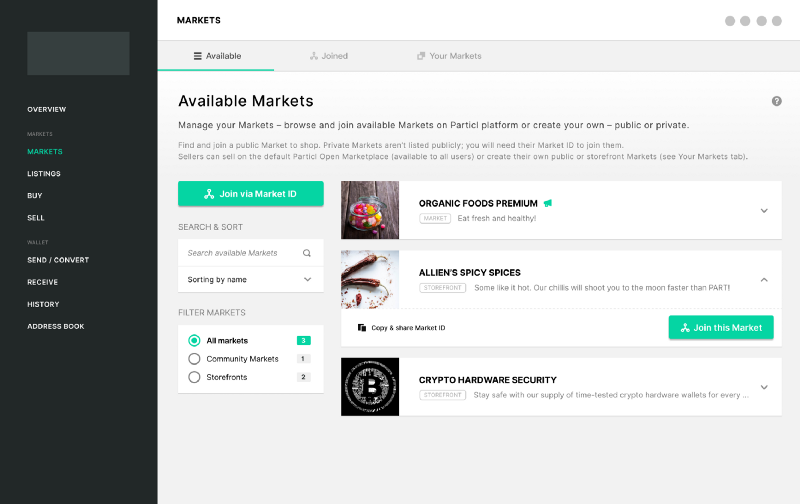 Available Markets: The Available tab of the Market Browser displays all publicly available markets. In other words, it gives you quick access to all the markets that have been either publicly listed or promoted on the Market Browser. The Available tab is also the place where you can manually connect to markets and storefronts not publicly listed on the Market Browser by entering their Market ID. It also gives you the Market ID of all available markets it displays so that you can easily share them with other people.
Joined Markets: The Joined tab is where all markets and storefronts that you have joined can be accessed. Here, you can browse, promote, or report markets with a few simple clicks, and also join any market by entering its access code (the "Market ID").
Your markets: The Your Markets tab is where you can browse, manage, and promote markets created or administered by you. This section is also where you want to go if you want to create a brand market of your own.
Create a New Market or Storefront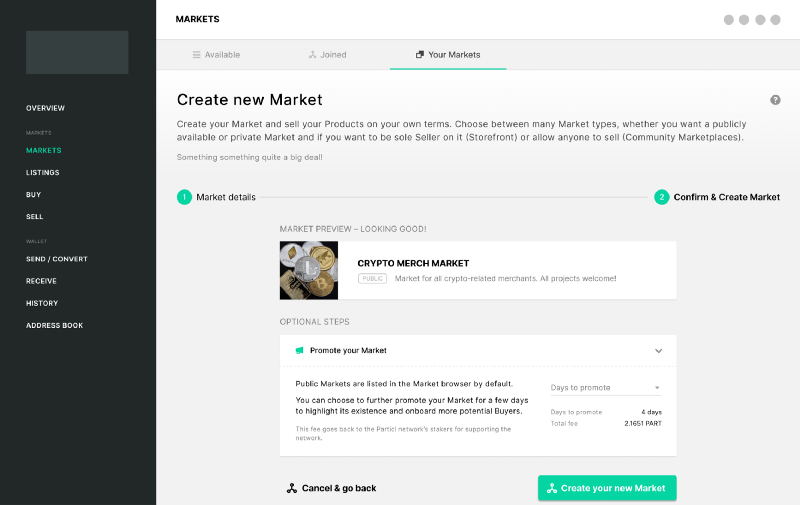 Market Management gives you the ability to create or join an unlimited number of markets and personalize them by choosing a logo, title, and description so that other people know what they'll find in it. These markets are pretty flexible and have their own parameters and permissions that can be set up by the creator at the moment of creation. Put simply, markets can be either be publicly listed or not, and also either be a regular market or storefront with attributable administrator rights.
Publicly listed or not? Markets on Particl can either be publicly listed on the Market Browser or not. By default, new markets aren't listed on the Market Browser, making them known and accessible only by those who know its access code (the "Market ID") and uses it to connect their Particl Desktop client to it. When a market isn't listed on the Market Browser, it is impossible for anyone that doesn't know the access code to even know it exists in the first place. To be publicly listed on the Market Browser and be accessible to anyone running Particl, a market has to be "listed", for a small market listing/promotion fee that is then redistributed to stakers.
A "public" market refers to a market that has been listed on the Market Browser by its creator. That means anyone running Particl Desktop can easily find public markets just by browsing the list of publicly available markets and without having to know its access code ("Market ID").
Market or Storefront? When creating a market, it is possible to set it up as two different types — either a regular, "open" market or a storefront. These two types of markets are actually very similar, the only difference being that anyone who has joined a market can publish listings and and sell products whereas only the creator of a storefront, and its administrators, can do it.

In fact, storefronts are basically shops that any seller or group of sellers can set up. Only the seller that sets up a storefront, and the ones that have been given the rights to sell by the creator, can list products and process orders. For more precision, while any seller with the rights to sell on a storefront can publish listings on it, they will only be able to process orders for items that they have posted themselves. Sellers cannot, at least for the first version of Market Management, process orders on behalf of other sellers of a given storefront.
Storefronts are how businesses and brands can set up their own stores, personalize them, and get vetted sellers to publish listings on them. They are also ideal for seller/buyer communities to form around a specific market.
Just like with markets, storefronts can either be publicly listed on the Market Browser or not.
Promote a Market
Promoting a market lists it on top of the Market Browser and adds a "promoted" icon next to it. Anyone with access to a certain market can promote it by paying a small promotion fee that is then redistributed, in full, to stakers of the Particl network.
Market Governance
Every market or storefront on Particl is subject to the exact same user governance mechanism as the listings are. That means anyone with access to a market can report it as inappropriate so that it can get taken off Particl when too many people report it.
Market Management Development Status
The marketplace development team is just about to wrap up the back-end code of the Market Management as well as the test cases required to make sure everything is smooth. These are expected to be completed shortly after the Slush Helsinki conference. Then, the team will begin the GUI integration and run that last few tests before releasing the feature on testnet. Stay ready!
Note: Some Market Management functions and UI/UX may change during the GUI integration and end up looking different than what has been displayed in this blog post.
---
What's Next?
Market Management is getting closer to be ready, so it's normal to wonder what are going to be the next major pieces to come on Particl after it. Here are two of the most immediate items on the team's list, but know that more may be added soon and that smaller items may be worked on in parallel.
Inventory Management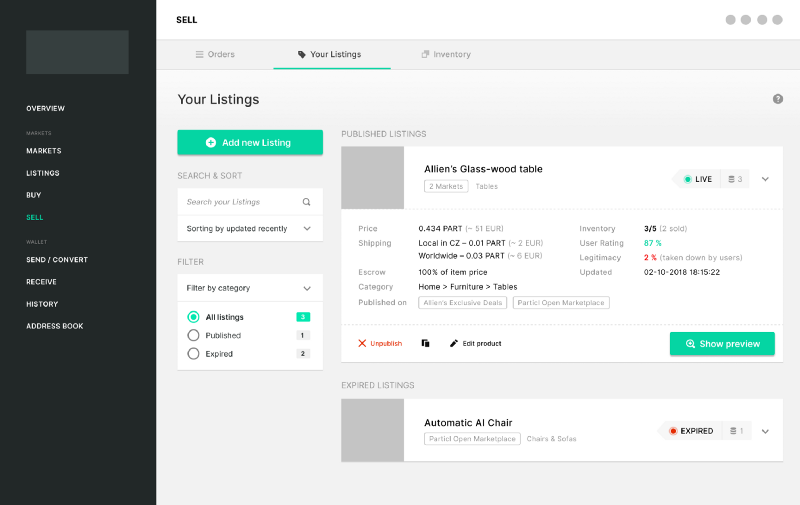 The Inventory Management tool is one of the next big pieces planned to be added to the marketplace after Market Management. This will add quantity and inventory management capabilities to Particl Desktop and give sellers the ability to sell pre-determined amounts of items.
On the buyer side, it will also allow shoppers to buy the same listing multiple times without requiring the seller to create new listings.
Inventory Management is also expected to bring in a live environment some of the first OMP Library functions required for listings to have custom fields (i.e. choosing the colour or size of a shirt right from the listing).
Adjustable Escrow
Another key feature required to make seller adoption way easier is the ability to adjust the escrow rate. Right now, when buying an item, both the seller and the buyer need to temporarily lock in escrow a security deposit equal to 100% of the value of the item being purchased.
With an adjustable escrow, sellers could require the buyer to only put 10% of the value of the item being purchased, for example. They could also set up the escrow with a 0% rate, meaning neither the buyer nor the seller would be required to temporarily lock any funds in escrow.
A lower escrow rate takes out some of the game-theory involved in the double deposit escrow system. An escrow rate of 0% takes it off entirely. This is far from ideal when purchasing from a seller that you don't know, don't trust, or that has a shaky or disputed reputation.
For sellers with a solid reputation or customer base though, they might not need the escrow, or even want it, as it requires them to constantly lock up funds for each sale. Furthermore, big and trusted brands might be more trusted by their customers then untrusted, meaning locking up funds in escrow may be something customers would like to bypass as well.
Let's take a very simple and obvious example: Apple. If Apple were to sell products on Particl, they probably wouldn't want to deal with the escrow. They have a large customer base that trusts them and they would fix any potential issue the same way they would usually do it. After all, a big brand like Apple selling on Particl would still need to follow the regular seller guidelines and consumer protection policies of their respective jurisdiction, so in that specific case, the escrow only ends up being an obstacle to adoption for Apprle and not a real benefit for any of the two transacting parties (Apple and the customer).
It is also being discussed that the escrow might be eventually made optional and that you could opt-out of it when creating a listing. Taking the escrow out entirely of a transaction, and not just setting it up to 0%, would have the added benefit of taking out a few steps of the buy flow, simplifying the process of buying and selling something on Particl and making possible something like automatic processing and delivery of digital items.
---
Particl is alive and kicking, and there's no stopping it! As we head into 2020, you'll start getting used to more constant and faster releases, almost all of them bringing new features and noticeable improvements.
As always, the team appreciates any help it can get, whether it's through community testing, functionality/feature suggestions, or just general feedback of the user experience of the Particl platform. Every single bit helps! It is by collecting as many different perspectives and points of view that the marketplace will get better. If you encounter any issue or have feedback for the developers, never hesitate to log an issue on Github by clicking on the "Report a bug" icon at the bottom left of the Particl Desktop client, or simply by following this link: https://github.com/particl/particl-desktop/issues. This is the simplest way to voice your opinion and a sure way for you to make sure the developers will see it.
---