Bryan Woods — eCommerce Strategy and Adoption 🤝
A little less than two weeks ago, Particl announced during SFBW's Epicenter conference that Spend.com's President, Bryan Woods, has joined its advisory board. Woods is a veteran with more than 18 years of experience in the technical and payment industries. He brings extensive expertise and reach within the retail and consumer markets and will pro-actively work in bridging the gap between the traditional finance sector and cryptocurrency.
Mr. Woods will advise Particl on the opportunities to disrupt the fintech industry that are currently being opened up by distributed technologies and how best to capitalize on them. In addition, Woods will actively work on realizing these opportunities by tapping right into his vast network of merchants and businesses and connect them with Particl for its world-class technologies and decentralized services.
---
The Case for Connecting Fintech Businesses to Particl
Many businesses, like tech companies operating outside the cryptocurrency industry but actively looking to modernize and optimize their business flow, can benefit from Particl's range of decentralized services. For example, a business may simply want to accept cryptocurrency payments, but another may also need to transfer data securely and privately, without third-party custody of the data. In that case, they could use Particl's peer-to-peer data storage network called SMSG and integrate it into their model.
Online retailers, who constantly need to lower their costs or worry about the privacy and security of their data may want to open shop and sell products on Particl's decentralized and private-by-default marketplace. After all, it charges no commission! Other companies may only have a need for Particl's double deposit escrow system to keep certain parties in check with each other.
"Through his many years working right in the heart of the payment industry, Bryan has developed lasting relationships with many businesses that are currently looking for ways to implement distributed technologies.Bryan will be working closely with Particl to advise on the exact needs and requirements of these companies and actively help onboarding them with Particl's wide array of decentralized services." — Gerlof van Ek, Co-Founder at Particl

In fact, most businesses have surprisingly high levels of inefficiencies. This costs them profits, time, and opportunities. Some of these hurdles are caused by human activity, regulations, politics, but some of them are also caused by technological bottlenecks. Coincidentally, it appears that more and more businesses realize the potential that distributed technologies present (P2P, blockchain). Of course, most of them would never dare, nor need to, go "full crypto", but just the right amount of distributed technology at the right place within their operations can make all the difference.
This shift of mentality within the traditional finance industry is opening up a lot of doors, and this is the opportunity that Bryan Woods wants to seize, with Particl.
Note: While Particl has already met and been introduced to some businesses within Bryan's network, it may still take some time until the first few implementations are ready and deployed. It is not impossible that the first few deployments will occur in early 2020, as opposed to 2019. As always, follow Particl.news to not miss any update!
Leveraging Spend.com's Technology
The coming of Bryan as an advisor also opens up many interplay opportunities between both Spend and Particl's ecosystems.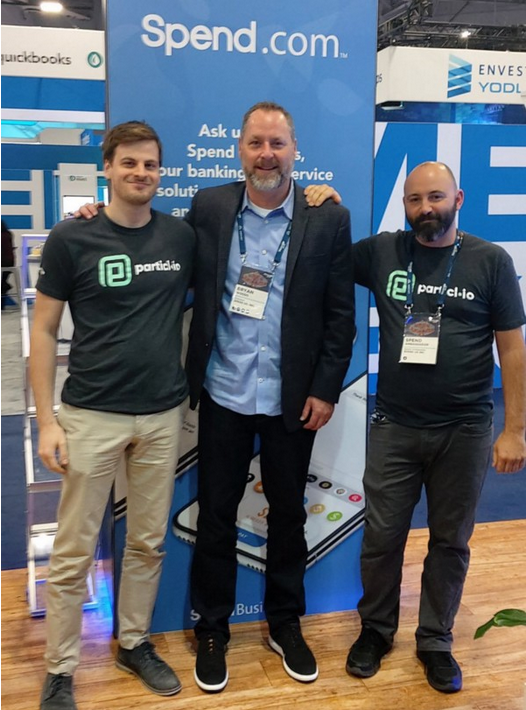 Spend is a next-generation banking ecosystem with tens of thousands of active users. It acts as a fiat gateway and "banking services 2.0" provider. Its all-in-one mobile application allows you to hold, transfer, deposit, and withdraw multiple cryptocurrencies and fiat (currently only USD and CAD) without requiring a bank. Spend also makes spending very easy through its different Spend Visa payment card options that automatically and instantly converts any currency enabled for card payments into the currency requested by the merchant. Further down the line, it is also intended for Spend App to include many other services, such as loans, interest, and even a full-blown merchant or marketplace integration. The end goal for Spend is to keep all the financial activities of its users within the Spend App itself. Think of it as the ultimate banking application.
In addition to connecting Particl and other businesses together, Bryan and his team at Spend will actively explore, along with the Particl team, how both projects can synergize together to push the adoption of distributed technologies and cryptocurrencies to a wider audience.
On one hand, Spend.com offers a full suite of gateway and payment services that can help onboard people to the Particl platform much more effectively. These services include the near-instant and cost-effective swap of currencies, fiat on and off-ramps, Visa payment cards, and etc.
On the other hand, the multiple decentralized services produced by the Particl team can allow Spend's ecosystem to blossom into a powerful application that seamlessly combines the traditional banking industry and distributed technologies, making the adoption of new users into alternative banking and cryptocurrencies much easier than ever.
A Methodical & Strategic Approach to Increasing Particl's Stability
By integrating Particl's decentralized services into other businesses, an increased number of transactions is expected to occur on the native Particl blockchain and on the markets, providing the entire network and its various applications (i.e. Particl's decentralized marketplace) with more privacy, liquidity, and stability.
It is important to highlight that this new strategic relationship between Bryan Woods and the Particl team marks the official beginning of a long-term and very strategic play to take the banking and eCommerce worlds through the next evolutionary hop. As a result, to ensure the trading markets can absorb the new influx of activity caused by businesses integrating Particl services, integrations will be deployed methodically, one by one, in a way that ensures market stability. Over time, each added integration will contribute to increasing the overall liquidity of the markets, making it easier to deploy more integrations and more services at a much faster pace.
Particl's First Few Steps Towards a Comprehensive SDK
For Particl, this phase also marks a very important milestone. These are the first few steps towards building and packaging a comprehensive developer SDK. The process of building integrations for third-parties will give the team a brand new perspective on what components are the most critical for developers looking forward to using a Particl SDK and will considerably speed up the process of finalizing and releasing it. In a way, the team will have to go through some of the same steps developers will go through when using the SDK, so highlighting needs and issues should be much quicker.
Such integrations will demonstrate that with a bit of creativity, blockchain technology and cryptocurrencies can offer very practical and disruptive solutions to some of the most pressing issues present within the traditional banking, payment, and eCommerce systems.
---
About Bryan Woods
Bryan has more than 18 years of experience in the technical and payment industries. His extensive expertise illustrates concentration with payment program portfolios as well as managing sizable, multifaceted development projects. His career began in web development for both Retail and Consumer Markets. His continued dedication to Customer Service in the technical and payments industries evolved into various Leadership positions such as the Director of Card Services overseeing programs in both the US and Canada. Bryan has a vast understanding of financial services strategies and is passionate about bridging the variance between distributed ledger technology and traditional banking.
---