The coming week is shaping up to be a very exciting one. Many Particl team members are gathering in New York City for the biggest event of the year in crypto: the NYC Blockchain Week. There, they will finally reveal the Open Marketplace on the real Particl network, the mainnet, for the first time ever!
And that Open Marketplace is not "just another marketplace", it is a world first: a decentralized marketplace, fully autonomous and private, for a new customer and seller experience
If you don't know about it, let us present it to you!
In this blog post, we will tell you about:
The Particl Open Marketplace
The NYC Blockchain Week
The road to the marketplace & how we got there
The current state of development, and more
What's the Particl Open Marketplace?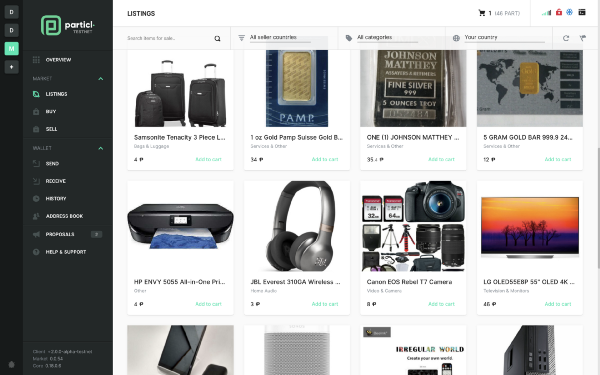 Simply put, the Open Marketplace is an entirely decentralized marketplace where you can buy and sell products and services to anyone else in the world, in full privacy. Think Alibaba or eBay, but on the blockchain and without a company being in control of the platform. This means there is no risk of a third party using its position of power to spy on you and impose its arbitrary rules and fees.
The marketplace is fully autonomous, meaning that it doesn't require any third-party or intermediary to function. It instead restores the balance of power back to the people by using a combination of blockchain and peer-to-peer technologies. The absence of intermediaries alone is enough to bring the cost of selling on the platform to a near-zero level.
This means both vendors and buyers end up with more money in their pockets. Because vendors make more profit per sale, they can reduce their prices to increase their volume and beat the competition. This, in turn, means customers can potentially gain access to cheaper products!
The Particl Open Marketplace also utilizes a combination of various security measures and privacy protocols to ensure that none of your data can be accessed by anyone. It is a "private by default" marketplace, meaning that you don't need to take any extra step in order to protect your data — it's just the way Particl is.
Particl at the NYC Blockchain Week
The NYC Blockchain Week is a series of many crypto events happening within the same timeframe in New York. It attracts the biggest names in the industry, showcases the best blockchain projects, and unites the many different crypto communities together for one exciting week. In a way, the NYC Blockchain Week is to crypto what the World Cup is to football.
Particl in NYC
Particl is, of course, going to be a part of this event. In fact, you'll be able to come to meet us, right at our booth, at either Magical Crypto Conference or Consensus. That's right! We'll be having a booth at the two best conferences NYC Blockchain Week 2019 has to offer and we'll be demonstrating the Particl Open Marketplace, in exclusivity, on mainnet!
Magical Crypto Conference (MCC) — 11th & 12th of May

The Magical Crypto Conference is a pure crypto-community conference. It is organized and hosted by the well known "Magical Crypto Friends", a group of 4 influencers in the crypto space: Charlie Lee (Litecoin), Samson Mow (Blockstream CSO), Ricardo Spagni (Monero), and "WhalePanda"
This is the perfect place to meet potential Open Marketplace users and is the reason why we are so excited to be having a booth at this event. In fact, as MCC is more of a pure crypto community conference, it attracts some of the crypto pioneers and people that are already deeply interested by the true vision of cryptocurrencies, privacy, decentralization, and personal freedom. A simple look at the speaker list should give you a good idea of the type of people that will attend the event.
Consensus by Coindesk — 13th to the 15th of May

Started by Coindesk in 2015, Consensus is one of the first crypto conference ever and the most prestigious. It has become the biggest cryptocurrency event in the world and is a place where people mean business.
This will be the ideal place to meet various people from different areas of expertise — media, marketing, law, vendors, suppliers, influencers, and, of course, crypto fans. Such a varied crowd of people is sure to have a lot of different feedback about the Open Marketplace, and we are really excited to see the reaction of these people when faced with a modern blockchain product, on mainnet.
Having a good chunk of the team at Consensus will also be ideal to meet people, craft new relationships, and grow the amount of interest for the Particl ecosystem.
Meet the Team
The Particl team is going to be 10 member/representative strong going into these conferences.
Juha (Ludx) — Lead Open Marketplace Developer
Gerlof van Ek (Crz) — Lead Designer & Branding, UI/UX, Developer
Paul Schmitzer (Litebit) — Project Marketing & Strategy
Imran (Imyb) — Commercial & Partner Strategy
Cryptoguard — Communications & Strategy
Gloria (Katelady) — Communications & Strategy
Joe Fisher — eCommerce Strategy (Particl Advisor)
Lina Seiche — Lead Event Coordinator & Community Evangelist
Desi-Rae Campbell (Cryptoramble) — Education & Awareness
Joskye — Education & Awareness
Come to our booth at either MCC or Consensus and have a chat with us. We'll be giving out PART paper wallets, shirts/hoodies, webcam covers, stickers, pins, and, most importantly, you'll be able to test the Particl Open Marketplace live on mainnet for the first time ever!
In the meantime, our other developers are hard at work, as per usual, preparing the final build of the Open Marketplace so that it can be publicly released on mainnet.
The Open Marketplace — 2 Great Years of Development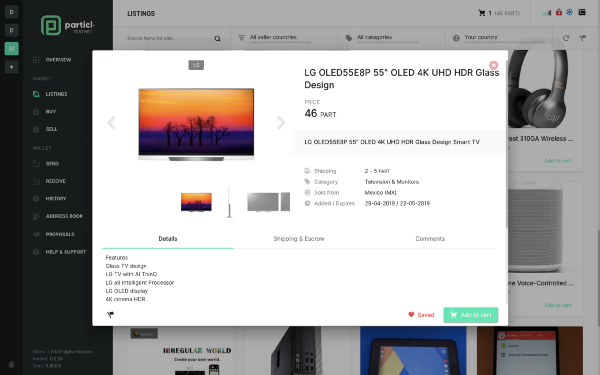 The Open Marketplace is quite something to see. It is a complex combination of peer-to-peer and blockchain technologies mixed in with various privacy protocols. It's also never been attempted before, most of the development toward the marketplace being true pioneering work. It supports a decentralized and private cryptocurrency, an entirely decentralized escrow mechanism, decentralized file hosting, metadata leak prevention, and etc.
To see all of the components and features of the Open Marketplace, read our Privacy in eCommerce blog post by following this link: https://particl.news/privacy-in-ecommerce-part-3-6d5b0b1bf155
It has been under heavy and constant development for nearly two years. Almost exactly one year ago, Particl released its first proof-of-concept on testnet, although with a much more basic version of what it has now become. At the time, a simple buy and sell flow was available, without moderation tools, without proposals, and without a user interface that's as stable and user-friendly as it is today.
All this time, throughout the cold crypto winter, the Particl team has been hard at work to deliver its long-anticipated Open Marketplace on mainnet. This much is evidenced not only by looking at the gigantic amount of work being put on Github but by the very noticeable progress being made on the Open Marketplace itself. This is why, during this whole time, the Particl project has found itself being ranked high in almost all development-related rankings of blockchain projects.
And here we are, in New York City, presenting the Particl Open Marketplace live on the main network for the first time ever!
What's next?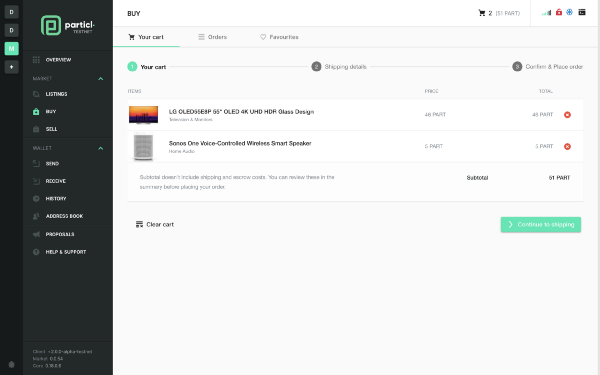 After 2 years of development, the team is really happy to say that the wait is nearly over 🙌
Starting from the idea of a decentralized marketplace running on the blockchain, Particl created a first:
→ an Open Marketplace, always live and decentralized, where everything is thought of with maximum privacy and security in mind. Everything on Particl is private, from its untraceable currency to its marketplace, without forgetting its proposal, escrow, messaging, file hosting systems, and more.
And this is only the beginning, a lot will come after the release of the Open Marketplace on mainnet:
Advanced Open Marketplace features: secure messaging, privacy transactions, inventory management, in-client package tracking, review system, fiat price pegging, and etc.
"Marketplace Bubbles" : your own private market on the particl network!
CT Bulletproofs, while still being tested on the test network, will improve drastically the size of privacy transactions for any trades of the network. Don't forget that Particl uses RingCT technology (on testnet), a first on the Bitcoin codebase!
Particl Lightning Network (our first testnet transaction just happened a few days ago) and Atomic Swap, so that anyone can change its Bitcoins, Litecoins, Moneros, and more on the marketplace to buy anything in the blink of an eye!
Developer SDK so that anyone can easily build their own decentralized applications on the Particl network.
We are excited to show what true privacy in eCommerce looks like this week in New York, both at MCC and Consensus conference. Although we may be extremely busy during that time, we will not forget to report everything that happens here so that you can live these events with us. If you are there, do not hesitate to pass at our booth to test the marketplace and get some Particl or Bitcoin branded goodies.
See you soon!
The Particl Team