"Well, it's Christmas time, pretty baby!" and today, Santa Claus has dropped a long-anticipated gift down your chimney. 🎅
The month of December has been a good one for Particl, especially with the massive Particl V3 update now publicly available for testing. In this Project Update, we'll go over the news and updates for the month of December. Let's get down to it!
---
Table of Content
---
Particl V3-Testnet Released Publicly!
Today, on this Christmas Eve, we have released the first public build of Particl V3-testnet! You can now download and install the new Particl Desktop client and play around with the massively improved Particl Marketplace. We need your help to pick bug, issues, and find improvements!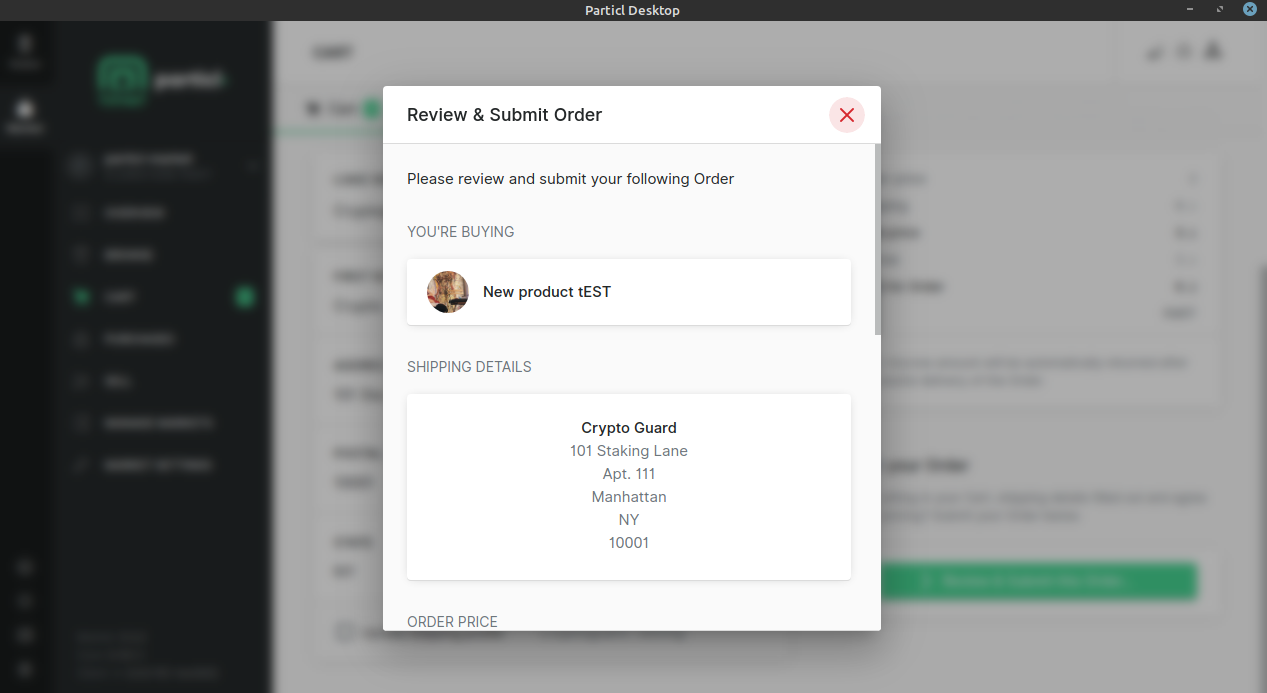 Keep in mind that, due to the large number of core changes this update introduces, this release is incompatible with previous Particl Desktop data like listings, orders, and your previous market database. That means you'll have to reset your Particl-Market/testnet folder so that it works correctly.
Follow this link to get all the instructions on how to install and start Particl V3-testnet.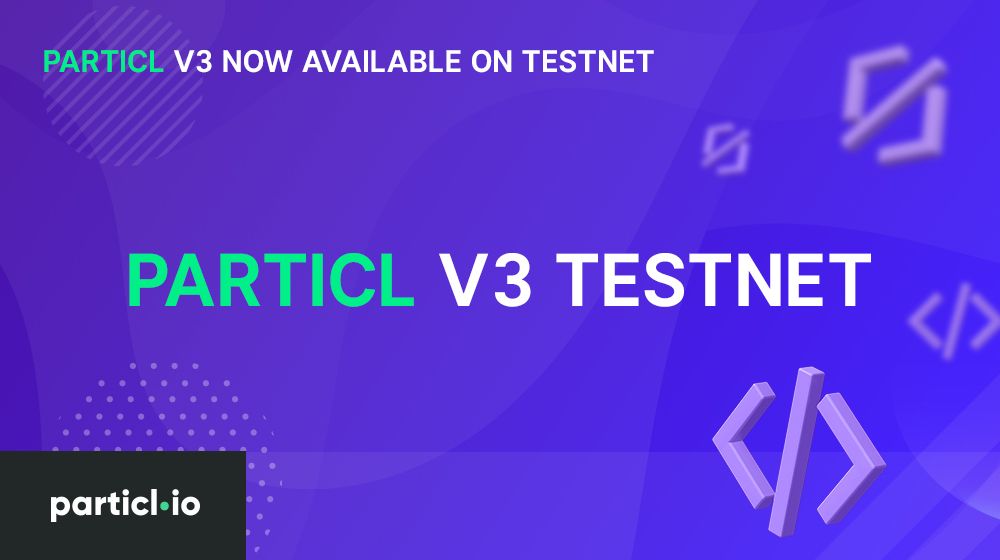 Particl V3 Development Update
Throughout December, a Particl V3-testnet build has been released to a limited number of community members. They have helped a lot testing the new V3 builds and identifying bugs and issues.
As a result, a few minor issues have been picked up, reported, and fixed. None of these issues were breaking bugs but rather improvements or quick to fix bugs. The team has been busy preparing the release and making sure that it's first public testnet release would be as smooth as possible.
With Particl V3-testnet live and going, now's the time to test it out as much as possible. The goal here is to try to break it or make it behave unexpectedly. In fact, this testing phase is all about finding any edge case that may lead to problems once deployed on mainnet.
To properly report issues when testing Particl V3-testnet, click the bug icon at the bottom left corner of Particl Desktop and create a Github issue describing, in detail, the problem you've encountered.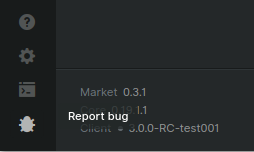 Additionally, you can join the Particl Community forum's Marketplace Testing category to discuss issues, ask questions, and find other Particl community members to test the marketplace and make test orders.
Work on Atomic Swap Continues
Particl cryptographer Tecnovert has continued his work on atomic swaps so that they can be integrated into Particl Desktop. This will go a long way in improving PART's accessibility for all, including in the USA, and make the Particl platform more resilient to outside influence.
Of course, atomic swaps between Particl and coins like Bitcoin, Litecoin, Monero, Decred, and others are already possible, but they're generally unintuitive. That's because atomic swaps need, at least for the moment, to be manually executed. That means two swappers need to manually find each other, agree to what currencies they want to exchange, at what rate, and at what time. During the swap, they also need to manually exchange multiple "swap files" either through email, instant messaging, or other means of communication. In other words, the process of completing an atomic swap is currently tedious and full of friction.
To fix those issues, Tecnovert has been working on a solution to fully automate all the steps and requirements to make an atomic swap. This solution, which can in many ways be likened to a DEX (decentralized exchange), is intended to be integrated into Particl Desktop once it's ready for deployment.
That'll allow anyone, anywhere in the world, to easily buy and sell PART without having to quit the Particl Desktop client. This integration won't require any third-party, no account, no KYC, and won't impose any limitation on the number of coins allowed to be traded.

There is currently no ETA on this item. It's a pretty complex and bleeding-edge challenge filled with unexpected setbacks and bumps. There is, after all, a reason why there are very few DEXes that are 100% decentralized. This is going to be a significant area of focus for Tecnovert going into 2021. More details will be shared as we progress further.
Particl.News is now on a Jamstack
It's finally done, Particl.News is now officially hosted on GitHub Pages. The editor's interface is delivered by Ghost (the blog 😇😅), and everything is glued together by Gatsby! This new way of hosting the blog provides the project with much more autonomy, a more tailored experience for the audience, easy to find translations, complete control over the website, and zero unnecessary noise or third-party branding for you.
If you're reading this blog post, then you're already on the "Jamstack"!
The Particl Academy is About to Go Live
The internal testnet builds the team has had for the past few weeks have allowed a lot of work to be put into the Particl Academy. It's been completely updated with all the recent information, tutorials, guides, and in-depth articles required to support the Particl V3 release.

You can expect the Particl Academy to drop somewhere during the current testing phase of Particl V3-testnet and before the mainnet release.
New CCS Proposal to Support the V3 Mainnet Release
On the 3rd of December, a new key proposal has been suggested on the CCS system. This proposal aims at seeding the Particl Marketplace with thousands of listings to support the mainnet release of Particl V3.
This initiative aims to address the chicken and egg problem that each marketplace faces when launching and provide a good base of listings that anyone can buy. Who comes first? The sellers, or the buyers?

The proposal will also lead to a few Particl Marketplace improvements, such as adding a "wanted item" feature, the ability to edit/delete listings once published on the marketplace, and potentially more. These features are not necessarily intended for the mainnet Particl V3 release, but may very well be part of the next update after that (Particl Desktop 3.1).
It is expected that this proposal will move to the Funding Required phase in a matter of days, so if you plan on supporting this initiative, keep your eyes open for an update about it here on Particl.News or directly on CCS System.
To learn every detail about this proposal and see the community's questions (and their corresponding answers), follow this link.
PART Unavailable on Flare Wallet
Flare Wallet has recently updated its back-end to use a different block explorer (BlockBook) other than Insight. However, due to a few concerns related to this back-end switch, the Particl team is currently evaluating whether it wants to pursue a Flare Wallet listing or not.

For the moment, we recommend all Particl users to withdraw their PART coins from the wallet while we evaluate the situation. We also recommend deactivating cold staking completely for PART on Flare Wallet if it is already activated.
The Particl team is in touch with the Flare Wallet team and looking at the situation. We will communicate more information about this at a later time.
Note: While it's not possible to withdraw PART on the latest Flare Wallet version, you can download previous builds (i.e., the desktop version of Flare Wallet) on their website and then proceed with your withdrawal.
---
What to Expect From Particl Going Into 2021
Particl V3 is not the end of anything, but rather, the beginning of an exciting phase for Particl. Although the Year 2020 has been heavily focused on development and less so on adoption, the Year 2021 will reverse that trend.
With Particl V3 going live on mainnet, that'll provide a much more user-friendly and powerful decentralized commerce experience to users all across the world and will make user adoption for Particl much easier.

To that end, the Particl team has been working on, researching, and experimenting with a few concepts, features, and additions to the Particl ecosystem. These aim at fixing some of the issues that Particl still faces when it comes to adoption. Here are some additional areas of improvement the Particl team will be focusing energy on in 2021.
Improve the accessibility of the PART coin and ease the process of buying and selling it.
Improve the community marketplace moderation model to be more efficient, scalable, and require less manual input from Particl users.
Increase the number of listed items on the Particl Marketplace and increase the on-chain activity (CCS proposal already published).
Improve the RingCT anonymity set.
Improve the overall scalability of the Particl Marketplace and its underlying protocols to support significantly higher levels of adoption.
Reduce the impact of the price volatility of funds while they are being held in escrow.
These are "some" of the challenges the Particl team will address moving forward into 2021. Although a few of these challenges are already being looked at, the first step is, of course, to release Particl V3 on mainnet and then assess the situation. How it goes will help determine priorities for 2021 and the post-V3 phase for the project.
---
We are very excited to finally draw closer to the mainnet release of Particl V3 and can't wait to keep on expanding the Particl ecosystem and improving its adoption moving forward into 2021.
Don't forget to test out Particl V3-testnet all you can and report any bug or issue on Github and the Particl Community forum so that it can promptly be fixed before the "big release".

The entire Particl team would like to thank you for your support and wishes you a very merry Christmas and happy holidays!
---
Particl is Participation
Get recognized as someone that cares. With your help, we become more noticed out there. It takes seconds, and you are making a statement by giving us a follow and hitting the bell icon.
YouTube Twitter Mastodon Reddit

Join the instant messaging chats. There's no need to be active, but it's good to be in the loop.
Discord Telegram Element / Matrix
Gain deep knowledge about Particl by reading.
Last but not least, a list that shows an infinite number of links clearly categorized and on one page.
---