Tutorial Included ✅
Today, on this 16th of September 2019, Particl has been listed on the decentralized exchange BISQ. This listing goes a long way to make PART more resilient and independent from centralized exchanges and makes it much more accessible to US users which haven't been able to easily acquire PART ever since Bittrex geo-fenced US customers from their PART/BTC market.
Get started: https://bisq.network/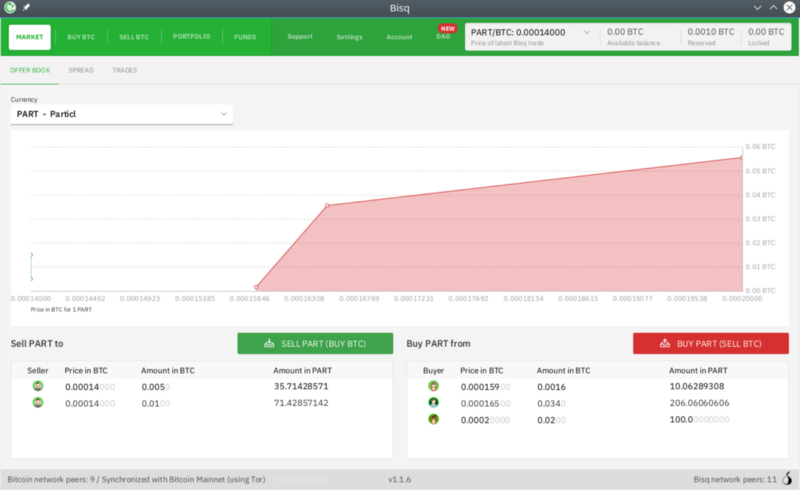 Particl would like to thank community member Nik Chis for coding the entire integration and making this possible.
---
How to Install BISQ
Install it on your computer
Launch it and let it connect to peers as well as the Tor network. This can take several minutes
How to Activate PART on BISQ
BISQ functions a bit similarly to Particl's escrow system. Each trader needs to support their trades with a security deposit paid in Bitcoin, generally equal to 10% of a trade, that is then refunded at no fee once a trade is over. This ensures both parties remain honest throughout the entire trade. So the first step to trade on BISQ is to fund your account with some Bitcoin in order to be able to pay for those security deposits.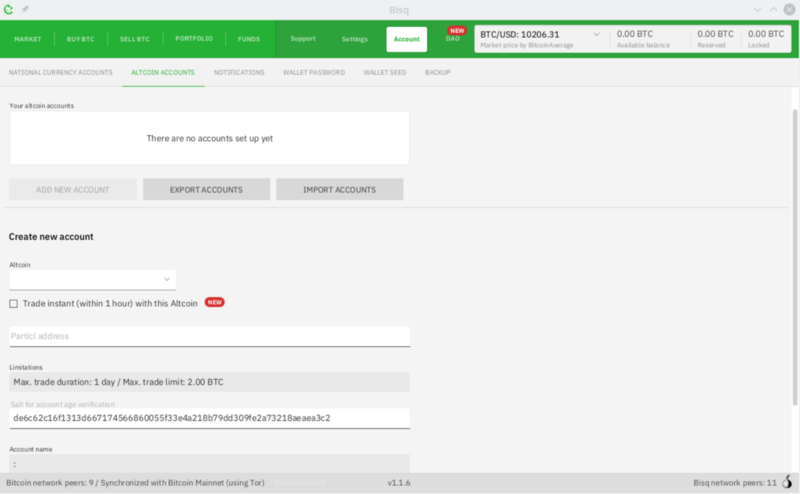 On BISQ, go to the FUNDS tab and deposit some Bitcoin on the address that shows up. If you do not want to store Bitcoin on BISQ, you can also send security deposits when making a trade.
By default, PART is not activated on BISQ. To enable it, click on the Account tab in the navigation bar and then select ALTCOIN ACCOUNTS.
Click on ADD NEW ACCOUNT, then select Particl under the Create new account section
Enter a PART deposit address (this is where your coins will be sent after you buy some PART)
Save the account by clicking on SAVE NEW ACCOUNT
How to Trade PART on BISQ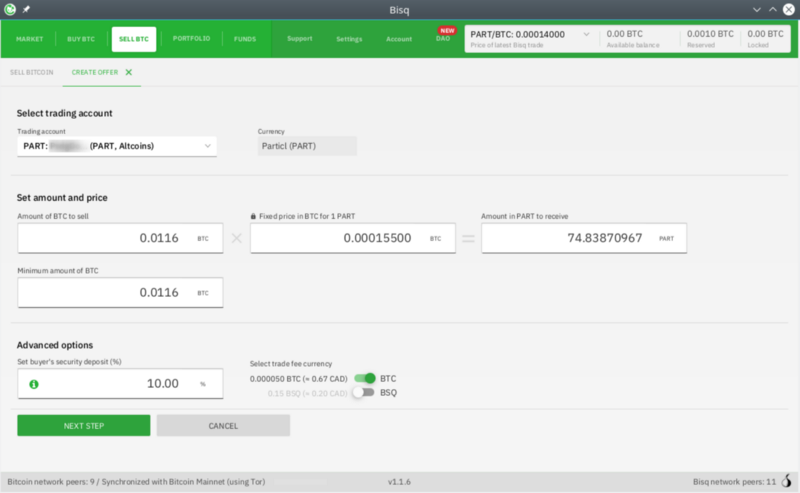 Go to the MARKET tab and select Particl in the dropdown menu (you can type it to find it more quickly)
Create a buy or sell order by clicking the appropriate button on the screen
For example, if you wanted to buy PART, you would need to click on BUY PART (SELL BTC)
In the Available offers page, create a new offer by clicking on CREATE NEW OFFER TO BUY PART (SELL BTC)
Enter the parameters of your offer in the page that shows up, then click on Next Step
If you have already funded your BISQ client with Bitcoin, you should be good to go. If not, make your security deposit by sending the requested amount of Bitcoin to the address specified
To confirm your offer, click on REVIEW: PLACE OFFER TO BUY PART
---
About BISQ
BISQ, previously BitSquare, is an open-source desktop application that allows you to buy and sell bitcoins in exchange for national currencies, or alternative cryptocurrencies. It is a non-custodial and decentralized exchange, meaning that it never touches or controls user funds, these are held in user controlled wallets and accounts. The exchange requires users to make a security deposit done through multi-signature Bitcoin addresses to secure trades.