Particl Partner for Powering In-App Swaps
The upcoming Particl V3 massive update is going to introduce a slew of improvements, new features and functionalities to the Particl ecosystem as well as significantly improve its performance.
One of the components that's getting a big makeover is the bot manager and the in-app swap engine, which it powers, that allows you to swap a variety of coins for PART, straight from the wallet. Check out the article linked below for an in-depth breakdown of all the improvements to the in-app swap engine that are coming with the Particl V3 release.
New Coins and Swap Engine Improvements Coming to Particl V3
DAI, XMR, NIX, USDt, and USDC Going Live Soon on Particl V3particl.news
Powered by Third-Parties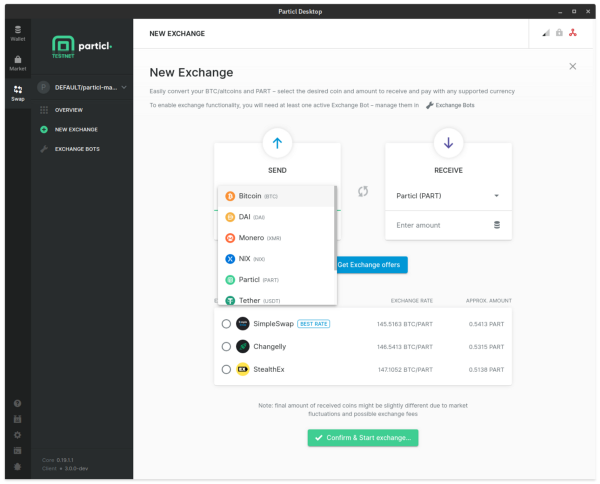 Although Particl has been researching and experimenting with atomic swaps, especially as of late, the current swap module works by partnering up with third-party exchanges who provide the swap functionality to the Particl Desktop user.
We'd like you today to meet StealthEX, a long-time swap partner of Particl, and get to know them a bit better!
---
Meet StealthEX
https://www.stealthex.io/
StealthEX | Cryptocurrency Exchange | BTC to ETH, XRP, TRX, XMR swaps with the best exchange rates.
StealthEX is an instant cryptocurrency exchange service which conducts anonymous and limitless swaps. StealthEX is free…stealthex.io
As stated by StealthEX themselves, they are an instant and non-custodian cryptocurrency exchange service which conducts anonymous and limitless swaps. That means that it is free from registration and does not store any of your coins on the platform. They offer 300+ cryptocurrencies and assets for quick exchanges and claim that security and privacy are the most important things they offer to their users.
StealthEx Ltd, a limited company registered in the Marshall Islands, operates under these three core principles:
Confidence and trust
The main purpose of StealthEX is to make anonymous swaps between two cryptocurrencies. They never share any of your information about with third parties. They also conduct instant exchanges which means that users never have to store deposits on the exchange itself. Moreover, they offer 24/7 support service and are always ready to answer your questions.
Limitless exchanges
StealthEX has no upper limit. You can exchange as many cryptocurrencies as you need to. As for the lower limits, you only need to cover the network fees of the coin you wish to exchange.
Free from sign-ups
There are no sign-ups on StealthEX. You do not have to pass the registration procedure or provide them with any information about yourself to make anonymous exchange. Your personal data is never disclosed on StealthEX.
Swap Using StealthEX on Particl Desktop Today!
Although more coins will become available on the day of Particl V3's release, it is still possible, to this day, to swap Bitcoin and Zcoin for PART straight from the Particl Desktop client using StealthEX. All you need to do is to first activate the StealthEX Swapping Bot from the Bot Management page in Particl Desktop and then request a swap from the Exchange page.
---
Is there any coin you'd like to see added on Particl? Then let the Particl know by on the Discord server or Telegram channel! Or perhaps you are involved directly with a cryptocurrency project? Then apply for listing directly with the application form available on the Particl website!
---