As we conclude the week, it is time to review the progress that has been made in the past few days. Let us take a moment to evaluate the advancements achieved in the past few days.
---
Particl Desktop 🖥
We're still completing the items outlined in our previous updates, namely including enhancing Tor server capabilities and making a variety of minor improvements.
Please note, however, that we are currently observing a delay that is impacting the the development process of Particl Desktop which we hope to resolve shortly.
Particl Core 🔗
Core Codebase Maintenance 🛠️
As always, we consistently stay up-to-date with Bitcoin's latest version by regularly incorporating upstream updates into Particl Core. You can monitor these changes by visiting this link.
Note: This week has seens some particularly time-consuming upstream merges, notably pertaining to modifications made to the libsecp256k1 library and the wallet db code. This, unfortunately, diverted time from other crucial tasks, but we've successfully implemented these merges into Particl Core.
BasicSwap 📈
User Interface 🖥
Earlier this week, we rolled out version 2.0.2 of BasicSwap's user interface. This release contains a multitude of enhancements, additions, and fixes, a significant portion of which came directly from community feedback.
Here is a comprehensive breakdown of the modifications introduced by this update.
Extensive enhancements to the Wallets page including an alternate display of asset values in USD and BTC, improved visualization of pending balances, and more accurate button labeling.
The order book now offers a display of rates and amounts in USD for a more intuitive user experience, and also remembers your most recent filter history.
Tooltips have been added across various locations to better explain certain features.
New "Accept" button in the "Available Bids" section and a "Details" button in "Bids Received"/"Bids Sent" sections for improved navigation.
Users now have the ability to prune offer, bid, and swap history from the user interface, enabling a cleaner workspace.
The management of SMSG addresses has been significantly improved for better user control.
A range of back-end improvements have been made, including code clean-ups, upgraded icons, and overall GUI enhancements for a smoother user experience.
Now that this update is live, our next objective, on the desktop UI front, is to overhaul the DEX's 'New Offer' page. This revamp will be included in our forthcoming GUI update, specifically version 2.0.3.
Bi-directional Monero Swaps 🧡
We've once again made substantial strides towards the integration of bi-directional Monero atomic swaps into the BasicSwap DEX, although there is still no code officially merged on Github yet.
While progress towards completion of this important feature is satisfying, additional work and thorough testing are still needed before it is fully ready for deployment. But since this is Particl developer Tecnovert's current main focus, we expect this improved and key functionality to be ready relatively shortly.
New Particl Website Re-prioritized ✅
With version 2.0.2 of BasicSwap's user interface live, we can now divert more resources towards the design of the new Particl website. Consequently, this should considerably speed up the completion process of this task, which has been in progress for some time.
New Blog Series on DEXs and Atomic Swaps 📖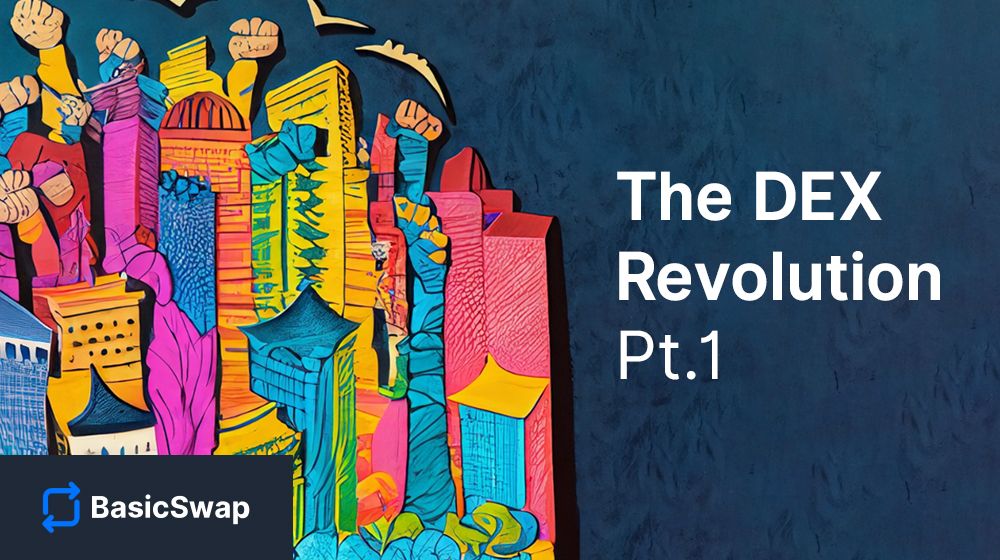 As we progress through the open beta of the BasicSwap DEX, we've inaugurated, this week, a new series focused on decentralized trading exchanges and atomic swaps.
This multipart series delve into the complex mechanics and intricacies of building a privacy-first DEX, and elucidate why such platforms are increasingly essential today and for the foreseeable future.
To read the first installment of this new series, follow this link.
---
As always, we thank you immensely for your passion and dedication to Particl and what it's working towards achieving. None of it would be possible without you all!
We wish you a great weekend we'll see you all back on Monday! 👋
---
The Open-Source Revolution
We're on a mission to create a private, independent, and pro-liberty digital economy that is fair and open to all. Learn more about what we do at any of the following links.
Be a part of the movement and join us in the fight for our freedoms by meeting the community and spreading the word far and wide!
Discord Telegram Element / Matrix
Learn more about Particl with these in-depth resources.
Website BasicSwap DEX Academy Wiki
Follow the link below to get a list of all other useful Particl-related links you may find helpful.
---