With the week coming to an end, it's time for another development progress report. This week has mainly been focused on prepping, building, testing, and uploading Particl V3 builds for mainnet release. Indeed, mainnet Particl V3 builds have been circulated to a small network of sellers who've pledged to populate the marketplace with listings prior to the release to ensure a smooth launch with various items to sell right from the very start.
Additionally, a lot of research and testing have gone into some of the new roadmap items that are coming shortly after the mainnet launch of Particl V3. Interestingly, a lot of these items are intrically related to the "listing seeding proposal", which has been fully funded a few weeks ago, and are getting a slightly preferential treatment as they allow the proposed system to be deployed faster.
As you know, we are awaiting Particl V3's mainnet release, which is now less than a week away from now, to reveal the new roadmap. So make sure to keep your eyes right on Particl News following the launch; things are only starting to get interesting and the best is definitely yet to come!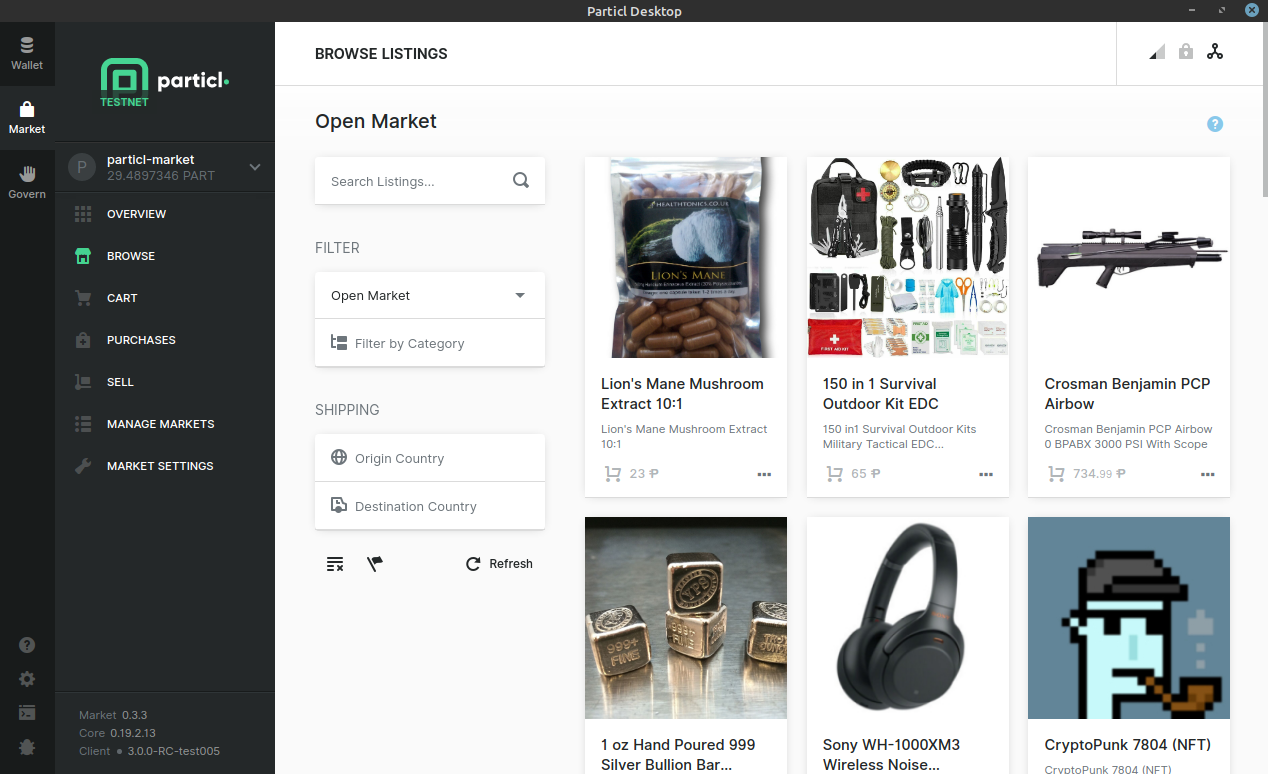 ---
Particl Desktop Development Report
Aside from the research and testing of new roadmap items, some efforts have gone into improving the current version of Particl V3 along with some of its features and capabilities.
CSV import Tool Improvements
There are some improvements already planned for the CSV import tool which lets you import large numbers of listings at the same time. This includes the possibility to import images directly from the CSV, adding product codes, and etc. We are working closely with some sellers to collect their feedback on this function as it is central to their operations.
Markdown Formatting to Listing Descriptions
Adding markdown formatting to the listing descriptions allows sellers to better personalize and market their products. Currently, listing descriptions only support plain text which is limiting.
Adding Product Codes
Products currently don't have unique identifiers that would allow to rapidly reference and search for them. This is being worked and will help vendors to better promote and share their listings outside of the Particl Desktop client (i.e., in discussion forums like Reddit or social media platforms like Twitter).
Allowing Digital Items
At this moment, Particl V3 only supports physical shipping addresses. This can get confusing when selling digital items that need to be delivered to an email address, a cryptocurrency address (i.e., NFTs), accessed through an access code (i.e., a VPN account access code) or through a download link (i.e., digital book). Changes are being prepared for later version of Particl V3 where it will be possible to provide other delivery methods other than just a physical address.
Note: The items mentioned above are relatively small compared to some of the new roadmap items that are soon to be revealed. We are focusing on these smaller items as we await the release of Particl V3 on mainnet.
---
Particl Core Development Report
As it often occurs, a new Particl Core (0.19.2.14) version has been released this week which introduces minor improvements. As always, we highly recommend keeping your client(s) and staking node(s) to the latest version. You can download it here.
---
Can you feel it? The mainnet release of Particl V3 is now only 5 days away! We want to thank you all for your incredible support throughout this entire development cycle, for your passion towards Particl's mission, for your help in testing it out, and for all your valuable contributions that help shape the future of e-commerce.  
Now's the time to spread the word and get others to know about Particl's private and unrestricted marketplace; it's the Internet's only real free market economy, and that's quite remarkable!
We wish you all a special weekend; it's the last one before Particl's V2 era ends!