As we conclude the week, it is time to review the progress that has been made in the past few days. Let us take a moment to evaluate the advancements achieved in the past few days.
---
Particl Desktop 🖥
We are working on fixing the issue related to the malfunctioning of the marketplace, after which we'll be ready to immediately push Particl Desktop 3.3.1 on mainnet.
If you are having difficulty with the marketplace, specifically with orders that are not being accepted by the seller or with the other party you're transacting with not progressing through the escrow steps, it is likely to be related to the issue we are currently addressing.
We kindly ask for your patience as we finalize the changes required for this fix. We apologize for any inconvenience this bug causes and working to resolve it as fast as possible.
Particl Core 🔗
Core Codebase Maintenance 🛠️
As always, we consistently stay up-to-date with Bitcoin's latest version by regularly incorporating upstream updates into Particl Core. You can monitor these changes by visiting this link.
BasicSwap 📈
We've worked on a minor update to BasicSwap DEX that re-implements HTLC-style swaps' dependency on Particl transactions using Python. This minor, mostly unnoticeable change improves the swap process using isolated docker setups.
User Interface 🖥️
We're happy to announce that, this coming Monday, we'll be ready to release the first iteration of BasicSwap's 2.0 GUI!
As outlined in our previous progress report, we will be launching the new GUI in stages. The initial release, which is scheduled for Monday, will introduce the reworked back-end codebase, which significantly improves the user interface efficiency and performance, as well as a wide variety of UI/styling tweaks and improvements. Additionally, you will now have the option of toggling between a dark and light theme.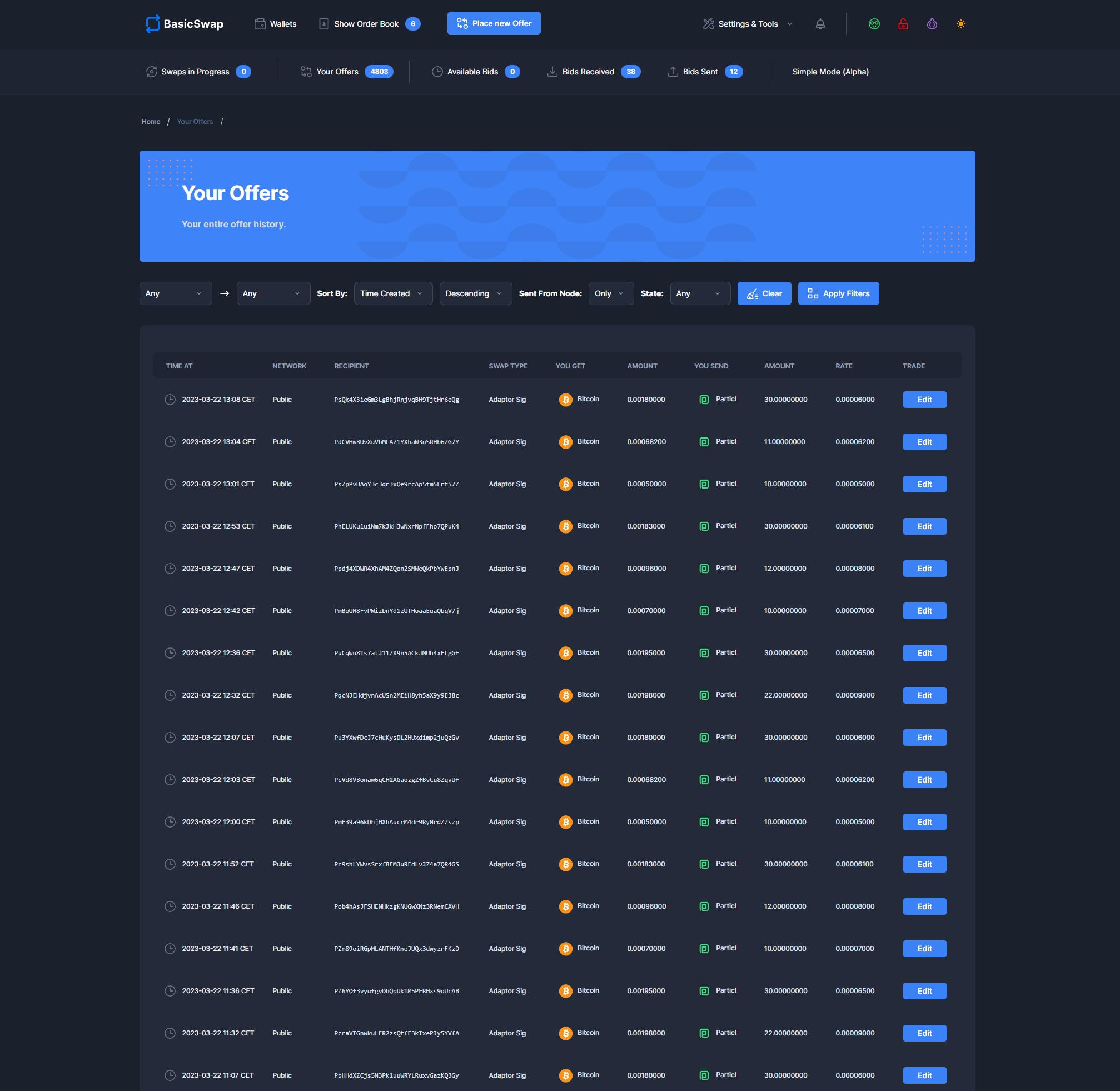 In subsequent updates, you can look forward to more advanced and visible features, including the ability to switch between simple and advanced user modes, additional order book features, including order grouping and order filtering based on conditions like auto-accept, as well as a new price graphing system complete with volumes. Stay tuned for more!
It is important to note that the majority of the effort invested in the 2.0 GUI was concentrated on its codebase. With this now finished, upcoming GUI updates should be released more quickly.
BasicSwapDEX Website on Tor 🧅

We're also expecting to deploy, next week, a Tor version of the BasicSwapDEX.com website. This will let you access the website directly from Tor (i.e., by using Tor Browser) through the use of an onion link.
We also intend on doing the same for Particl.io, however, we will be waiting for its new version to go live, which is scheduled for before Monerotopia 2023. Work on the new version has begun a while ago, but will ramp up as more resources become available as we roll out the updated versions of BasicSwap's GUI.
---
As always, we thank you immensely for your passion and dedication to Particl and what it's working towards achieving. None of it would be possible without you all!
We wish you a great weekend we'll see you all back on Monday! 👋
---
The Open-Source Revolution
We're on a mission to create a private, independent, and pro-liberty digital economy that is fair and open to all. Learn more about what we do at any of the following links.
Be a part of the movement and join us in the fight for our freedoms by meeting the community and spreading the word far and wide!
Discord Telegram Element / Matrix
Learn more about Particl with these in-depth resources.
Website BasicSwap DEX Academy Wiki
Follow the link below to get a list of all other useful Particl-related links you may find helpful.
---