It's Friday once again, and the time has come for our weekly development progress report. This week, we've got some exciting new feature to announce which is going to be part of the upcoming Particl Desktop update (3.1). And nobody expected it this soon! 😉
Indeed, Particl Desktop developer Arnold Bansemer initially started the week focusing on adding alternative delivery methods for digital items. Upon looking at the code, he stumbled onto something interesting.
If you recall correctly, one of the current roadmap items is the ability to adjust the value of the escrow security deposit. It is also one of the top requests we've received both from vendors and non-vendors following the release of Particl V3 on mainnet. As it turns out, due to the new, improved codebase introduced by Particl V3, adding this feature ended up being a relatively easy and quick task to do.
As a result, we are happy to confirm that the "adjustable escrow" roadmap item is now complete and merged into the Particl Desktop code, meaning that it'll be activated on the very next update (3.1).
At this time, custom ratios (0% to 100% of the value of the item being purchased) can only be decided by the seller at the time of creating a listing. To ensure unaware users aren't met with bad surprises, any listing containing custom ratios will clearly indicate it, and buyers will be forced to manually check a box confirming that they are aware of the custom ratios before checking out their cart.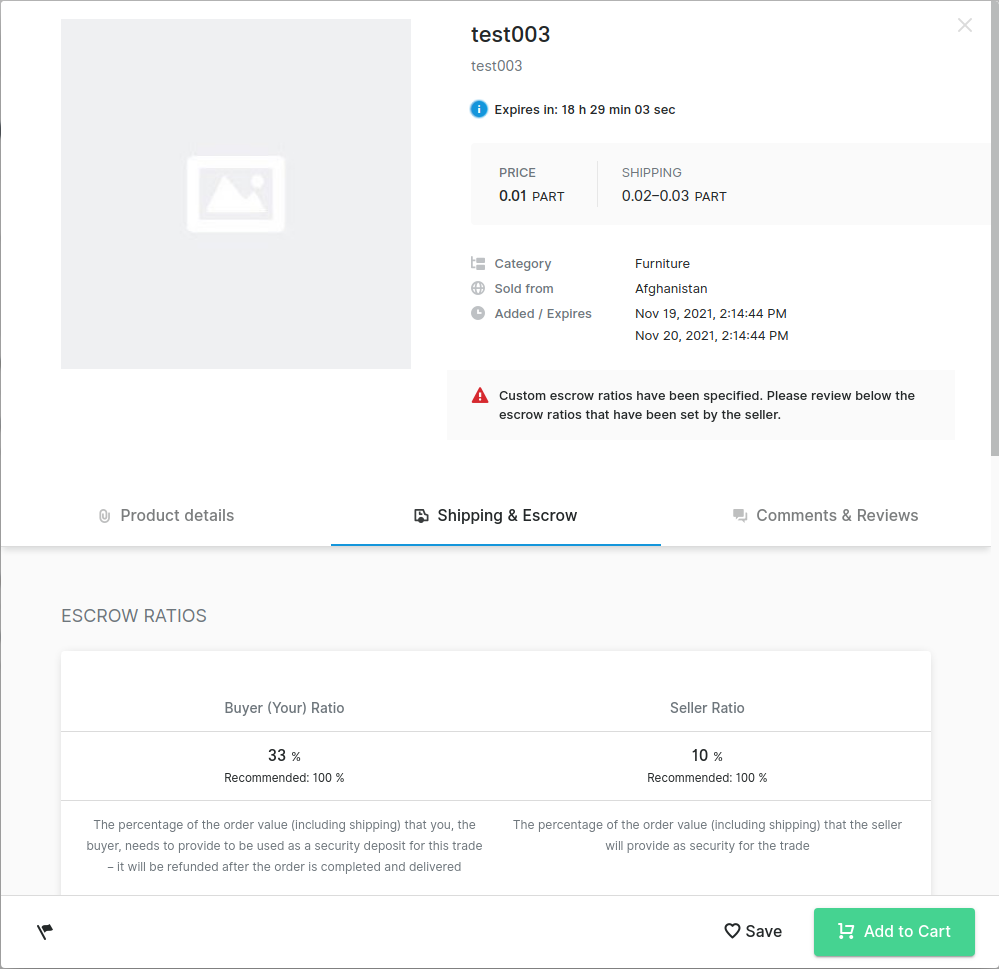 Now let's have a look at the progress made on the other items.
---
Particl Desktop Progress Report
Because the majority of the week has been spent on integrating the adjustable escrow feature, the previously stated Particl Desktop "to-do" list has remained more or less the same, with a few minor exceptions.
Several features related to better vendor inventory import/update. We can report that the ability to batch update prices to multiple listings at once is now completed. The addition of a product code and the ability to import images directly through the CSV file directly is still in progress, however, we're now moving these two tasks for AFTER the completion of the enabling of digital items. Both of these items are relatively easy to wrap up and we'd rather focus on the more complicated task first.
Enable the sale of digital items with no physical shipping address requirement (i.e., download links, NFTs, user codes, etc.). This task has been started this week and will be the primary focus for next week.
The usage of markdown in product descriptions on the marketplace for better, more customizable formatting. This task has already been started but has been put on pause until the above items are completed. It is estimated that this item will be completed very quickly once its development resumes.
Particl Core Progress Report
This week on Core, work has gone towards keeping Particl Core up-to-date with Bitcoin's codebase. As always, you can track the progress by looking into the list of commits on the Github repository. It provides valuable insights into what's being done on that side of things.
To that end, a new Particl Core release (Particl Core 0.19.2.17) has been published and is now marked as a full release. You can download it here and consult the list of changes here.
Additionally, development on BasicSwap has continued as is now usual. As we've made significant progress in the past few weeks, you can now expect an introductory blog post on BasicSwap to go live by next week, so stay tuned to learn all the relevant details about this upcoming major Particl application!
LocalParticl Launches Market Web Browser
Although this item hasn't been developed by the Particl team, it absolutely deserves a spot in this development update. In fact, this week, the guys at LocalParticl.com released yet another awesome Particl product; a web browser that lets you explore what's for sale on Particl Marketplace.
Using your favorite web browser, you can now discover the many items and services currently for sale on the Open Market (Particl Marketplace's default market). When clicking on an item, you can also find buttons that will allow you to share it anywhere online; a feature that's quite useful for sellers to promote their items and for Particl fans to show others what kind of stuff can be sold on the marketplace.
The web browser is currently an early work-in-progress and is expected to evolve as we march onwards.
We'd like to give a big shout-out to the LocalParticl team. With their ever-growing line of products (LocalParticl.com, WizardSwap.io, web browser), they keep on expanding the ecosystem and making Particl better by the day. We absolutely love to see community efforts like these and thank them immensely for their contributions!
Note: At the time this was written, the web browser appears to be out of sync with the marketplace. We expect the LocalParticl team to fix the issue quickly.
---
We thank you all for your passion and love for the Particl mission; we couldn't do it without your incredible support.
We wish you all a wonderful weekend, we'll see you back on Monday! 👋
---
Particl is Participation
Get recognized as someone that cares. With your help, we become more noticed out there. It takes seconds, and you are making a statement by giving us a follow and hitting the bell icon.
YouTube Twitter Mastodon Reddit

Join the instant messaging chats. There's no need to be active, but it's good to be in the loop.
Discord Telegram Element / Matrix
Gain deep knowledge about Particl by reading.
Last but not least, a list that shows an infinite number of links clearly categorized and on one page.
---