As we conclude the week, it is time to review the progress that has been made in the past few days. Let us take a moment to evaluate the advancements achieved in the past few days.
---
Mark Your Calendars! 📅
Particl Desktop 🖥
We're still completing the items outlined in our previous updates, namely including enhancing Tor server capabilities and making a variety of minor improvements.
Please note, however, that we are currently observing a delay that is impacting the the development process of Particl Desktop which we hope to resolve shortly.
Particl Core 🔗
Core Codebase Maintenance 🛠️
As always, we consistently stay up-to-date with Bitcoin's latest version by regularly incorporating upstream updates into Particl Core. You can monitor these changes by visiting this link.
BasicSwap 📈
Exploring New Coin Additions 🪙
This week, we've continued the process of exploring new coins for inclusion on BasicSwap and started working on a few integrations.
In the process, we've encountered unique challenges that necessitated improvements to the BasicSwap codebase. Inded, while the Particl blockchain can interpret transactions from various coins, the reverse isn't always true for some of the coins we're aiming to integrate. Given that BasicSwap was initially designed for a swift launch with the initial coin release lineup we had at that time, certain assets we're considering now aren't fully compatible with specific aspects of the existing codebase.
Consequently, we've now opted to embed additional functionalities directly into BasicSwap to ensure broader cryptocurrency compatibility moving forward. While these modifications aren't too extensive or expected to become time-consuming, they have been a focal point of our work this week.
User Interface 🖥️
In addition to the minor cosmetic updates highlighted in last week's report, we've begun refining the New Offer page. Our aim is to streamline the user experience by tucking most advanced options into a collapsible menu and focusing instead on what coins, and what amounts, users want to swap.
This approach ensures a quicker and more intuitive interface, preventing users from being overwhelmed by technical choices. However, these options remain easily accessible for advanced users who seek them.
Prepare Your Nodes, Voting Starts Tuesday 🗳️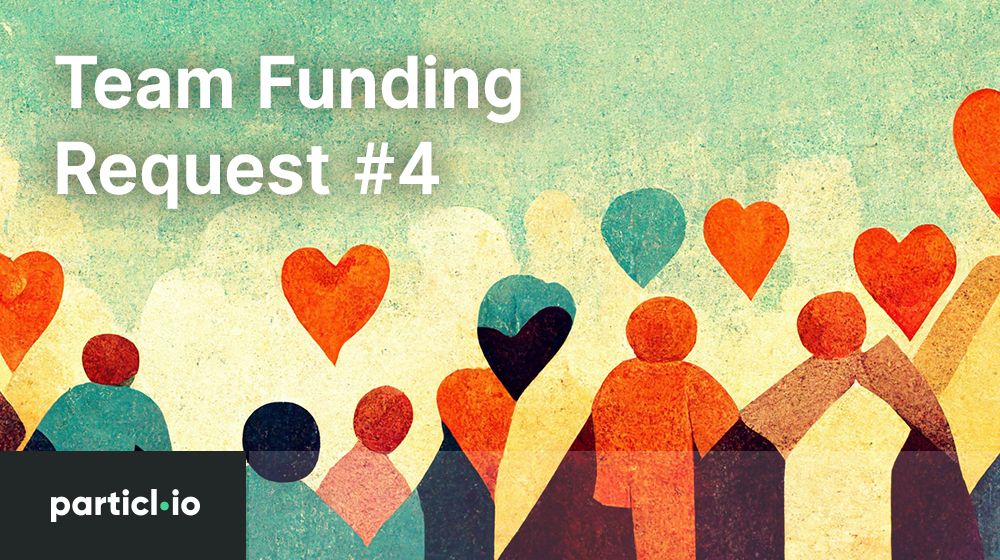 Last week, we have published a fourth funding request to ensure the continued growth of the Particl project and to support the wide-ranging operations of the team.
We can now announce that voting will start next Tuesday and last from block 1,493,000 to block 1,498,039, for a total of 5,040 blocks.

Because this proposal does not propose changes to the protocol, it will require a participation rate of 20% or more of the total supply and an approval rate of 60% or more to be considered valid.
Note: The accompanying CCS page of the proposal should be up in the next couple of hours, after which we'll publish a standalone blog post announcing the voting parameters and instructions on Particl News.
How to Vote ℹ️
To cast your vote for this proposal, we recommend using the partyman cold staking application and register your vote on the blockchain for proposal #19.
You have the options to abstain (0), vote in favor (1), or vote against (2). Every vote matters, and we strongly encourage you to participate as a higher participation rate means a broader consensus and healthier decision-making process for the whole community.
To learn more about Particl's on-chain voting system, click here.
To learn how to vote, refer to this tutorial.
For the CCS voting page of this proposal, head over here.
Important: For the proposal to show up on Partyman, make sure you are running the latest version of Partyman. To do so, run git pull from inside your partyman folder, and then type the ./partyman update command from that location.
New Particl Website ✅
We've also been making steady progress on the new website, as has been the case for the past couple of weeks, which we now expect to have a working version in internal testing soon. Live launch should follow shortly after that!
---
As always, we thank you immensely for your passion and dedication to Particl and what it's working towards achieving. None of it would be possible without you all!
We wish you a great weekend we'll see you all back on Monday! 👋
---
The Open-Source Revolution
We're on a mission to create a private, independent, and pro-liberty digital economy that is fair and open to all. Learn more about what we do at any of the following links.
Be a part of the movement and join us in the fight for our freedoms by meeting the community and spreading the word far and wide!
Discord Telegram Element / Matrix
Learn more about Particl with these in-depth resources.
Website BasicSwap DEX Academy Wiki
Follow the link below to get a list of all other useful Particl-related links you may find helpful.
---