The week is coming to an end, which means it's time for our weekly development progress report! So let's quickly see what progress has been made in the past few days.
---
Particl Desktop 🖥
We've been making good progress on integrating the now-completed changes planned for 3.3 into the desktop client. While the work continues, it is now progressing at a steady pace.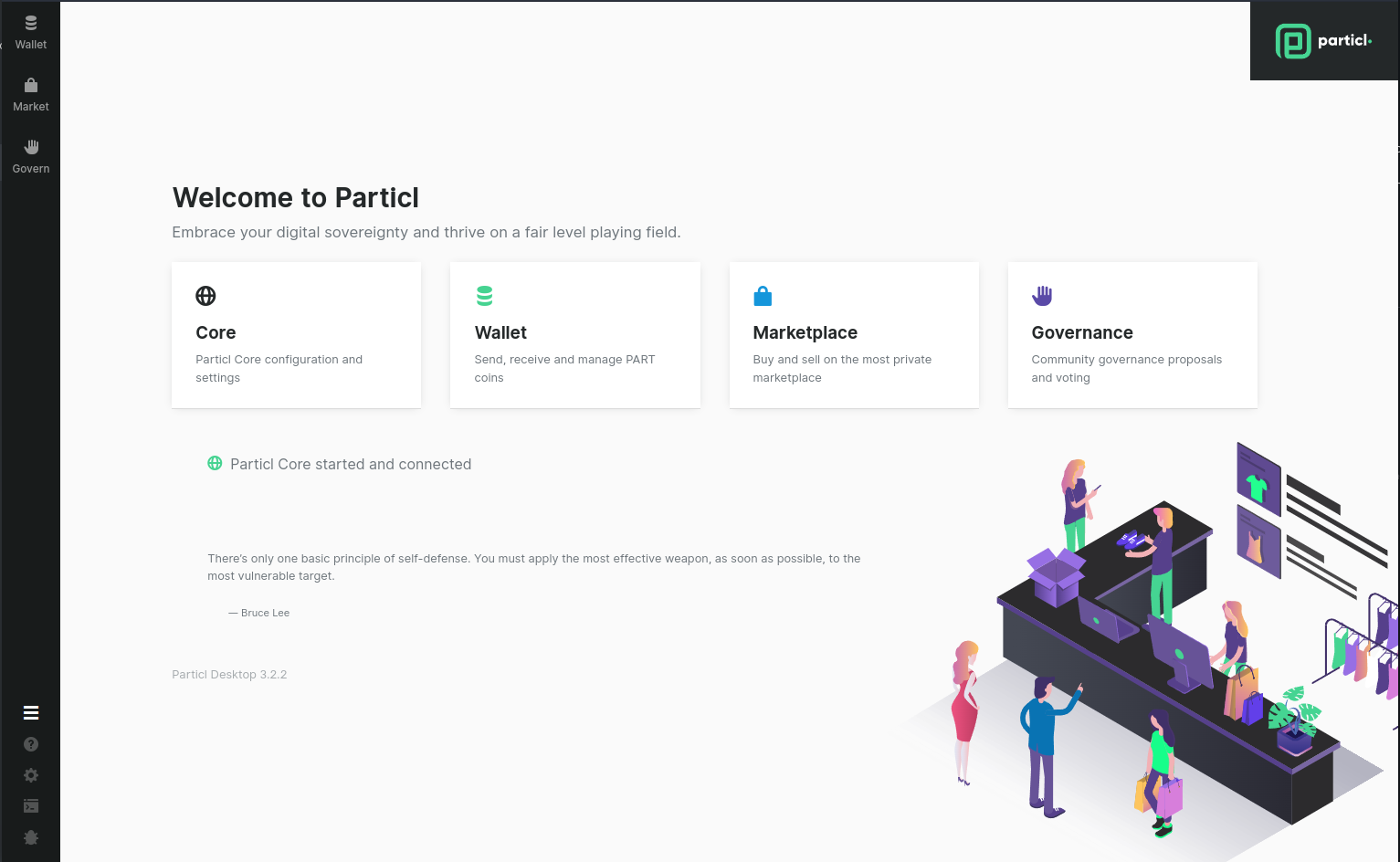 Now for a bit more information on the screenshot above.
Clicking on the "Core" button brings up the core configuration screen, allowing the user to change various core-related settings. Things like connection details (URL, whether to use the core cookie file for authentication or provided RPC user/password, etc.), whether to start core on PD startup or not, which network to connect to (mainnet, testnet, or regtest), proxy details (i.e., Tor), etc. Those are generally saved in an app-specific (wallet, market, etc.) JSON file, meaning that one can script the download, configuration, and startup of Particl Desktop for specific environments such as Whonix, for example.
In the screenshot, the core status message below the buttons shows that core is connected. If core was not already connected, then the other buttons would not be active. In other words, one cannot open the marketplace unless core is actively running.
A new icon in the sidebar allows the user to navigate back to the welcome screen from anywhere. Currently, it looks like a hamburger menu icon, but we'll change it to a more comprehensible icon before the release.
While the back-end changes are now complete, integrating them into the user interface is our current main and final desktop-related deliverable before we can go live with PD 3.3. Of course, as is always the case with larger releases, we'll run a testnet round before the mainnet deployment.
Particl Core 🔗
Core Codebase Maintenance 🛠️
As usual, we've been keeping up with upstream updates as part of our ever-ongoing effort to maintain Particl Core up-to-date with Bitcoin's latest version. You can always keep track of those changes by following this link.
BasicSwap 📈
Earlier this week, we completed BasicSwap's GUI (v0.1) and were able to deploy the final closed beta round of testing on Tuesday.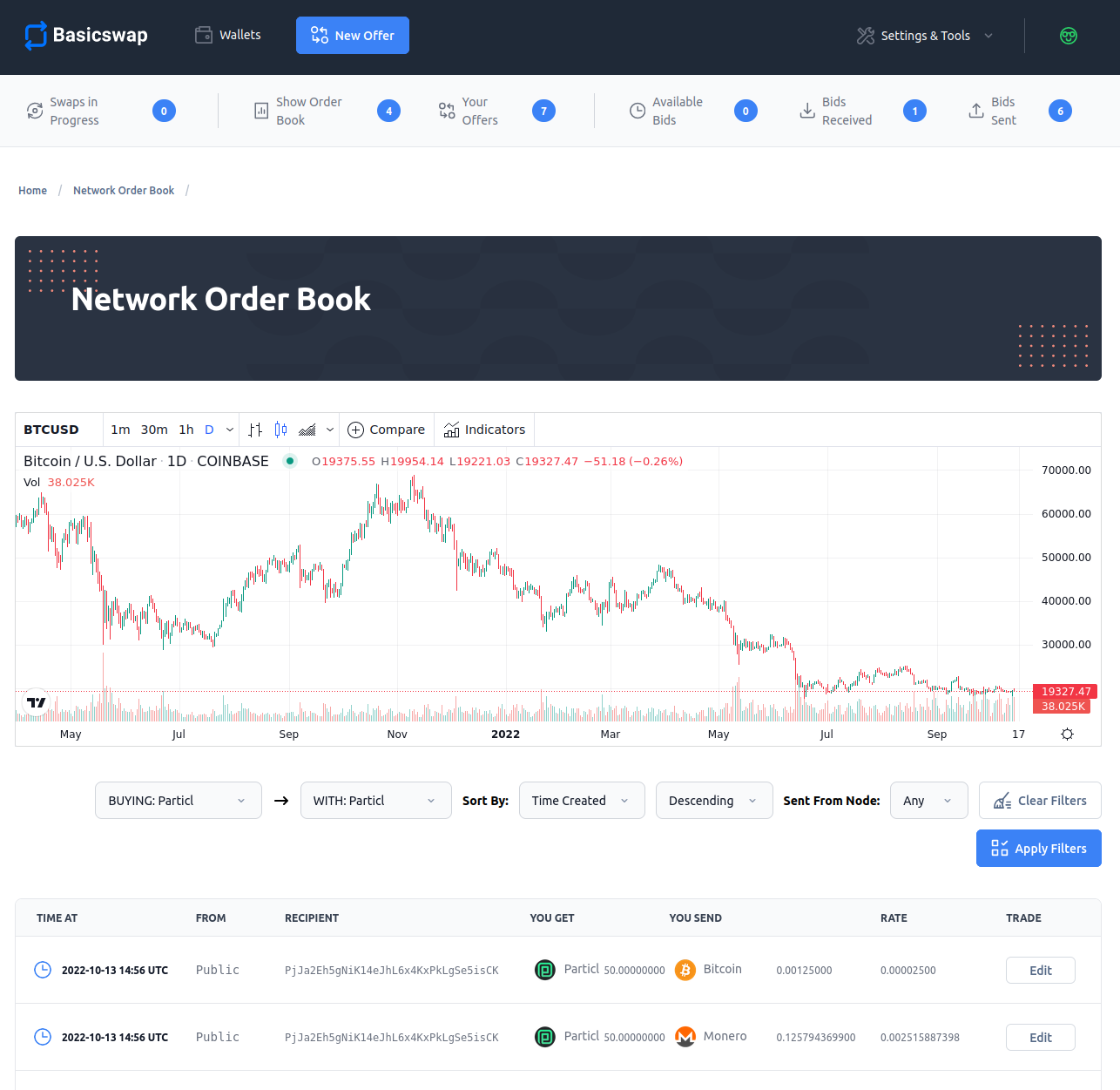 We can report that, as of right now, things have been going incredibly smoothly. We have already pushed a wide variety of tweaks, improvements, and bug fixes thanks to the various reports from our testers and will keep on doing so for the next few days.
A small number of users have had difficulties installing BasicSwap due to the difference in environments used, and we're working towards simplifying/streamlining the process, notably by producing clear and easy-to-follow tutorials, which will be ready by the time of the open beta.
We want to thank our testers for their help and contributions. So far, this closed beta round has been incredibly fruitful and productive; we're delighted with it and excited to release BasicSwap's open beta publicly soon.
---
As always, we thank you immensely for your passion and dedication to Particl and what it's working towards achieving. None of it would be possible without you all!
We wish you a great weekend we'll see you all back on Monday! 👋
---
Particl is Participation
Get recognized as someone that cares. With your help, we become more noticed out there. It takes seconds, and you are making a statement by giving us a follow and hitting the bell icon.
YouTube Twitter Mastodon Reddit

Join the instant messaging chats. There's no need to be active, but it's good to be in the loop.
Discord Telegram Element / Matrix
Gain deep knowledge about Particl by reading.
Last but not least, a list that shows an infinite number of links clearly categorized and on one page.
---