As we conclude the week, it is time to review the progress that has been made in the past few days. Let us take a moment to evaluate the advancements achieved in the past few days.
---
Particl Desktop 🖥
We are still rectifying a few minor issues and incorporating modifications based on the feedback we have received since the introduction of Particl Desktop 3.3.
Notably, we identified two issues with the client: one involving order processing and progression on the marketplace, and another concerning the display of anon UTXOs/balances when importing a wallet while the client is syncing.
We are currently investigating both of them and will push fixes as part of the upcoming Particl Desktop 3.1.1, along with a few other minor fixes/improvements.
Marketplace Seller App 🛒
We are still at the early stages of building the seller app and have been preparing for its development cycle, collecting feedback and suggestions from some of the vendors currently selling on the marketplace at the same time.
If you have any seller-related feature requests, suggestions, or ideas, we'd love to hear about them. The app provides a quick way to deploy and experiment with different seller-related features, so the more input we receive on that end, the more we can work with!
Particl Core 🔗
Core Codebase Maintenance 🛠️
As always, we consistently stay up-to-date with Bitcoin's latest version by regularly incorporating upstream updates into Particl Core. You can monitor these changes by visiting this link.
Additionally, we've applied a change to Particl Core to help mitigate issues similar to the one mentioned above (anon UTXO), and that will be part of the next Particl Core update.
BasicSwap 📈
This week, most of the work has gone towards investigating the aforementioned anon UTXO issue as well as merging a few particularly complicated and time-consuming upstream updates from Bitcoin.
Still, we've been able to integrate a few minor updates into BasicSwap's codebase, which can always be followed by monitoring this link.
User Interface 🖥️
As previously reported, we are in the process of resolving a few minor, remaining issues/bugs, as well as incorporating the last couple of updates to the DEX codebase into the user interface.
We now expect to be able to release the 2.0 version of the GUI early next week, with a subsequent update following shortly thereafter.
The first release will comprise of the revamped GUI codebase, including the features announced in previous progress reports, and the second one will introduce a set of features that have been requested by the community only recently. This includes, for example, indicators highlighting what orders can be taken partially.
As part of this second release, we also want to explore more experimental features such as the grouping of orders, which would allow orders of the same rate to be "merged as one" on the order book, but whether they will be able to be released at this stage, or whether it is too early, is yet to be determined.
Whitepaper Released 📄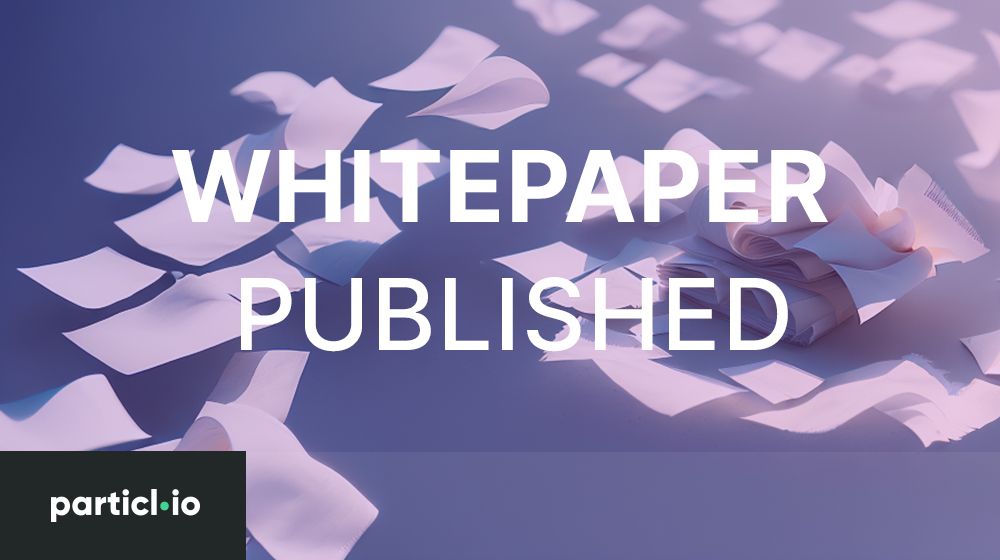 Yesterday, we published the v0.3 draft of Particl's ecosystem-wide whitepaper.
Although not an academic paper in itself, it provides a comprehensive yet technical overview of the Particl ecosystem, its many components, and the synergy between them to an audience that wants to get the full picture.
We highly recommend it to anyone wanting to gain a better understanding of the project as a whole, and also as a useful resource when promoting Particl to parties that may be interested by the more technical nature of things.
---
As always, we thank you immensely for your passion and dedication to Particl and what it's working towards achieving. None of it would be possible without you all!
We wish you a great weekend we'll see you all back on Monday! 👋
---
The Open-Source Revolution
We're on a mission to create a private, independent, and pro-liberty digital economy that is fair and open to all. Learn more about what we do at any of the following links.
Be a part of the movement and join us in the fight for our freedoms by meeting the community and spreading the word far and wide!
Discord Telegram Element / Matrix
Learn more about Particl with these in-depth resources.
Website BasicSwap DEX Academy Wiki
Follow the link below to get a list of all other useful Particl-related links you may find helpful.
---