Privately buy anything online using your favorite crypto! 🛒
---
In a nutshell: Particl will start accepting many more coins starting with the DAI stablecoin and the solid privacy coin Zcoin in just a few days. The Particl team is also opening up a voluntary donation address for community members to support outreach initiatives.
---
A Marketplace for Everyone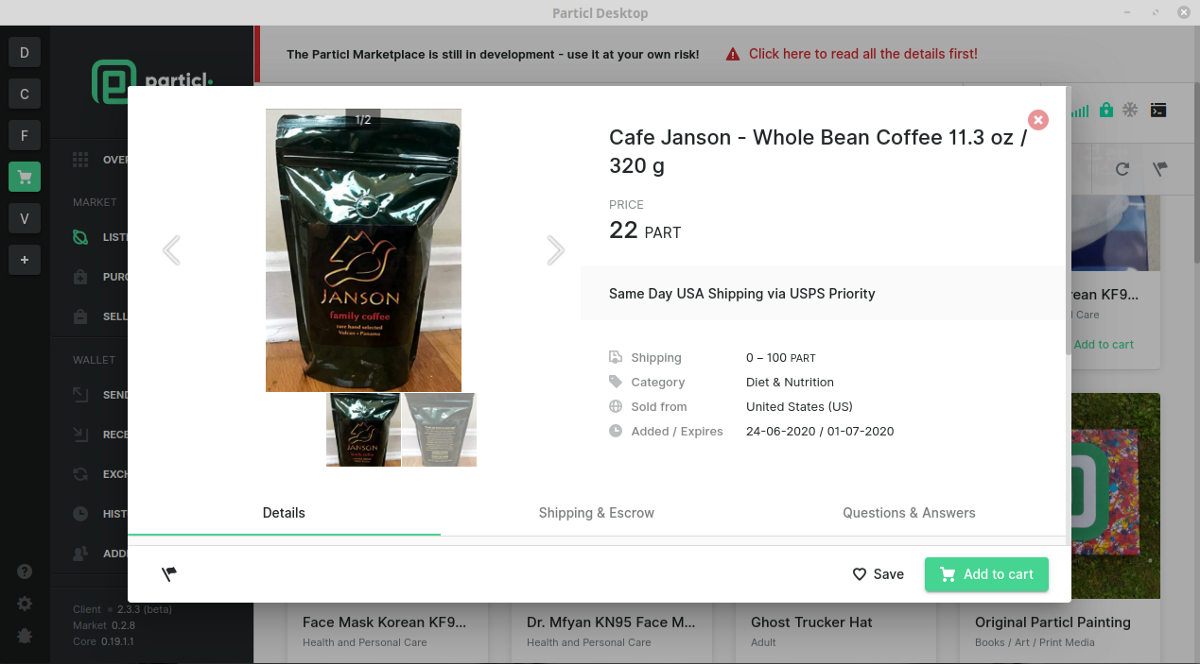 Cryptocurrency communities tend to be tribal by nature, but Particl has always strived to be a project building solutions that everybody can benefit from. It's in the project's DNA. As such, Particl's decentralized marketplace and desktop client is designed to be able to accept a multitude of payment options, not just its native coin (PART).
The rationale for this inclusive approach is simple — privacy, security, reliability, and being able to buy and sell anything online without censorship, restrictions, interference, nor fees, should be made easily available to everyone in the world and not be exclusive to one community only. The technology exists and has been live for a while, what good would it do and what societal progress would it really trigger if it's kept exclusive to a select group of individuals?
Bitcoin Accepted Here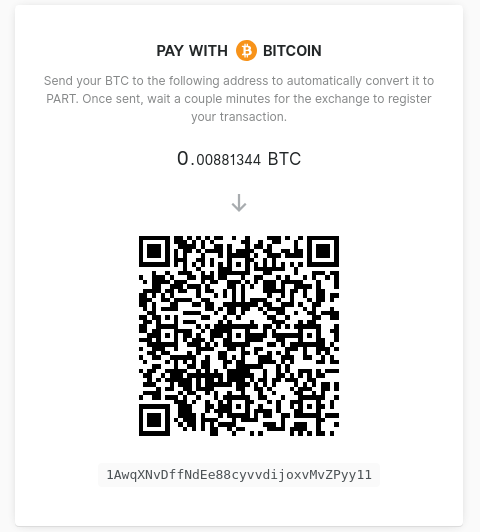 With this in mind, Particl added the ability to make Bitcoin payments as part of Particl's marketplace checkout process and as a standalone swap engine in December 2019. This allowed anyone possessing Bitcoin to spend it anonymously and buy anything available on the marketplace using the world's most popular cryptocurrency. No more third-party Bitcoin payment processors required at all, no more data harvesting, no more restrictions or censorship, and no more transaction fees!
Of course, Particl's inclusive approach is much more ambitious than simply accepting Bitcoin! Anything from fiat forms of payments to other cryptocurrencies are intended goals that are meant to be achieved by Particl. A multi-purpose tool called "Particl bots" were invented for this specific purpose —they are little middle-ware programs that interact with the Particl network and provide opt-in third-party services (i.e. swap/exchange services).
The Particl team planned on adding many new coins in its next release, but since it ended up taking a bit longer than anticipated, and for very good reasons, the decision was made to act right away before the Particl Desktop 3.0 release and provide the marketplace with an immediate added value.
Stepping Things Up Again With Particl Desktop 3.0
A New Breakthrough for Privacy and eCommerce 🔥particl.news
---
New Coins Coming in Just a Few Days
The Particl team is excited to announce that, starting in just a few days, new coins will be added to Particl Desktop. This will allow you to buy anything with them on the Particl marketplace or simply swap them for PART straight from the client.
The first two coins that are going to be added will be DAI, the stablecoin from the MakerDAO team, and Zcoin, a leading privacy coin with a solid but different privacy protocol than Particl's!
New Benefits Unlocked
On one hand, adding these two coins instantly provides the marketplace with a big boost in accessibility and usability. On the other hand, it allows more people than ever to be able to use the marketplace without breaking a sweat simply by spending their favorite digital currency! And that's all possible without having to manually swap DAI or Zcoin for PART on an exchange first. It's done straight from the Particl wallet.
So whether you're a stablecoin holder that just wants to live off the economical grid, or whether you're more interested in the privacy aspect of cryptocurrencies and want to take things a step further by mixing privacy protocols together, that will all be possible in just a few days. Particl's range of use-cases just got way bigger!
An Important Note on Transaction Settlements
Although Particl will start listing new coins on its platform, it needs to be pointed out that all marketplace transactions are meant to be settled in PART. This provides the privacy aspects of the marketplace and the ability to use its two-party escrow system.
For this reason, any currency added to Particl needs to be swapped into PART before concluding a marketplace transaction. This is possible by either using the standalone swapping module included in Particl Desktop before making an online purchase or by simply swapping coins as part of the checkout process once you're ready to pay for your shopping cart.
In other words, any non-PART transaction is ultimately settled, in full, as a PART transaction.
---
Donations Can Bring Particl a Long Way
Would you like to be PART of Particl's success? The Particl team is opening a donation deposit address to help fund outreach initiatives related to the listing of new coins. Funds will be used for various initiatives such as creating and giving away free custom merchandise and goodies, run contests, giveaways, and other similar promotional efforts.
Maybe you have a great idea on how to improve Particl's exposure as new coins get added? If that's the case, then join our Telegram or Discord community right away and take part in the discussion!
Outreach donation address (public): PYwXDHE8B9zTaeTxy95i8z7L9MfaQpzKWe
Outreach donation address (private): SPH3GootfeBkwfTFxpRCDQaZaMLRJSsXfNdJrpM3u2WEduY8CndEy8HvdySeN7NnJdwJ2iYBt5f1S1arMnKbr8i6MYMLf4qSq5Xjdn
---
What Coin Would You Want to See on Particl?
With this, Particl is getting more accessible and more approachable than it has ever been. Don't forget, adding DAI and Zcoin is only a beginning, but it provides instant added value to the marketplace and these coins as well.
What coins would you like to see next? Are you a fan of a particular crypto community and would love to use your favorite coin on Particl? Then let the team know by filling the listing application form which that will appear on Particl's website next week or by talking about it in the Particl community. Don't hesitate to let it be known, Particl is a marketplace for all!
---
Want to learn more about Particl?