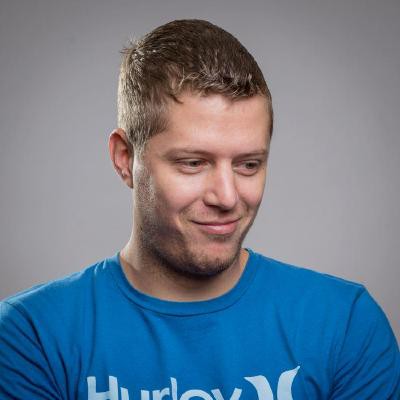 On the 2nd of December 2018, Particl hired a new senior developer, Robert Edwards. I've had the chance to have several back and forths with him, and have asked him a few questions to let you all know a bit more about our new fellow Particl family member! You can follow him on the following platforms:
Github: https://github.com/spazzymoto
LinkedIn: https://www.linkedin.com/in/robert-edwards-82464992/
---
Could you give a small resume of your professional journey?
After school, I've started working for a company that does process instrumentation. I was mainly coding front ends that interfaced with the devices. I worked there for around 2 years and then took my "gap year" where I went sailing in the med and the carribean for about 2 years.When I got back to South Africa, I was chatting to Ryno who told me to come for an interview at the company he was currently working at, which did financial based software. I got the job there and that is where I spent my last 9 years.

So where did you meet Ryno initially?
I met Ryno years ago, I went to a house party with some friends when we were still in school. Turns out it was at Ryno's house. We've been friends since then.
Where does the Spazzymoto username come from?
Growing up, I did a lot of sailing with my dad and I think he came up with Spazzymoto as the name for one of our boats. I latched on to it as it's a username no one else uses that I've seen, so it makes registering at new websites really easy.
Has Particl been your introduction to blockchain development?
It has been. I did a course or two at my old company to see how we could potentially use blockchain, but these were very high-level overviews.
Were you personally involved/interested in some way in cryptocurrencies before Particl then?
Besides owning some cryptocurrencies and following a few, mainly Particl & Nano, I wasn't really involved although it is an area that has always interested me. I think it has massive potential and I can't wait to see what's to come.
What do you see as the biggest challenge for cryptocurrencies' mainstream (or wider) adoption?
I think the biggest problems I see, in my opinion, are:1) I could explain to my parents how to buy Particl, for example. I think massive improvements have been made to make this process easier, but I think we as a community can do better!
2) I think another issue is convincing people to actually use their crypto on the marketplace instead of just "hodling". I guess no one wants to spend today what could be worth a lot more in the future. I think this will get better as the crypto prices stabilize though.

How did you get to join Particl?
After 9 years at my previous company, I felt like Iwas in a bit of a rut/comfort zone, that I wasn't really challenging myself anymore. I therefore took the plunge and registered on a South African tech job site to see what was out there and if there were any jobs were I felt that I could challenge myself. Low and behold, Ryno found me there and the rest is history as they say.
What makes you the most excited about Particl?
I think Particl's vision, it has a great team of people guiding and working on it. I think the marketplace is a great example of the dedication of this team to drive innovation in the crypto space.
What is your fresh/outside perspective on Particl?
The thing I love most about Particl compared to, say Bitcoin, is that I see it as a green cryptocurrency. The amount of energy being consumed to mine bitcoin is outrageous. That, and I feel like Particl consistently pushes the boundaries, I can't wait for the marketplace to hit mainnet.
Do you plan on personally use it? What would you like to sell or buy the most?
I am definitely going to use it, I will have to go see what I can sell, although I'm not really sure I'd have anything to sell at this point, but you never know! As for buying, anything that means one less trip to a shopping center! I hate shopping centers.
What is your specific role in Particl Desktop? In other words, what is a typical day for you working for Particl.
My role is to turn coffee into code! I think compared to my previous job, I get to actually code a lot more as opposed to all the design & estimation meetings that I was used to. I am new to the project, but I'm hoping I can dig in and help share the load with the rest of the guys.
What item or part of Particl will you be working on? I've heard you were going to start on Copay. What updates are you making to it?
My first task has been to update the Particl Copay app to the latest version from Bitpay. This was quite a few commits behind and required some updates to the supporting bitcore wallet service and supporting libraries.Following updates will be: An iOS version, notifications, support for Particl, but also Bitcoin & Bitcoin Cash wallets, and cold staking.

---
Due to the team's almost exclusive focus on marketplace development as of late, the Particl Copay mobile app had been put on the backburner for some time. It's definitely going to be refreshing to see all these updates take place for Particl's mobile app, especially the long-awaited iOS version and cold staking features. Join me in welcoming Robert to the team and wish him the best of times working in his new decentralized work environment!