We are happy to announce that the Dash cryptocurrency (DASH) has been integrated into the privacy-first and cross-chain DEX BasicSwap and will be available for swapping as soon as its open beta goes live!
---
Easy Atomic Swaps Coming to Dash!
As soon as BasicSwap's open beta publicly launches — precisely on the 8th of December, 2022 at 15:00 UTC — you'll be able to place and take Dash offers on BasicSwap's distributed order book and swap it in exchange for a range of other cryptocurrencies, including but not limited to Bitcoin, Litecoin, Particl, and Monero.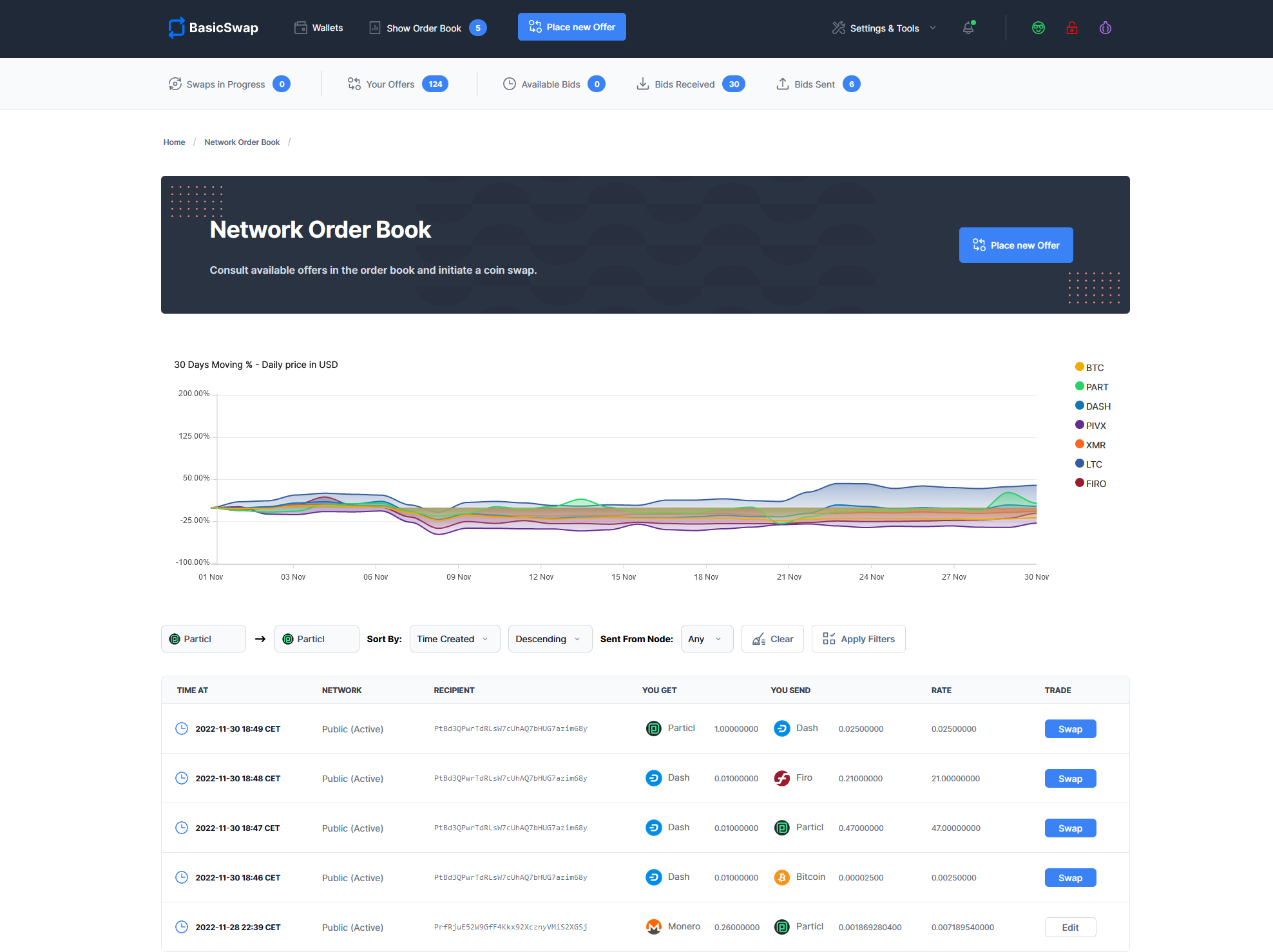 All Dash swaps are powered by atomic swaps and require no third-party involvement, wrapped assets, or intermediary layers. Additionally, due to the DEX's fee-less architecture, Dash swaps are free of charge, meaning you'll only need to pay the regular Dash blockchain transaction fee and nothing extra.
Note: At this beta stage, DASH cannot yet be swapped with Monero or "anon" Particl coins. We are working on a more extensive integration which is expected to go live later during beta.
When is BasicSwap Going Live?
BasicSwap's open beta is scheduled to go publicly live on the 8th of December, at 15:00 UTC. Make sure to inscribe that date in your calendar and subscribe to our newsletter to not miss any BasicSwap or Particl-related news!
---
About Dash
Dash is a payments-focused cryptocurrency that allows millions of individuals across the globe to carry out instant and secure transactions, with near-zero fees. It is accepted at almost 200,000 merchants globally, accessible via 3,300+ ATMs and 100+ exchanges worldwide.
Dash has pioneered groundbreaking features including a two-tier network of incentivized nodes and decentralized project governance, instantly settled payments, and fully secure blockchain.
The Dash Network's development is supported by Dash Core Group, the largest organization funded by the Dash Treasury.
Learn more: https://www.dash.org/
About BasicSwap
BasicSwap is a cross-chain and privacy-first decentralized exchange (DEX) protocol and a trading app that allows you to swap one cryptocurrency for another without any middleman or third-party being involved.
It lets you make or take orders on a distributed order book, with no fees, and execute swaps that are private, unrestricted, and trustless.
BasicSwap fosters a safe and pro-freedom trading environment without central points of failure, providing healthier conditions for all.
Learn more: https://particl.news/basicswap-the-fully-private-cross-chain-dex/
About Particl
Particl is an ecosystem of privacy-first decentralized applications built against the centralization of powers and services on the web.
United under the mission of shifting the balance of power from corporate monopolies back to the people, Particl contributors built a privacy-first and modular ecosystem of decentralized applications, complemented by a native privacy coin, to send and receive untraceable currency payments within smart contracts.
These dApps — alternative versions of some of the online services and products we use every day — are designed to operate in complete and total privacy and without intermediaries or restrictions.
Learn more: https://particl.io
---
Particl is Participation
Get recognized as someone that cares. With your help, we become more noticed out there. It takes seconds, and you are making a statement by giving us a follow and hitting the bell icon.
YouTube Twitter Mastodon Reddit

Join the instant messaging chats. There's no need to be active, but it's good to be in the loop.
Discord Telegram Element / Matrix
Gain deep knowledge about Particl by reading.
Last but not least, a list that shows an infinite number of links clearly categorized and on one page.
---