Did you miss our last AMA/FAQ livestream on Youtube? Don't worry, this update should keep you up to speed with all the latest developments and news surrounding the project!
---
AMA/FAQ Livestream Summary
Is Making a Listing Pool for Vendors to Make Their First Listings Free Possible?
To fight off spammers, all Particl listings require users to submit a small listing fee. This feature is important in fighting off spam as it makes it unprofitable for the attacker to do so, at least when done on a larger scale. Taking the listing fee out of the equation would leave an opportunity for spammers to mess with the network and potentially even defraud the funds contained in the "Free Listing Pool". Note that we're currently going over many strategies to help with and kickstart the adoption of the coming marketplace and that we are aware a strategy needs to be adopted to not end up with a difficult "Chicken and Egg" problem that is observable sometimes with other marketplaces, decentralized or not.
When is the Marketplace Coming on Mainnet?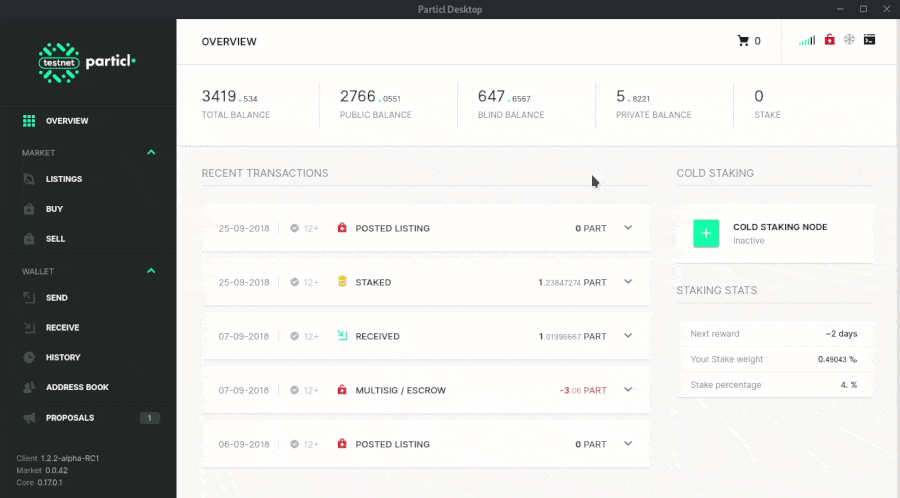 Particl Marketplace Alpha is already out, though it is a testnet-only version. We've also released new builds this week that shows the good progress being made on it. If you want to test it out, scroll down to the News & Updates section of this Community Update to find the link to the blog post containing the builds.
The requirements for Particl Marketplace to be released on mainnet is mainly decentralized governance, which is almost ready and can be tested on testnet, and RingCT, which has been ready ever since we launched Particl. Other features such as private markets and private listings are also scheduled for the first version of the marketplace and are well under development. Finally, the testnet Beta version of the marketplace (which should contain most, if not all, of the mainnet features) should be super stable and devoid of notable bugs.
As we have three separate development teams (Core, Marketplace, and Desktop), each of them working on specific aspects of the Particl platform, giving deadlines is difficult because there are a lot of moving pieces, each one of them having the potential to affect other pieces. Ideally, we're looking for the month of November/December for the release of Particl Marketplace Beta, which will also be a testnet version, although that is not a fixed date or deadline of any kind. Rest assured that we will take the appropriate steps to let everyone know when we are about to release on mainnet and promote this milestone event as it should.
When's the RingCT Hardfork?
RingCT has been ready for mainnet ever since we launched Particl, but we've decided to instead have it properly audited and reviewed to make sure our implementation of it, the first ever done on any other codebase other than Cryptonote, was secure and trustworthy. As such, we've had the implementation academically reviewed by the NJIT Department of Technology and audited by WSA. Note that WSA is currently undergoing a second, more thorough audit of the code as they requested.
The requirements for RingCT to be put on mainnet is for the governance system to be fully completed. Similarly to our first hardfork which moved cold staking on mainnet, we will likely give a 4-week notice to the community prior to doing it. This should give enough time for most Particl users to be aware of that fact and update their node in time. This process should be made much easier by the fact that both Particl Desktop and Partyman clients have built-in features to either automatically update Particl Core or block access to features until it is updated to the latest version.
Any plans on Presenting/Attending Events?
Yes. The entire team is going to meet in South Africa during the month of November for our quarterly team summit. Usually, this summit is mostly focused on development strategies. This time, however, we're also bringing the Communications Team over to strategize the future and, most importantly, the road to Particl Marketplace's mainnet release. This is going to be a milestone meeting for the team as it is going to be the first time most of the team is going to be at the same place, at the same time. This should prove to be a great opportunity to really nail down the launch strategy and get everybody on sync.
One of the important and main topics that will be discussed during this series of meetings is going to be our presence at conferences and getting more exposure within the cryptocurrency and blockchain industry itself. For example, we'd like to organize a launch party at a popular cryptocurrency conference that we'd be sponsoring. The idea would be to present Particl Marketplace to a wide audience and then end the presentation by actually launching mainnet live. We have a lot of similar ideas brewing up, and we're very excited to be able to meet in person in November and really finalize that launch strategy.
We've also started to support ambassadors and initiatives from the community as it relates to meetups. As we mentioned in the last Community Update, we've had community member JoaquimF organize a meetup in São Paulo, Brazil, and we've also received a LOT of interest from our French community for a France-based meetup which is already in the works.
It's also important to note that, as the Particl Foundation has been extremely diligent and careful with their funds, we'll have the resources required to properly plan and fund our Particl Marketplace launch strategy. We'll have more details about it once we come back from our week of meetings in South Africa.
What Efforts are Made to Attract a Public Figure for Particl?
At the moment, we are not actively looking for a public speaker or figure to represent Particl. This may end up being part of our marketing strategy after we raise funds through our Primary Funding Round, but is not a short-term focus.
That being said, Particl is a true open-source project and as such, we strongly encourage anyone from the community to step up. We'll offer support to any serious community member looking to represent Particl at public events, be it local meetups or conferences. If you are a good public speaker and want to step up, don't hesitate to contact us and we'll make sure to find ways to involve you!
Will There Be a Launch Event?
Absolutely! We'd like to sponsor a main event for a big conference where we'd be launching the marketplace on mainnet live. I'd be a great way to reveal the marketplace to a large audience and get exposure from big players, investors, and cryptocurrency enthusiasts. We have a lot of ideas for this launch event and we are quite excited to craft an exciting and fun launch strategy. The mainnet release of Particl Marketplace is a huge milestone for the Particl project, and we want to make the launch event as big as the release is.
Are Efforts Being Made to Create a Particl Documentary?
Not at this time.
Is Particl's Treasurer Buying PART at These Prices?
No. The Particl team doesn't hold any coin, the Particl Foundation does. The Foundation cannot trade coins speculatively. Moreover, all of the Foundation's accounts are known and publicly auditable, and any transaction can be tracked.
Will Particl Consider Changing its Setup and Switch to a Two-Token Mechanism?
We have no plan to do so at the moment, but as our team is constantly looking for improvements, it may come at a later time in our roadmap if that ever makes sense to do so. In other words, we are not against it, but it is not within our short-term vision or requirements for the moment.
Will Ryno be Actively Coding on Particl?
As Ryno said himself earlier this year during our livestream, he is now more involved in the management side of things rather than the coding side of thing. He puts in a lot of work for the project right now and oversees that both the development and the business management/organizational side of the project goes on smoothly. He's a big part of the core team and an important decision maker.
When Will the BitcoinTalk Thread be Updated?
It's one of our backlog items, and we have to pick which item we want to tackle first on a priority basis. As BitcoinTalk isn't as popular as it used to be, we're focusing on stuff that is more urgent in the short-term and stuff we think will have a more important impact on the project. We are aware the thread header needs to be updated, and it will come once we reach that item after tackling more important tasks.
We again strongly encourage and support community members stepping up and offering help. If you want to contribute, let us know, it helps a ton!
Does Particl Plan on Getting on More Exchanges?
Yes, especially decentralized exchanges. We are working on new exchange deals right now and are looking at bigger exchanges like Circle, CoinBase, Binance, a handful of long-standing ones. It is important for us each exchange on which we want to be listed is approved by our legal team and that they be larger, more established exchange. Exchanges do reach out to us from time to time, ask pointed questions, but in the end, there are always two parties involved. There's also a lot of research being done on our end for each exchange, including looking at how other coins are doing on this exchange, how it benefited them, looking at if the volume is legit or faked, and etc.
It does look like the mindset of some exchanges is changing and we are hopeful they are starting to look and list valuable projects that will benefit the space rather than any ICO able to pay for listing fees.
Have Funds Been Made Available for the Binance Application?
No, funds have not been made available for any exchange including Binance, but each exchange is a case-by-case and every proposal from serious exchanges is being considered. Getting on smaller exchanges, however, especially when those ask for a listing fee, is not something we are interested in as we do not believe the impact to be big enough for Particl.
---
News & Updates
New Testnet Marketplace Builds Available
Marketplace | Community Test Build 2018–10–16
Particl development teams have been hard at work adding additional features and interface experiences to Particl…particl.news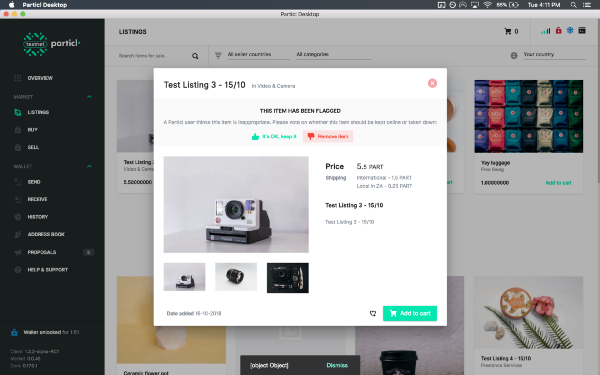 On Tuesday, we released new marketplace testnet builds. These new builds include new features such as the long-awaited listing governance mechanism as well as a lot of stability and performance enhancements. On top of this, a new Help & Support section was added to help first-time users find resources, if needed, to get started. Additionally, the interface itself has been refined and improved with a better stylistic approach and, in some cases, refreshed icons.
We invite you to come to see the state of the marketplace for yourself and join the rest of the community in testing it. Your feedback and suggestions are extremely valuable, if you have any comment or if you encounter any bug, please let us know on our Github page and our developers will look at it!
Download Particl Marketplace Alpha: https://github.com/particl/particl-desktop/pull/1193#issuecomment-430276826
Note: The download links above are only going to be available for 7 days

Status Report
Even though last week's AMA/FAQ livestream has been postponed, Particl's Status Report has been published as usual. A few items have been moved around and some were added to the report. For example, the report shows a new Particl Desktop feature, adjustable ring size value, is now completed. It also shows that all of the Settings features have now been moved to the Waiting for Review category, meaning they are just about to be included in future public testnet builds.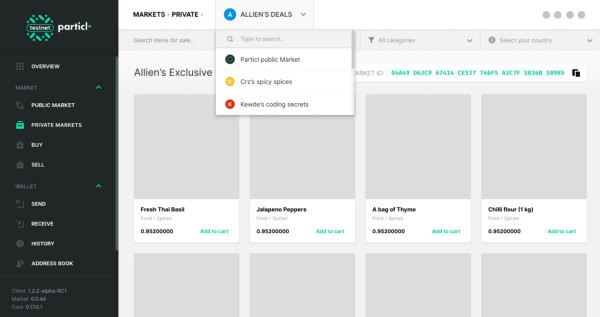 One quite interesting development in the past two weeks have been the layouts for the coming private markets and listings feature that will be included in the first mainnet version of Particl Marketplace. A screenshot of the Private Markets page has been shared this week, and more exist. We will release more of them when we are sure that they aren't going to be changed before actual implementation.
Particl Core 0.17.0.2 is Out — Fixes Ledger Issues for MacOS Users
Particl Core 0.17.0.2 Released — Fixes Ledger Issues on MacOS
Yesterday, we released Particl Core 0.17.0.2, an update that fixes Ledger-related issues some MacOS users have been…particl.news
We've also released on the same Particl Core 0.17.0.2, an update that fixes Ledger-related issues some MacOS users have been experiencing.
In other words, you shouldn't have any issue anymore when trying to use your Ledger hardware device on MacOS. If you haven't already done so, take this opportunity to increase the security of your staking setup by connecting your Ledger wallet to a cold staking node. This process will make your staking funds safe, even when transacting them from an infected or compromised computer.
New Ledger Video Tutorial Available
Speaking of Ledger, a new video tutorial on how to store your PART funds on a Ledger hardware device and set it up for cold staking is now available. Enhance the security of your staking setup by combining it with a Ledger device and never worry about the security of your staking funds anymore.
Particl Slogan Contest
Particl Slogan Contest
Update: Due to popular demand on the chatrooms as well as in this thread, and due to a large number of submissions, we…particl.community
As you are probably already aware, we've been holding a slogan contest these past few weeks to tap into how you, the community, perceive Particl. The slogan submission period is over, and now is the time to vote! Head over to our forum and pick your best slogans out of the 25 ones that have made it to the voting round!
New Sub-Reddit for Community Proposal Discussions
r/ParticlProposals
r/ParticlProposals: A discussion place to store and assess proposals for the Community Initiative funds (~33,800 PART)…www.reddit.com
Community member CryptoBeans have gone ahead and taken the initiative to create a new sub-Reddit dedicated to proposal discussions and debates. Now that the Community Proposals feature has hit testnet and is nearing mainnet implementation, now would be a good time to get started on discussing proposal ideas.
If you didn't already know, the community owns roughly 33,800 PART which can be used for anything as long as a consensus is reached within the community. Once the Community Proposals mechanism is going to be integrated on mainnet, then will be the time to vote on specific proposals. Let's get talking about it now!
---
We wish you all a good weekend and don't forget to follow our particl.newspage to not miss any update and #BePART of our great Discord community!
The Particl Team