On the Road to Reveal Particl's Next Steps and Some Surprises 🤝
Get ready, because the time has come for Particl to go on the road to promote its Open Marketplace and reveal a couple of major surprises! Indeed, in the coming few weeks, Particl will be attending 5 conferences at various places and will use the opportunity provided by the media and key people present at these events to announce exciting news.
You may have noticed that, as of late, the Particl team has been a bit more quiet than usual. That's because they've been preparing the grounds for a wider adoption of the marketplace by working on some very concrete solutions that will make using it as easy as it's ever been! Particl is indeed deciding to focus heavily on user adoption by providing the tools and simplicity the network needs to thrive and develop a real economy around its ecosystem. This "Particl World Tour" series of conferences that's coming within the next few days is when those solutions will start being revealed. And the gears are already turning!
The announcements that are coming up for the project will likely change Particl's game and kickstart the adoption of its network in significant ways. Some of the solutions being worked on at the moment are expected to be major drivers for adoption and aim at bringing many transactions per day on the Particl blockchain. It's definitely got the entire team buzzing!
---
What Events is Particl Attending?
Particl will fully leverage the exposure and opportunities provided by the 5 upcoming conferences it will be attending in the next few weeks to reveal and let the blockchain space know about what it has been working on in the past few months. It's important to note that some of what the team is currently working on has been an ongoing process ever since Consensus 2019 in New York City.
The common denominator behind Particl's presence at any of these events is the goal to stimulate and kickstart the adoption of the Open Marketplace. With all the groundbreaking benefits offered by the Open Marketplace, it is now time to get people to use it! 💪
Note: Some of these conferences are happening at the same time. That's because the Particl team will be split into different groups in order to maximize its presence at these events. Then, the Particl team will all regroup in San Francisco to operate its booth at SFBW's Epicenter event on the 31st of October and the 1st of November.
This year, Particl has been invited to Money20/20 by a another team. Both Particl and this team has grown closer to each other ever since meeting at Consensus 2019. Money20/20 is a fintech and financial conference uniting some of the biggest names in these industries. While it isn't a cryptocurrency or blockchain conference at all, it is a perfect opportunity for the project to be introduced to various key players in the eCommerce and financial industry as well as get to know businesses and help them reduce their operational costs through the Particl platform.
The team that's inviting Particl to this conference wishes to introduce the Particl protocol to many of its partners, clients, and friends. The objective behind these meetings is to help these businesses to reduce their costs and increase their security and privacy by using the Particl protocol in multiple ways.
Note: Money20/20 is part of Las Vegas' Blockchain Week, meaning many after-parties and side-events will be happening throughout the week. Particl will seek out the most logical and worthy events to attend to depending on its needs and obligations at the time.
---
Money20/20 is where the Payments, FinTech and Financial Services ecosystem unite to create and explore the disruptive ways in which consumers and businesses manage, spend and borrow money. It's the premier global event on the industry calendar where C-Level Executives, renowned speakers, innovators and disruptors from across the world unite to drive change in the future of money. It's a truly unique experience that facilitates the right conversations, enabling individuals and organizations of all sizes to achieve their goals and grow.Money20/20 is proud of the incredible growth they've experienced since the inaugural 2012 event, and they're maintaining that momentum as the industry continues to consolidate around on Money20/20.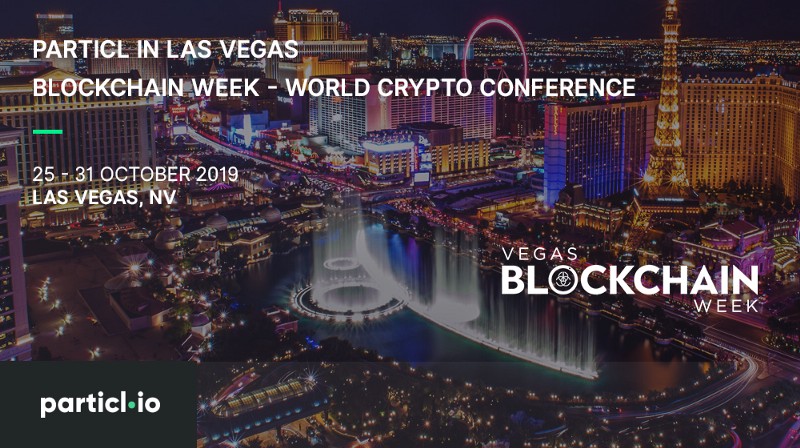 Vegas' World CryptoCon (WCC), one of the major US-based blockchain conferences of the year and the main event of the Vegas Blockchain Week, is happening just a day after Particl's presence at Money20/20. It's also in the same city (Las Vegas). The Particl team is going to seize this opportunity and have its team members that went to Money20/20 to continue their networking at WCC.
Some of the companies and businesses present at Money20/20 are expected to also attend WCC, which will allow the team to continue some of the discussions started the day before and set follow-up meetings with different parties. It'll be a great opportunity to meet people that are also going to be at SFBW and get them to pass by the Particl booth at SFBW's Epicenter event and attend Dr. Kapil Amarasinghe's (Josky/Kapoor) talk on Particl.
Note: WCC is part of Las Vegas' Blockchain Week, meaning many after-parties and side-events will be happening throughout the week. Particl will seek out the most logical and worthy events to attend to depending on its needs and obligations at the time.
---
WCC is a global stage for industry leaders to share their breaking news and technologies with all in attendance. Executives, enthusiasts, and professionals from global enterprise companies, financial service providers, investment firms, traders, advisory & auditing institutions, Blockchain focused startups, academic institutions, government policy advisors, and application developers will all descend on Las Vegas to learn and network with you.WCC 2019 is 3 days of intense training & discussions, product demos, expert keynote addresses, panel discussions with top industry thought leaders and announcements from the best and brightest in the game…showcasing new products, ideas, and the best commercially viable applications of Blockchain technology.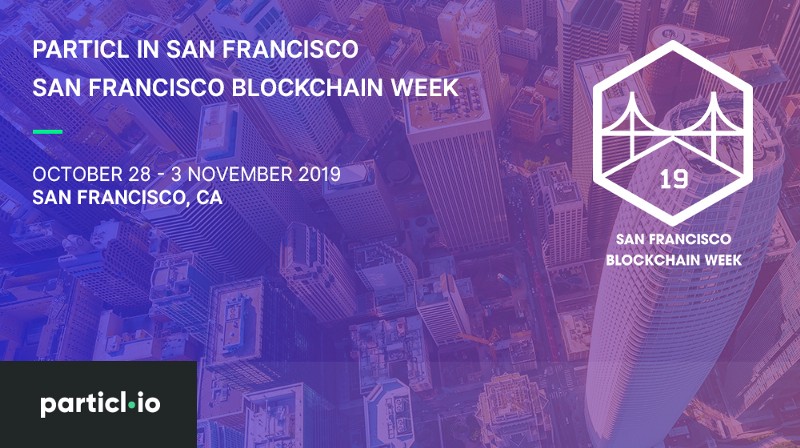 The San Francisco Blockchain Week (SFBW) is one of the most important blockchain events of 2019 and, for this reason, around 12 Particl representatives will be present to attend. And if a lesson can be learned from previous conferences where Particl had a booth, there will be little to no rest time for any of these team members. It's no secret, San Francisco is the world's biggest incubator of tech companies, and so this Blockchain Week is going to be attracting an impressive number of people and companies looking for new and innovative blockchain opportunities to leverage.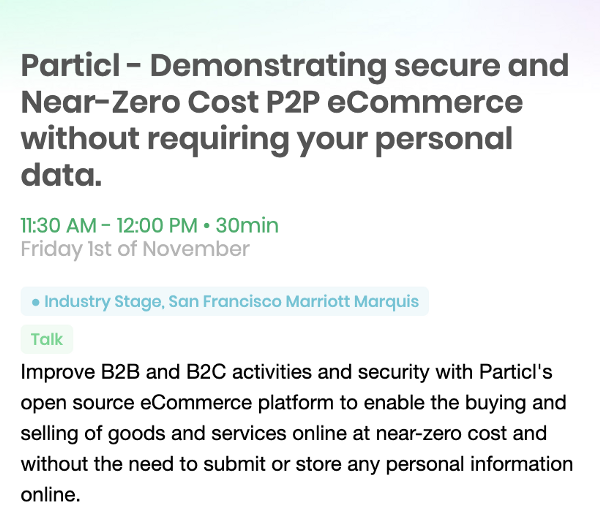 For this year's edition of SFBW's Epicenter, Particl is going to be having a large booth for a duration of two days. The team is also going to give a talk its Open Marketplace and breakdown all of its benefits for individuals and businesses alike on the "Industry Stage" at 11:30 am on the 1st of November. Don't miss this talk as it is expected to contain a few…crunchy insights and information. Fortunately, you shouldn't worry too much about missing it if you can't make it to the conference as the full video of the talk will be published online shortly after.
Not only is the entire San Francisco Blockchain Week, with all of its events, side-events, and after-parties, the ideal opportunity to show Particl to all sorts of individuals (B2C and C2C users), but it's also the perfect moment to get it in front of the right businesses that are hungry about leveraging new innovations to optimize what they have to offer.
For more information, read this blog post published earlier this month on Particl's blog: https://particl.news/particl-in-san-francisco-sfbw-2019-bdaf0426349a
Particl in San Francisco - SFBW 2019
Particl is excited to announce that 12 Particl representatives will be going to the 2019 San Francisco Blockchain Week…particl.news
Note: Epicenter is part of the San Francisco Blockchain Week (SFBW), meaning many after-parties and side-events will be happening throughout the week. Particl will seek out the most logical and worthy events to attend to depending on its needs and obligations at the time.
---
San Francisco Blockchain Week brings together blockchain startups, enterprise initiatives, academics, developers, and investors together in a single space. Targeting both developers and consumers, the event's lineup includes a security conference, a blockchain career fair, a hackathon, and more.With more than 5,000 participants, 350 companies, and 240 speakers, the event is a compelling opportunity to participate in the next steps for cryptocurrencies and blockchain technology.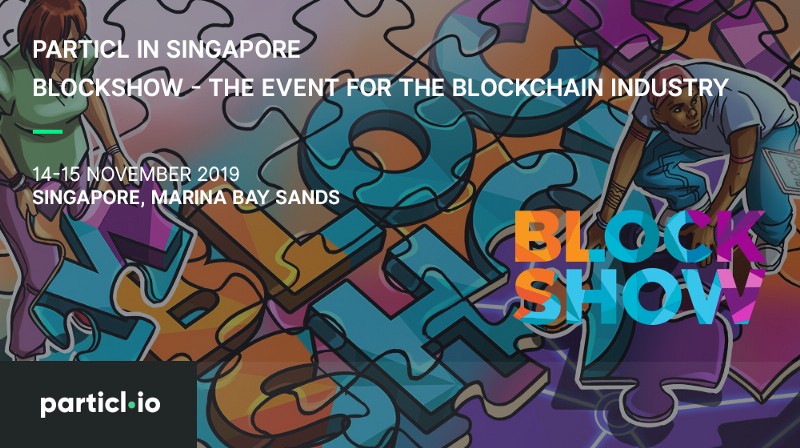 Singapore is one of the countries where Particl and its Open Marketplace could shine very brightly. Not only is this the intersection between the Asian and European FinTech industries, but the country is also seeking to push new regulations that would eliminate any taxes for purchases and sales made using cryptocurrencies. This, combined with the Open Marketplace's near-zero costs, will create a huge opportunity for businesses, allowing them to dramatically reduce their costs in a way that simply wouldn't be possible if using traditional payment methods (as in…not using cryptocurrencies).
On top of that, Singaporeans and Singaporean businesses are known for being particularly tech-savvy and at the forefront of innovations. The strong benefits of the Open Marketplace, combined with the new crypto-friendly tax regulations that are being proposed within the country, make a very strong case for using Particl.
For this reason, the team is going to send Particl's advisor Miguel Cuneta to touch base with various Singapore-based businesses and demonstrate how they could dramatically optimize their entire business models. While individuals stand to save a lot of money per sale selling on Particl, Miguel's presence at this conference will mostly be focused on reaching out to businesses.
---
BlockShow Asia 2019 is one of the major international platforms for showcasing innovative Blockchain solutions revealing hottest industry trends & sensations and bringing together Blockchain enthusiasts and experts from all over the world (powered by Cointelegraph).The conference will take place on November, 14–15 in Singapore, Marina Bay Sands Expo — the city that has earned the distinction as one of the world's top destinations for blockchain meetings.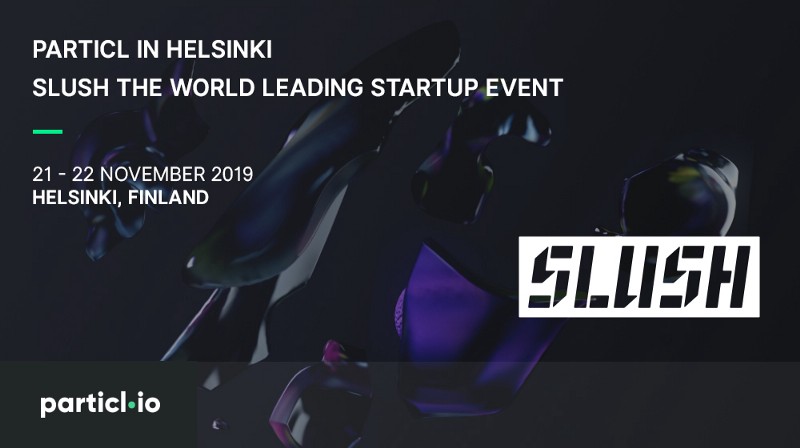 Slush is a world-renowned startup focused conference. Like Money20/20, it is not a cryptocurrency or blockchain conference, but it's an event designed to help and propel early startups by connecting them to strategic partners, advisors, and experts in various industries. In other words, the entire purpose of this conference is to guide new projects to the right path and provide them access to key resources so that they can thrive.
This year, Particl is going to be participating in the Helsinki's edition, in Finland, by having a booth and also by taking part in the Slush100 pitching competition (more information on Slush's website).
What's very interesting about Slush is the altruistic "help each other out" mindset behind the event, its partners, and its attendees. To maximize its presence at the event, Particl will be able to pre-schedule meetings with various businesses, advisors, investors, and more. This will tie in nicely with the progress and new connections that Particl will have made during the Particl World Tour, especially those made at Money20/20.
---
Slush brings together 25,000 tech enthusiasts ranging from investors and startups to international media and executives from Fortune 500 companies. If you're here to gain more awareness for your brand among the tech crowds, you've come to the right neighborhood. Our visibility offering ranges from the traditional Partner Booths to highly targeted digital impressions.
---
Reach Out to the Team
Are you attending any of these events? Or maybe you're just around one of these cities and would like to meet up? If so, don't hesitate to contact the team so that you can meet up with them! The next few weeks are likely to be pretty exciting for any Particl fan out there. So buckle up!