We are proud to announce that the new Particl.io website is live! Built and designed from the ground up by the team, it's a massive improvement over the previous website. It better tells Particl's story and mission and puts the spotlight on its products and the many benefits they offer.
There's no better way to discover the new website and understand its direction by visiting it yourself. Follow this link to discover the new front page of the Particl project: https://particl.io/
Why a New Website?
Particl is a mission-driven project with strong convictions. It is supported by incredibly talented developers who've built a unique and innovative decentralized platform that finally shifts the balance of power back into the hands of the people, not greedy corporations. The implications of that are huge and it has the potential to change a lot of aspects of our lives.
But somehow, the now-previous website didn't fully do full justice to the project's mission and intentions. Although it detailed the project's unique technical points (and they sure are impressive), it was easy for new, curious people to miss the bigger picture that ties everything together. That made it more challenging to turn these interested people into new users and fans of the project and limited the impact of any marketing, PR, or outreach effort.
That's why Particl needed a new website, especially now with the release of Particl V3 which pushes the project into a new phase where outreach will be more prevalent.
The Objectives Behind it
The website has been built with two simple but clear objectives in mind.
- Showcase Particl's products and their benefits
- Tell Particl's story and its mission.
Building the website according to these two objectives ensures that the big picture becomes apparent and that people understand the purpose of the project, what it's working to achieve, and what they can get from it.
After all, the official website is where new people land when they want to learn more about a project. It's what they use to make their first impression and decide whether they want to dig deeper or skip the project out of a lack of interest. And with so many projects to look at nowadays and the sheer number of distractions screaming for attention, you have to transmit your message as clearly and concisely as possible if you want people to stick around and be interested in digging deeper.
A Website in Expansion
Particl's new website is expected to continue expanding and evolving as we move forward in time, especially as the upcoming Particl DEX (BasicSwap) soon enters its open beta phase. You can track its progress by following the Particl.io repository on Github.
The Cornerstone of All Upcoming Marketing Efforts
The website is where most marketing, PR, and outreach campaigns redirect people to. It has to be able to convert curious or interested people into new users of fans of the project. After all, that's where these people will be forming their first impression on the project.
For this reason, it's easy to understand why the website is the cornerstone of marketing. It is the key to capitalizing on successful initiatives and turning potentially interested people into real users and supporters.
To that effect, we've published, last week, the team's vision and short to mid-term plans for marketing here on Particl News. To learn about the marketing initiatives soon to be deployed, simply follow this link: https://particl.news/marketing-particl-to-the-world/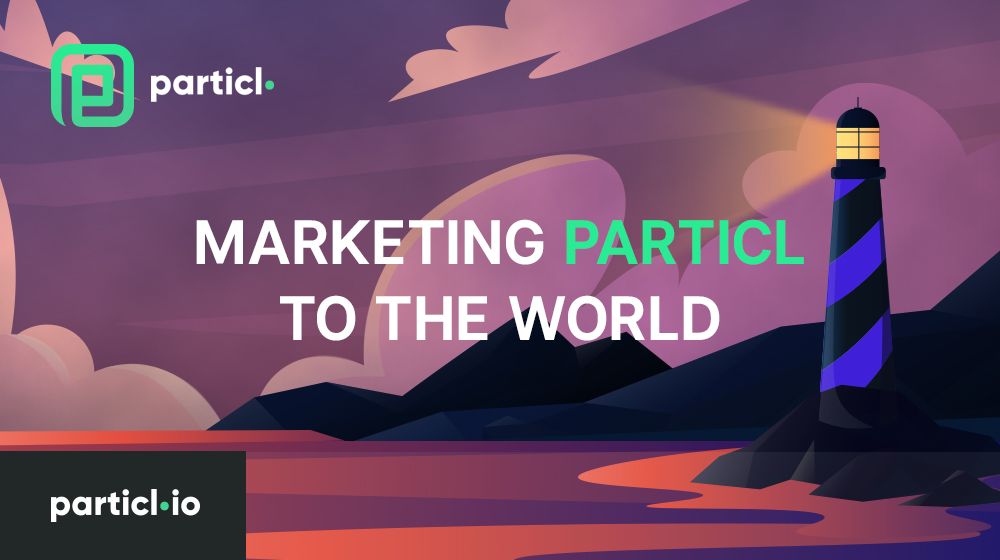 ---
Both the new Particl.io website and the recent launch of the Particl Academy make it easier than ever to introduce new people to Particl and turn them into users and supporters. And with marketing gradually ramping up, Particl is about to start turning heads.
And you can help accelerate things too! If you know people, communities, people, or anyone else you think would like Particl's mission and products, don't hesitate to send them over to Particl.io and the Particl Academy. "Teamwork makes the dream work", they say, and we certainly believe in that!
---
Particl is Participation
Get recognized as someone that cares. With your help, we become more noticed out there. It takes seconds, and you are making a statement by giving us a follow and hitting the bell icon.
YouTube Twitter Mastodon Reddit

Join the instant messaging chats. There's no need to be active, but it's good to be in the loop.
Discord Telegram Element / Matrix
Gain deep knowledge about Particl by reading.
Last but not least, a list that shows an infinite number of links clearly categorized and on one page.
---