The week is coming to an end, which means it's time for our weekly development progress report! So let's quickly see what progress has been made in the past few days.
---
Particl Desktop Progress Update
As has been the case for the past few updates, we're still working through incrementally separating Particl Core from Particl Desktop and, by the same process, adding more user configuration options to the desktop client.
As we've mentioned in previous progress reports, this is a large but essential step as we move ahead with Particl's upcoming development cycle which transforms the ecosystem's architecture with a modular approach.
Particl Core and BasicSwap Progress Update
Core Codebase Maintenance 🛠️
As usual, we've been keeping up with upstream updates as part of our ever-ongoing effort to maintain Particl Core up-to-date with Bitcoin's latest version. You can always keep track of those changes by following this link.
BasicSwap 📈
This week, we've been exploring the integration of certain coins on BasicSwap. We're working on preparing example commits showing other projects which may want to integrate their coins onto BasicSwap how to do it themselves. However, BasicSwap's true cross-chain nature makes it impossible to have a one-size-fits-all coin integration solution. Still, the example commits we're working on will nonetheless be able to facilitate the integration process of a decent number of coins.
Additionally, we've made significant progress on the DEX's GUI. We're currently working through a few issues and adding improvements as we test it before releasing publicly. But, just as a small end-of-week teaser, here is what the current order book page looks like!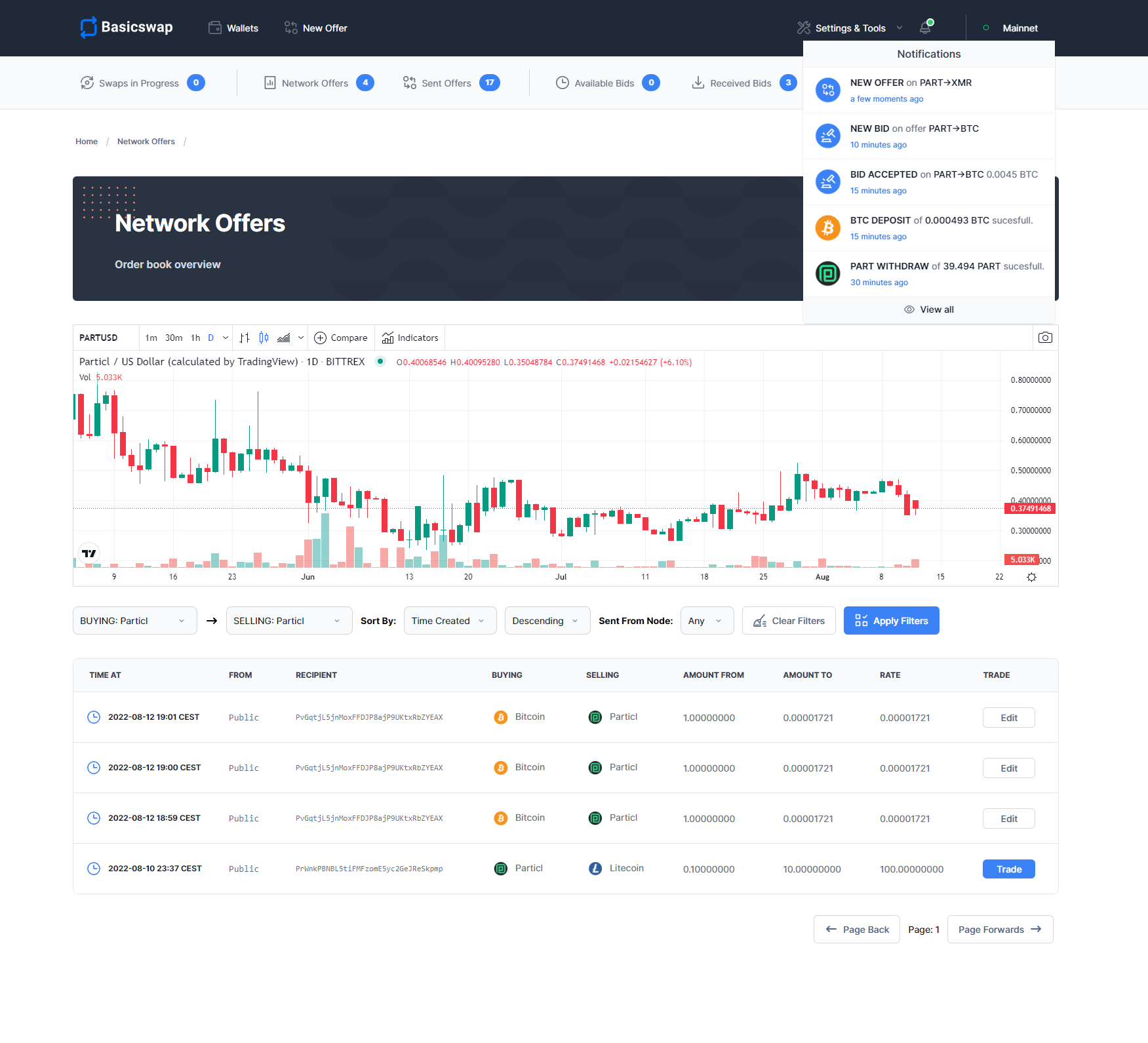 Listing Seeding Proposal Progress Update
It seems like we're long overdue for an update on the listing seeding proposal! As it stands right now, we've got two short-term priorities related to Particl Desktop and the marketplace:
Completing the Particl Desktop 3.3 changes and releasing it
Deploying the listing seeding system
And while we're currently primarily focused on the changes related to Particl Desktop 3.3, we've already begun working on the listing seeding proposal's deliverable, notably by adding product codes in the last Particl Desktop update, which is a requirement for an improved, more complete vision we have for this proposal. But what is this "improved vision"?
Listing Seeding Proposal 2.0
Since we've published the original listing seeding proposal, many things have changed around the Particl project, especially considering last week's major announcement of an evolutionary leap forward for the ecosystem.
For this reason, we've re-imagined what we intend to deliver for the proposal so that it fits better with this new direction and have designed a more complete and open system that will drastically improve the life of Particl sellers — not just populate the marketplace with listings.
As opposed to building a relatively closed system for the exclusive purpose of seeding listings on the marketplace, we're now opting to build an open "power seller" standalone application intended to be released publicly.
This system will act as an external, advanced inventory and order management tool built for power Particl sellers. This will open up a ton of opportunities for sellers by giving them access to more advanced capabilities. Notably, you can expect most or all standard seller features to be available, such as the ability to easily create, manage and publish listings as well as up escrow parameters, manage shipping, orders, and even chat conversations outside of Particl Desktop.
But, to complement these functionalities, sellers will be able to automate a lot of the typical seller-related processes such as automatically relisting marketplace items, accepting and processing orders according to set preferences, and etc. When properly set up, it will allow sellers run their shops almost on auto-pilot and will dramatically reduce the time it requires to manage large seller accounts on Particl.
Another key function of this system will be in how it connects a seller inventory to a WooCommerce store (and, eventually, additional external platforms as we march through the upcoming development cycle). The main benefit here is the ability to install and use a wide variety of WooCommerce plugins (i.e., an automated dropshipping system like Dropified). This will grant sellers many more options than ever before on Particl Marketplace, a taste of what's to be possible with Particl's new modular and open architecture.
Note: The system will be released with incremental feature updates.
Deploying a Mobile Version of the Marketplace Quicker
One of the main reasons we've opted to change the design of the listing seeding proposal is to be able to release a buyer-focused mobile version of the marketplace much quicker. That way, there is no requirement to wait for the full version of the improved marketplace to be ready before we can start releasing new products.
Indeed, because the first few versions of the upcoming mobile version of the marketplace will be exclusively buyer-focused, sellers still need to be able to publish listings for buyers to buy. And since listings posted on the current version of the marketplace won't show up on the new version (because the codebases will be vastly different), there needs to be a way for sellers to publish listings while we build the full version of the marketplace.
And that's where the listing seeding tool comes in handy. It will let sellers sell their products and services on the new version of the marketplace while we incrementally build the full version (on desktop and web). In other words, we'll use this tool as an intermediary for sellers, allowing us to deploy the buyer-focused mobile version of the marketplace more quickly and keep things moving smoothly.
---
As always, we thank you immensely for your passion and dedication to Particl and what it's working towards achieving. None of it would be possible without you all!
We wish you a great weekend we'll see you all back on Monday! 👋
---
Particl is Participation
Get recognized as someone that cares. With your help, we become more noticed out there. It takes seconds, and you are making a statement by giving us a follow and hitting the bell icon.
YouTube Twitter Mastodon Reddit

Join the instant messaging chats. There's no need to be active, but it's good to be in the loop.
Discord Telegram Element / Matrix
Gain deep knowledge about Particl by reading.
Last but not least, a list that shows an infinite number of links clearly categorized and on one page.
---