The week is coming to an end, which means it's time for our weekly development progress report! So let's quickly see what progress has been made in the past few days.
---
Particl Desktop 🖥
Over the past week, our team has been focused on testing and executing minor adjustments for Particl Desktop 3.3. We have also been preparing for the commencement of the upcoming development cycle and carefully assessing the most effective transition strategy to ensure a smooth process.
We are pleased to report that no significant issue has been found so far. As such, we are confident that the release will be ready for launch in the near future although we cannot communicate a precise mainnet release date yet.
Particl Core 🔗
Core Codebase Maintenance 🛠️
As always, we consistently stay up-to-date with Bitcoin's latest version by regularly incorporating upstream updates into Particl Core.
This week, we have been working on a complex Bitcoin merge which has been requiring a significant amount of time.
As highlighted in our yearly recap on Particl News, it is critical to maintain up-to-date upstream updates from Bitcoin in order to benefit from the entire pool of talent and associated security, usability, and other improvements.
This is evident from CryptoMiso rankings, where Particl Core currently ranks 11th out of all the coins listed. Additionally, the visualisation below shows the code updates made to Particl Core in 2022, and the number of developers working on the project, directly or indirectly.
You can monitor these changes by visiting this link.
BasicSwap 📈
This week's more intricate Bitcoin merges have required a significant amount of time.
Nonetheless, we have managed to address a few issues, particularly with the Docker-based configurations when executing BasicSwap in an isolated environment. Additionally, we have remedied a bug that was causing the DEX to sometimes fail to validate the Bitcoin snapshot against its corresponding public key.
User Interface 🖥️
We have seen significant progress in regards to updating the user interface this week. A wide array of fixes, optimizations, and enhancements have been included, and the offer table has been restructured to be more comprehensive and user-friendly. This adds to the current ongoing tasks, which are the following:
Integrating the new subfee feature to make coin withdrawals and offer posting easier (no need to manually calculate fees) into the GUI.
Addition of a dark mode.
Addition of a "simple" mode for the GUI in which the user interface is slimmed down. This aims at simplifying the user experience but still allowing for more advanced options via a "simple/advanced" toggler.
Addition of a new price charting system. The current chart style will still be available and it'll be possible to select which one you want to use via the settings page.
Introduction of a wide variety of GUI improvements, tweaks, and changes based on feedback from our beta testers.
We anticipate deploying the changes shortly, allowing all users to update their local BasicSwap instances and take advantage of the new features.
Year 2022 in Recap 🍾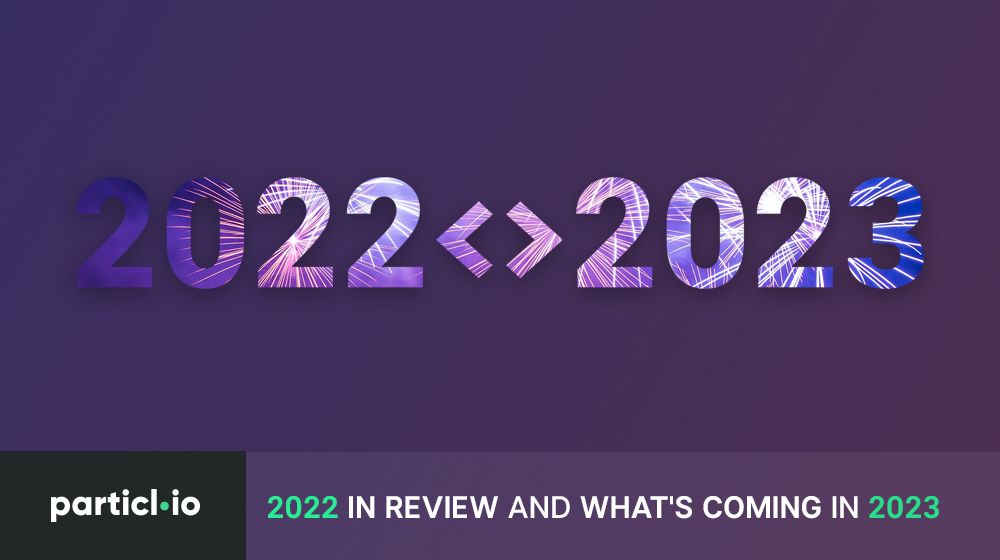 Earlier this week, we proudly published a comprehensive overview of the year 2022 and a glimpse of what's to come in 2023 and beyond. As we reflect back on the year, it is clear that it was an incredibly successful one for the project and we're incredibly excited to jump right into 2023.
While BasicSwap's open beta launch was a major milestone, many releases, including 16 for Particl Core, 8 for Particl Desktop, and the launch of a brand new light wallet (Particl Electrum), kept the ecosystem blazing with progress all throughout.
But be assured, the best is yet to come and we're extremely confident for what stands ahead of us! Check out the article here to get all the crunchy details!
---
As always, we thank you immensely for your passion and dedication to Particl and what it's working towards achieving. None of it would be possible without you all!
We wish you a great weekend we'll see you all back on Monday! 👋
---
Particl is Participation
Get recognized as someone that cares. With your help, we become more noticed out there. It takes seconds, and you are making a statement by giving us a follow and hitting the bell icon.
YouTube Twitter Mastodon Reddit

Join the instant messaging chats. There's no need to be active, but it's good to be in the loop.
Discord Telegram Element / Matrix
Gain deep knowledge about Particl by reading.
Last but not least, a list that shows an infinite number of links clearly categorized and on one page.
---