It's the end of the week and you know what it means; it's time for our weekly development progress report! This week has been one where we've focused on fixing a tricky issue with Particl Marketplace and have been exploring how best to release Particl Desktop 3.1.
Indeed, an issue was brought to our attention in which some listing messages are not being received by some markets. The problem seems to be related to two separate issues, but both can occur at the same time. Out of these two issues, one is already fixed but we are still busy investigating the second one especially as it seems to deal with the way the marketplace validates the incoming listing messages and, for some reason, appears to be working on some machines correctly but not on others. This makes tracking, and more importantly, testing the problematic code a little trickier than expected. We are looking into this and should have it fixed fairly soon.
As far as the progression regarding the delivery of digital items goes, there's been a number of stumbling blocks in getting this working properly. Indeed, it now appears that it will require significantly more time than expected since it touches on many more components of both Particl Desktop and the marketplace back-end code.
In other words, we cannot currently give any estimation yet on when this might be ready and, for this reason, we've begun exploring releasing Particl Desktop 3.1 without that feature. In fact, we do not want to drag the release of Particl Desktop 3.1 for too long. After releasing Particl V3 on mainnet, we've opted to go ahead with more frequent releases and we intend on sticking to that commitment.
That being said, even without digital items delivery being included in the next Particl Desktop update, we'll see the introduction of a few new features as well as a large number of bug/issue fixes and general improvements. Among them, we can count on the addition of a seller-adjustable escrow ratio and various important seller-focused improvements, notably many new options for importing inventories and editing, in bulk, listing prices. The vast majority of these additions have been suggested by Particl Marketplace sellers themselves and should fix some of the most obvious pain points for them.
As we are giving a final look at what is still required to add the digital items delivery feature, we'll let you know, in next week's progress report, whether we've decided to release V3.1 with or without it.
---
Particl Desktop Progress Report
Enable the sale of digital items with no physical shipping address requirement (i.e., download links, crypto addresses for NFTs, user codes, etc.). This task is in progress but is proving to be much more time-consuming than initially expected. For this reason, we may de-prioritize this task in favour of the other two and release Particl Desktop 3.1 without it. We will be able to confirm if that is the case next week.
Several features related to better vendor inventory import/update. We can report that the ability to batch update prices to multiple listings at once is now complete, but has received various bug fixes and improvements this week. The addition of a product code and the ability to import images directly through the CSV file is still in progress.
The usage of markdown in product descriptions on the marketplace for better, more customizable formatting. This task has already been started but has been put on pause until the above items are completed. It is estimated that this item will be completed very quickly once its development resumes.
---
Particl Core and BasicSwap DEX Progress Report
This week on the Core side of things, a lot of testing has gone towards activating Taproot on Particl. We are happy to report that, so far, it seems that everything works fine and as expected. For the more advanced users, you can consult this Github commit to check out and verify the code behind Particl's Taproot activation.
As mentioned in last week's progress report, although the Particl blockchain is currently Taproot-ready, this new groundbreaking feature requires a hardfork to be activated. At this time, it looks likely that we will include it in the next hardfork, which should go live early in 2022. We will let you know, well in advance, of all the details related to this hardfork in a blog post on Particl News.
Note: If you still have any disabled RingCT or CT output, now's the time to submit your claim to the appropriate portal so that they can be enabled in the coming hardfork. Please have a look at this blog post to know precisely what is required from you in that regard.
Other than testing Taproot, a lot of work has gone towards improving BasicSwap's back-end code ahead of its Open Beta. As a reminder, we officially announced and revealed, last Friday, many details about Particl's upcoming cross-chain and private DEX.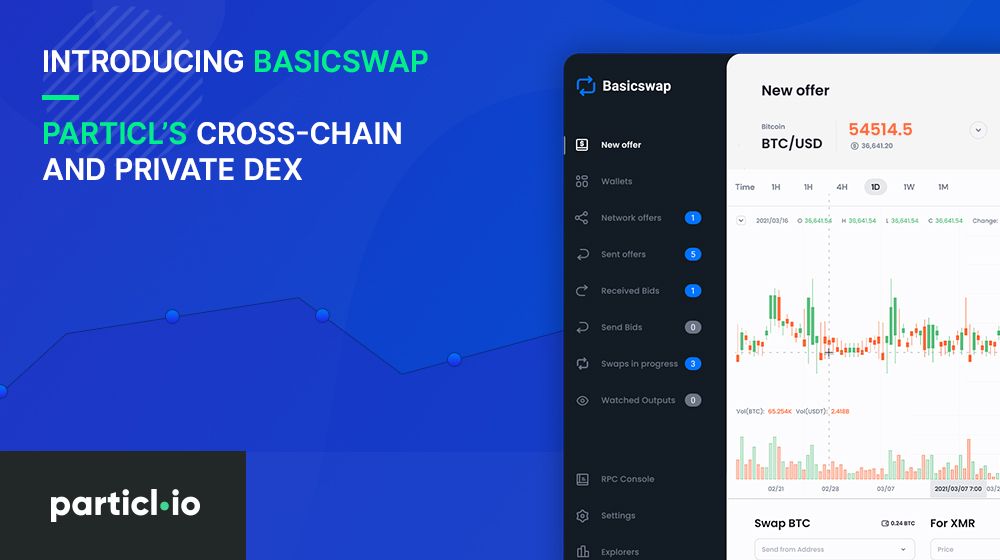 ---
As always, we thank you for your support and dedication to the very important Particl mission! We wish you all a wonderful weekend and will see you back on Monday!
---
Particl is Participation
Get recognized as someone that cares. With your help, we become more noticed out there. It takes seconds, and you are making a statement by giving us a follow and hitting the bell icon.
YouTube Twitter Mastodon Reddit

Join the instant messaging chats. There's no need to be active, but it's good to be in the loop.
Discord Telegram Element / Matrix
Gain deep knowledge about Particl by reading.
Last but not least, a list that shows an infinite number of links clearly categorized and on one page.
---