With the week coming to an end, the time for our weekly development progress report arises! This week has been a busy one with two Particl Desktop releases and the important detailed announcement of BasicSwap, Particl's upcoming private, free, and unrestricted DEX.
So let's not wait any longer and get down to the details right away!
---
Particl Desktop Progress Report
Desktop Client Updates ✅
This week, we've released two Particl Desktop updates (3.2.1 and 3.2.2). Both of these desktop client updates are intended to fix bugs and improve the overall user improvements with a few tweaks to the desktop client and marketplace dApp.
Notably, Particl Desktop 3.2.2 fixes a particular bug that caused, in some circumstances, listings and orders to not show up on some user's clients due to the market service not being able to receive SMSG messages from Particl Core when offline. This is now resolved.
Because both of these clients fix a lot of issues, we strongly recommend updating your desktop client as soon as you can so that you can benefit from the most up-to-date Particl experience.
Particl Desktop 3.3 🛠️
As the two previously-mentioned Particl Desktop client updates occupied most of this week's time, the work related to Particl Desktop 3.3 mentioned in last week's development progress report is still ongoing.
We're currently working on changing the way Particl Core interacts with Particl Desktop so that it doesn't necessarily automatically starts when the desktop client is launched. That's part of the user configuration-related updates coming to Particl Desktop 3.3.

Indeed, you will have the option to launch Particl Core automatically, and that may be the preferred way for the vast majority of people, but you will also be able to manually start it after the application launches. This will allow you to configure various startup options first, such as having core connect via Tor from the first launch. Or providing more controls for connecting to an already running core service. — Quote from last week's progress report
Particl Core and BasicSwap Progress Report
Core Codebase Maintenance 🛠️
We've been keeping up with upstream updates as part of our ever-ongoing effort to maintain Particl Core up-to-date with Bitcoin's latest version. You can always keep track of those changes by following this link.
BasicSwap 📈
As we find ourselves in the final phase of BasicSwap's closed beta, we are preparing the ground for the open beta release.
As such, we've published an in-depth presentation of what BasicSwap is, what makes it unique, what benefits you can draw from it, and how it's going to foster a more private, free, and open financial system with no central point of failure. Yes, we know this is a bold claim, but we completely own it and will let BasicSwap speak for itself when it goes live. Stay tuned for more BasicSwap updates coming very soon to Particl News.
Aside from this announcement, we've been running various tests and minor updates to BasicSwap, which will keep on going up until the release point.
As for the DEX's GUI, all of the independent modules and pages are now completed and we're in the final process of stitching everything together. This is the last remaining part before we can start the last round of internal testing, and we'll then be able to release the open beta publicly.
Update on Marketplace Listing Fees
Back in February, we proposed a hardfork that was accepted by stakers. This added Taproot functionality into the Particl blockchain, but also fixed a bug with the dynamic marketplace listing fee functionality.
Since then, stakers have signaled to the network that they wanted lower SMSG fees, effectively massively reducing marketplace listing fees. We wanted to take the opportunity, this week, to update you on what the current figures are.
When Particl hardforked in February, the SMSG fee rate was standing at 20767. After a few months of signaling, it now stands at a mind-blowing 37!
For reference, we've polled a seller with ~300 listings on the marketplace and they've stated that, in the past 30 days, they've only paid ~2.77 PART in listing fees for the totality of their listings, listed every day.
Without applying any conclusion to the numbers above, we felt necessary to update the community on the current figures so that it can decide whether the fees should keep going down, stay as is, or be raised. As a reminder, this blog post explains, in detail, how to signal your fee preference as a staker.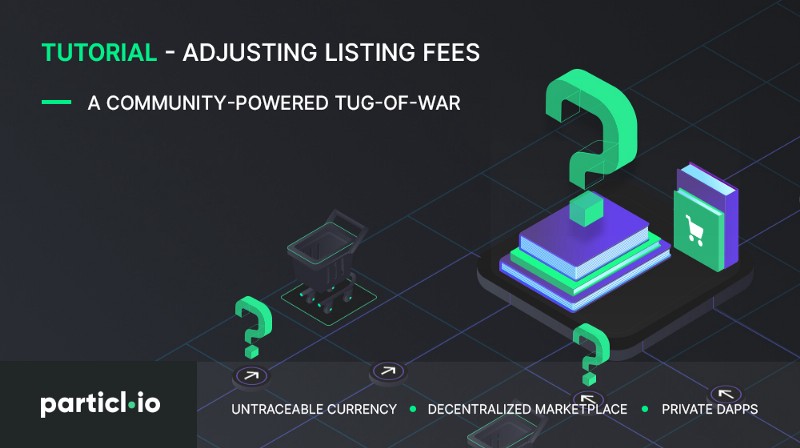 If anything, this shows that the bug fix back in February was successful and that the community can now effectively and promptly adapt listing fees to any situation, preference, or need. This is a great news for the future of the platform and the network's commitment to decentralized governance!
---
As always, we thank you immensely for your passion and dedication to Particl and what it's working towards achieving. None of it would be possible without you all!
We wish you a great weekend we'll see you all back on Monday! 👋
---
Particl is Participation
Get recognized as someone that cares. With your help, we become more noticed out there. It takes seconds, and you are making a statement by giving us a follow and hitting the bell icon.
YouTube Twitter Mastodon Reddit

Join the instant messaging chats. There's no need to be active, but it's good to be in the loop.
Discord Telegram Element / Matrix
Gain deep knowledge about Particl by reading.
Last but not least, a list that shows an infinite number of links clearly categorized and on one page.
---