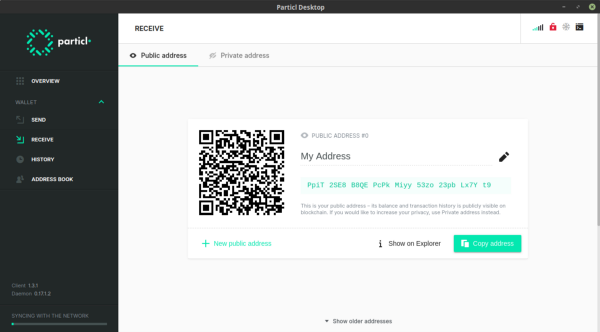 Earlier today, we released Particl Desktop 1.3.1 which had been in its pre-release stage for a bit more than two weeks now. This new Particl Desktop version coincides with the update of Particl Core to its 0.17.1.2 which is the minimum Core version you need to have installed in order to properly go through the coming hardfork on the 1st of March. This update fixes both the ZAP function to activate cold staking directly from your Particl Desktop wallet and various minor issues that were identified during this version's pre-release stage.
Note: Particl Desktop version 1.3.0 will also automatically update its Particl Core version next time you open the wallet, so upgrading Desktop to 1.3.1 is not a pre-requisite for the hardfork although it is, as always, recommended to update to the latest version.
---
Download Particl Desktop v.1.3.1: https://github.com/particl/particl-desktop/releases/tag/1.3.1
particl/particl-desktop
Particl Angular GUI - The source for the Particl GUI. - particl/particl-desktopgithub.com
Changelog
Fix to the ZAP function (will now work when connecting to a cold staking pool)
Various minor issues
Automatically updates to Particl Core 0.17.1.2 (works for the previous Particl Desktop 1.3.0 version as well)
---
⚠️ IMPORTANT ⚠️
As the Particl network is going to go through a hardfork on the 1st of March, it is imperative that you update to Particl Core 0.17.1.2. While Particl Desktop version 1.2.x and beyond should update your core automatically, we highly recommend you manually verify the update has successfully been executed.
Additionally, if you are running a cold staking node, a cold staking pool, or Particl-Qt/Particl-cli, then you will need to manually update your Core to at least version 0.17.1.2 by following this link (following this link will lead you to download version 0.17.1.3 which is the latest): https://github.com/particl/particl-core/releases/tag/v0.17.1.3