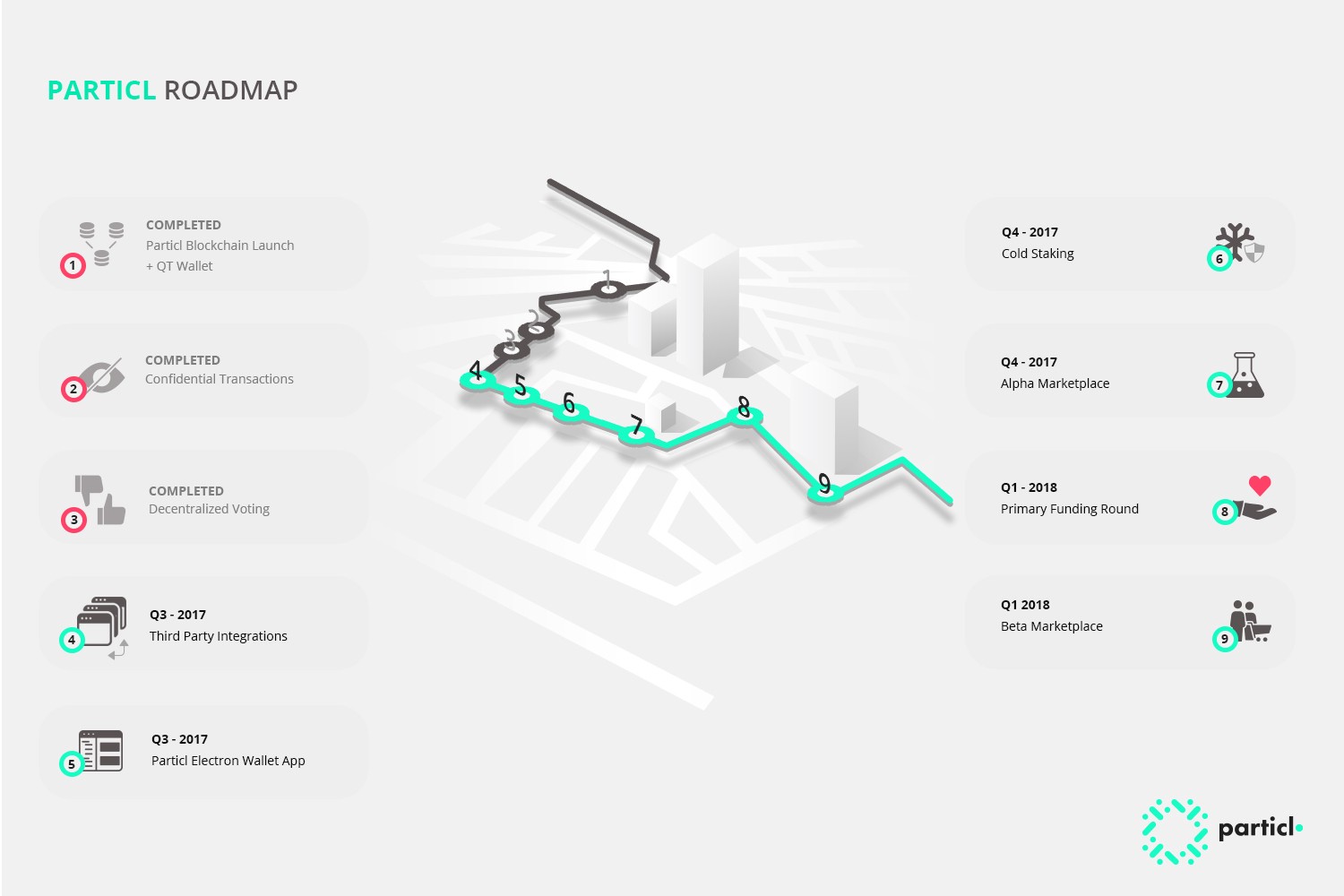 Building on a strong foundation.
Particl's first 100+ days since our seed round has seen the creation of the Particl Foundation, a pure Proof of Stake blockchain flexible enough for 2nd layer integrations (Lightning Network, Rootstock) and the successful launch of our privacy token PART; the first token built on Bitcoin 0.14.2 that can claim:
Pure PoS(v3) (non-hybrid PoW/PoS)
Native SegWit (all transactions are SegWit)
Confidential Transactions (hidden amounts)
Decentralized Voting (Governance)
Testnet | RingCT (hidden amounts and address identities)
Testnet | Cold Staking
Development Process
Roadmaps are tentative, working documents, subject to revision. These documents are important in parsing out non-goals or long term goals that, in our case, shouldn't tie up production on the MVP.
They will be released with version numbers.
Updates will be published as required.
The team will continue to add new talent
Some components are prerequisite for completing others, which can affect roadmap completion
The release sequence of items within a quarter is interchangeable. For example, if the wallet app gets sign-off before we finalize outside partnerships it will be released regardless of it's place on the image.
---

Particl will be integrating 3rd Party apps regularly throughout the next 2–1/2 quarters. Imran, our Commercial & Partner Strategist is putting the closing touches on a number of partner integrations aimed to expand the usability of the PART token.

Steady development is happening on the Electron App. Follow it on Github or build it yourself to keep track of progress.
particl/partgui
partgui - Particl Angular GUI - The source for the Particl GUI.github.com
---

Already being tested on TESTNET6, Cold Staking is the concept of "defining a node which has the sole power to only stake." The result is a more secure ability to stake while using multi-signature addresses.
Cold Staking will bring protocol changes that, when launched on mainnet, will make it the first planned hard fork on the Particl blockchain.

Creating the Particl Market is the prime goal of this Roadmap. This is the decentralized marketplace Minimal Viable Product (MVP) everyone is most excited for. Alpha will be well designed and bring major protocol changes.
RingCT on mainnet, the audit of Particl Core (including RingCT) and our university Research Grant all will likely fall into Q4 as well. This is a good example of versioning on our roadmap. Version 1.1 will get to a point it is no longer useful, at which time we will update it to better reflect real-time activity on the project. RingCT, for example, will be a planned hardfork on Particl blockchain so releasing it with other Q4 protocol changes will be considered by the team.

When we launched the Particl blockchain, 996,000 PART tokens were created and time locked in a multi-sig address* that was reserved for our Primary funding round. Delivering the decentralized marketplace MVP is a requirement before these tokens can be made available.
Below are both explorers displaying this address. The insight explorer will show the PART as available after midnight, November 30th, 2017. The CryptoID explorer shows the full count of PART (996k) but the distribution is "unconfirmed" until unlocked (17.11.30).
*This is the largest PART address representing ~11% uncirculated PART.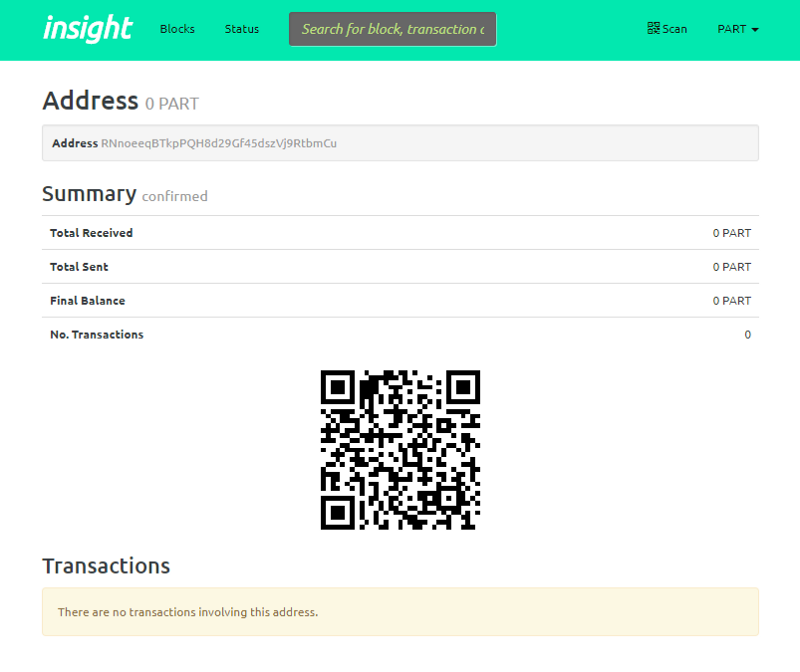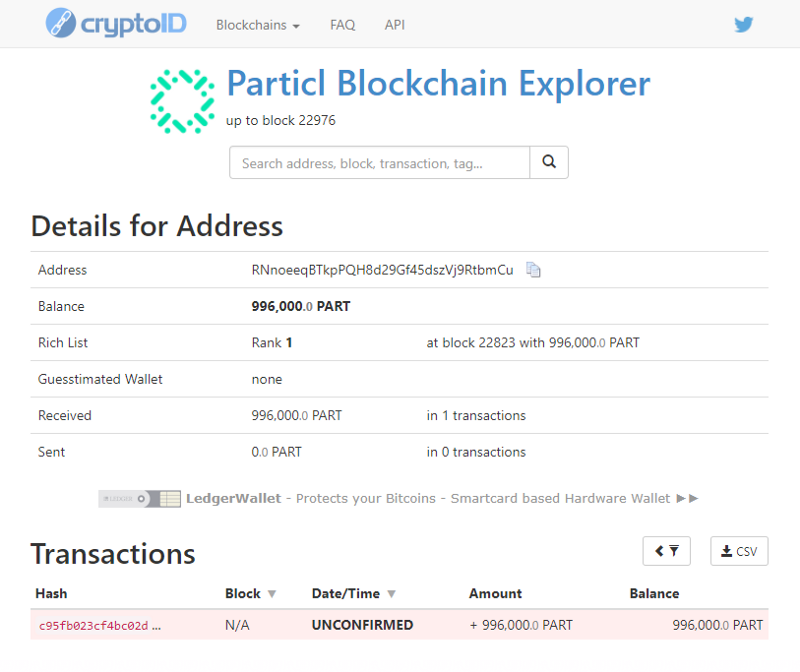 Our Primary Round and "Beta" marketplace both fall in Q1/2018. These are parallel tracks and are unrelated to each other. The project is well funded.

The differences between Alpha and Beta are expected to be trivial, mainly bug patching, as no significant software features will be added to the Beta release. It is important to keep in mind Alpha/Beta are minimally viable products that prototype features. These releases will be well done and give buyers and sellers a solid and secure platform to transact with each other.
---
Status Reporting
In our previous communication we talked about more detailed development updates. Henk, our Project Manager has been working with the web developers to create a new page on Particl.io that provides a breakdown of what the team is working on, what's in review and what is coming up at any given time.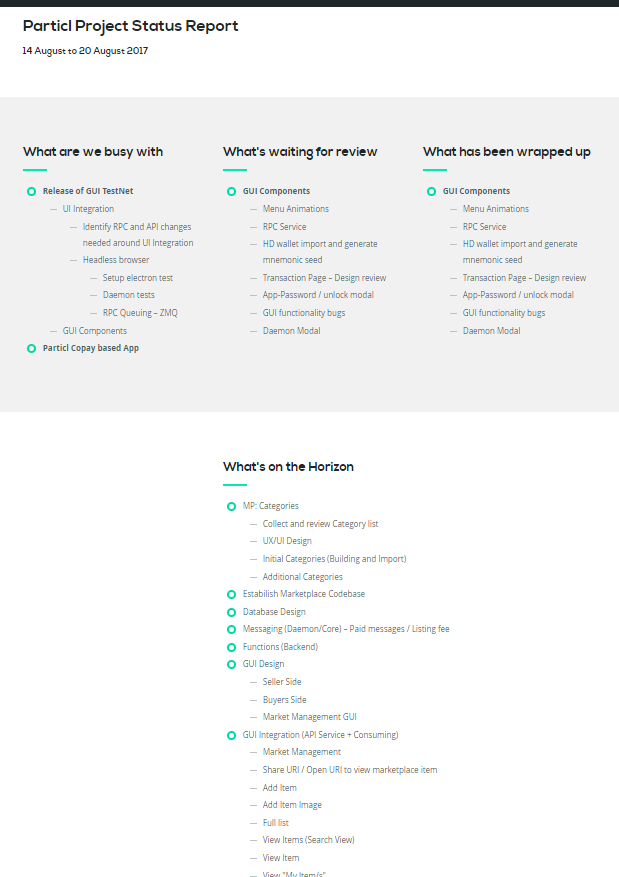 When this page is live we'll announce it to the community and can have an email signup button for users who want to be notified on status updates.
Conclusion
Believing to the core that a strong foundation must be laid before a privacy platform can properly be built has been the Particl team's Modus operandi since we began. Starting with the choice to build open source, on the latest robust Bitcoin codebase w/SegWit, to a "multi-state" PART token (public, blind, anon) and finally the underlying privacy cryptography enhancements in Confidential Transactions and RingCT, every step in Particl's early existence has been calculated.
Particl Project
GitHub is where people build software. More than 23 million people use GitHub to discover, fork, and contribute to over…github.com
Particl is open source. Our Github is a great place for community developers to get involved. The team works in the open and is welcoming to users who want to help.
— Particl Team