We're excited to announce that we've successfully completed BasicSwap's user interface (GUI v0.1), meaning that the final closed beta testing round has now begun! 🎉
This is an important milestones and the last step before the public release of the open beta, so make sure to read this blog post in full to get all the details and get a better idea of what to expect in the next few days to come!
---
What is BasicSwap?
BasicSwap is a cross-chain and private decentralized exchange (DEX) protocol and a trading app that allows you to swap one cryptocurrency for another without any middleman or third-party being involved.
It lets you make or take orders on a distributed order book and execute swaps that are safe, trustless, unrestricted, and private. All of this combined sets BasicSwap apart as a DEX with uncompromising ease of use, security and decentralization, and creates an environment that is totally free of any central point of failure. Best of all: there are absolutely no trading fees!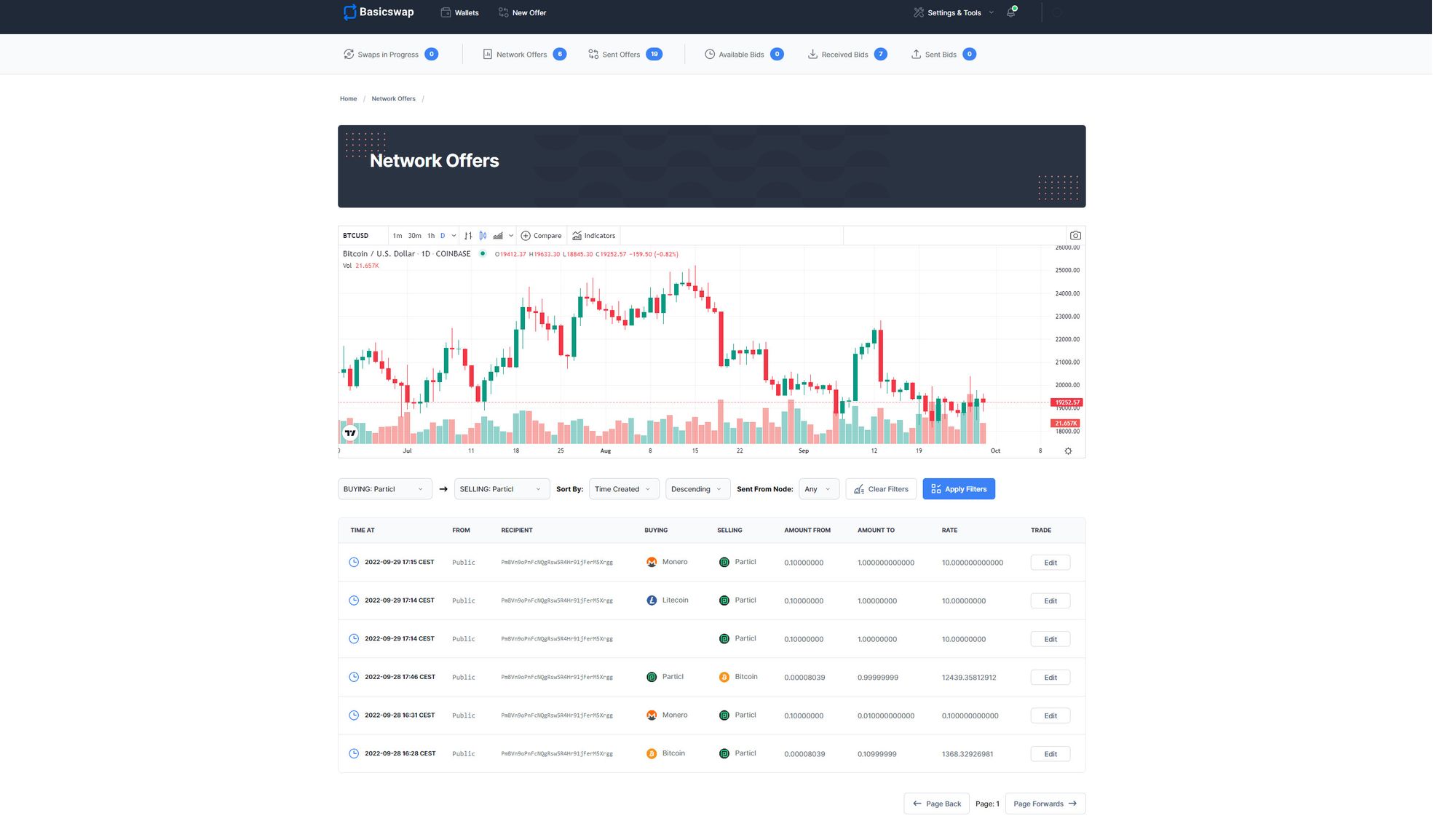 We've already published an extensive blog post explaining everything you need to know about BasicSwap. So if you want more information on this upcoming breakthrough DEX, make sure to give it a read!
About BasicSwap's User Interface
As you may already be aware, the BasicSwap back-end protocol ("swap engine") has been operational as an early beta software for a while, allowing mainnet swaps to take place between a range of cryptocurrencies such as Bitcoin, Litecoin, Particl and even Monero.
However, what it lacked, up until today, was a user-friendly and easy-to-use interface to facilitate the act of trading on the platform. As we've often seen within the blockchain industry, the user experience is of the utmost importance.
That's why we've opted to wait until BasicSwap's user-friendly GUI was ready before publicly releasing the beta. And now that this is done, we enter a new phase for BasicSwap!
The Final Closed Beta Testing Round Begins Today
With the first version of the BasicSwap GUI now completed (v0.1), we have now begun the final closed beta testing round before the public launch of the open beta.
During this final round, we'll thoroughly test the user interface across a wide range of environments and scenarios as well as the DEX protocol itself. This will ensure the smoothest and most hassle-free open beta launch (public) possible.
What's BasicSwap's Status?
BasicSwap is a beta product and still under development. The release of the open beta is a major milestone in its development but it is by no means a completed product.
As such, there may be missing features, quirks in the user experience, and areas of improvement. This is normal at this stage, and that's precisely where we need you!
If, during the upcoming open beta, you encounter any issue, bug, or discover areas of improvements, be sure to let us know by logging it on the DEX's issue page. This also applies to general comment, feedback, and suggestions; they are the entire reason for an open beta!
We are working hard on building the most resilient, private, and decentralized DEX platform for all and your help and contributions are vital in making this happen!
When is BasicSwap Expected to Launch Publicly?
It isn't possible to confirm the precise public launch date yet. That's because it is highly dependent on how the final closed beta testing round goes.
However, we don't expect that testing period to last for a long time. We'll be sure to communicate clearly the launch date a few days before.
How Can I Support the Upcoming Open Beta Launch?
As the open beta launch approaches rapidly, there are a few things you can already do to pre-emptively help out.
First and foremost, BasicSwap uses an order book system to match traders together rather than a single liquidity pool. That means its user experience depends in major part on the liquidity available on the books.
As such, putting liquidity on BasicSwap when it releases not only grants you access to a healthier trading environment on which you can trade, but it also helps others match their trades, making BasicSwap a more viable solution for all and, in turn, bringing more liquidity as a result.
Similarly to putting liquidity on the books, every attempt at getting the word out also helps immensely. Whether that be to friends, in your online communities, on Reddit or crypto Twitter, any place is a good place to let others, who may benefit from what BasicSwap has to offer, know about it.
A DEX thrives the bigger its user base is; we all win by bringing more people to BasicSwap and providing liquidity!
BasicSwap Website About to Go Live
To support the public launch of BasicSwap's beta and help others better understand how the platform benefits them, we will launch a new website entirely dedicated to BasicSwap. This will be an incredibly useful tool that will make it easier to share with others what vital benefits they can get for using a properly decentralized and privacy-focused trading platform.
The launch of the BasicSwap website is planned for before the launch of the open beta.
---
A better, more private, and fair-to-all trading environment looms and there's no turning back!
As always, we will keep you posted about it through our weekly development progress reports available on Particl News. See you soon during the open beta! 👋
---
Particl is Participation
Get recognized as someone that cares. With your help, we become more noticed out there. It takes seconds, and you are making a statement by giving us a follow and hitting the bell icon.
YouTube Twitter Mastodon Reddit

Join the instant messaging chats. There's no need to be active, but it's good to be in the loop.
Discord Telegram Element / Matrix
Gain deep knowledge about Particl by reading.
Last but not least, a list that shows an infinite number of links clearly categorized and on one page.
---