Friday, November 16, 2018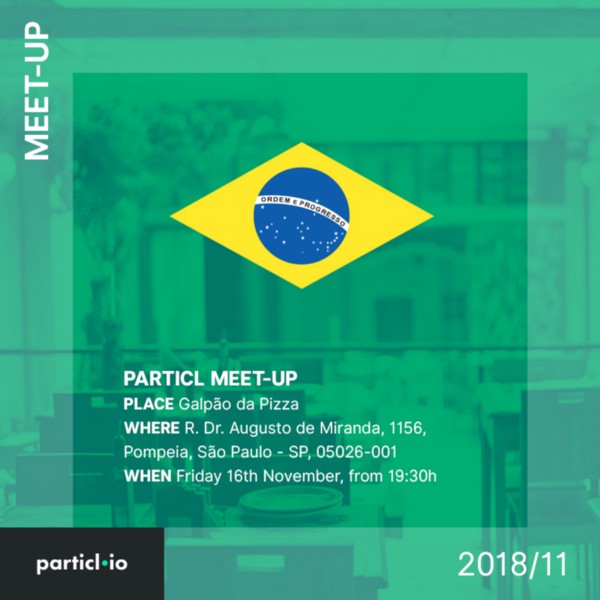 Join us for an evening of crypto, networking and pizza! — — Junte-se a nós para uma noite de cypto, networking e pizza!
We will be sharing about Particl — a privacy-focused platform building dapps and creator of the PART privacy coin. Particl Marketplace is nearing launch on mainnet and this flagship dapp has many use cases, especially in our region, are really exciting so be prepared for a lively discussion. — — Nós estaremos compartilhando sobre Particl — um dapps de criação com uma plataforma focada em privacidade e criador da moeda de privacidade PART. O Particl Marketplace está se aproximando do lançamento na mainnet e este carro-chefe dapp tem muitos casos de uso, especialmente em nossa região, são realmente empolgantes, então esteja preparado para uma discussão animada.
Brazilians are embracing blockchain projects in every industry sector. Looking forward to meeting everyone who can make it out for this special night! — — Os brasileiros estão adotando projetos blockchain em todos os setores da indústria. Ansioso para conhecer todos que podem fazer isso para esta noite especial!
2º Meetup PARTICL Brasil
sex, 16 de nov de 2018 19:30: 2º Meetup PARTICL BrasilBrasil Meetup - 16 de novembroJunte-se a nós para uma noite de…www.meetup.com
---
Portuguese Channels — — Canais portugueses
We have a Portuguese channel on Telegram (https://t.me/ParticlBrasil) and on Discord (#portuguese). JoaquimF, who is organizing this meetup, helps as moderator for this group. — — Temos um canal em Português Telegrama (https://t.me/ParticlBrasil) e discórdia (#português). JoaquimF, quem organiza este encontro, ajuda como moderador para este grupo.